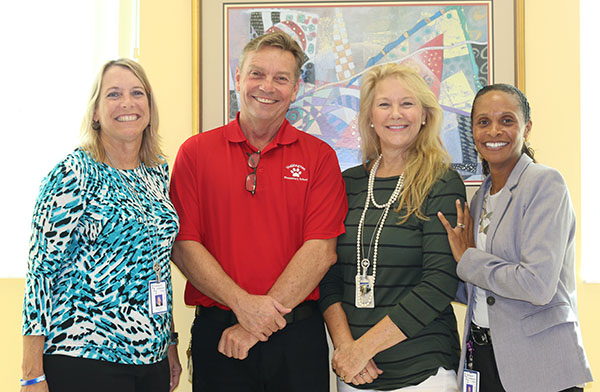 Music, learning and laughter already fill the halls of Wellington Elementary School, and those sounds are set to get even stronger now that the school has been approved to host a fine arts academy.
Principal Dr. Maria Vaughan believes that the fine arts academy will strongly enhance the school's academic program.
"We've seen that the arts have been a very productive way to tap into some of our students who don't necessarily perform well in a traditional academic setting," Vaughan said.
Also, Vaughan hopes to attract back some of the students who have been lost after their parents opted to send them to charter schools and private schools.
The idea builds on the successful fine arts curriculum already offered at Wellington Elementary. Dave Morrison, the school's music teacher, puts together two performances each year, where the kids sing, act, dance and work together to put on the show.
"They have become more and more popular every year," Vaughan said. "They surpass what you'd see at a regular elementary school — they're amazing."
The performances are standing-room-only, so this year the school will host two performances to accommodate the demand.
"That's what planted the seed for this idea," Vaughan said. "That program has bloomed and blossomed and become this huge thing at the school."
The chorus has more than 100 students, many of whom also take part in the plays.
Vaughan and Morrison recalled touching moments after performances, when parents came up to them proclaiming that they didn't realize their children could sing, act or dance like they did in the show.
"That program has uncovered hidden talents in some of our students, and it has given them the opportunity to be successful," Vaughan said.
For Morrison, integrating music with the shows is essential.
"Music activates parts of the brain that don't otherwise get activated," he said. "That is why they tend to perform better academically, they tend to perform better socially. I know that doing the performing groups here, it's a big joy to see how the kids come together as a unit."
The program has helped students to feel successful, Vaughan said, hoping that the fine arts academy does the same.
"We are hoping that with infusing the arts, we're going to see even greater gains with our students academically," Vaughan said.
For the kindergarten and first-grade students, they will start by learning to play the violin. The school already has chorus and advanced chorus classes, and they will be adding guitar and ukulele programs, in addition to handbells and other instrument classes.
Art teacher Pam Saieg uses visual arts to help students understand concepts and will be able to do more with the students.
Saieg teaches students at a level that is more advanced than a typical elementary school art class curriculum and is excited for how the new fine arts academy will change the culture of the school.
"We're taking them down a pathway that they're not being exposed to anywhere else," Saieg said.
For Vaughan, the changes that are available to the school once the program is installed will provide a better way to teach students effectively.
"I really do believe that this is a way for us to tap into something different with our students," she said. "We're going to be able to see some gains in their achievement levels that are going to help them socially and emotionally. When we put this proposal together, we did a lot of research about what students gained from arts programs."
Research shows that students in arts programs perform better academically, both on standardized tests and in the classroom.
"They are more motivated, they are more confident, they are less likely to drop out of school, they are more likely to go to college, and they are more likely to graduate college as well as graduate from high school," Vaughan said. "They have improved motor skills, improved IQ and improved reading comprehension. There are so many positives to this program, it's really a win-win situation."
School librarian Cathy West pointed out that a strong arts foundation helps students with their self-image.
"It builds up their self-confidence. When they're self-confident, they improve in all directions — socially, emotionally, academically. Self-confidence has a lot to do with that, and feeling like they're a part of the group," West said. "We're finding through the drama and the chorus that the kids are identifying with each other, and they're much prouder and happier to be here."
The program created for Wellington Elementary, Vaughan explained, is modeled on the successful arts program at the Conservatory School in North Palm Beach.
Wellington Elementary will officially implement its program in the 2016-17 school year as a choice program.
"Typically, when a choice program opens up in the school district, then the first year is an in-house program, and we don't take kids outside of our boundary," Vaughan said. "We have decided that we are going to accept 40 students from outside our regular school boundary the first year."
Morrison was quick to point out that although the school's current program is music-heavy, that is not the end goal.
"Music is not the only thing that is offered," he said. "The fine arts do not only encapsulate music — they encapsulate so many other areas. We're going to allow kids to grow and be the best that they can be, and we're using the arts as a way for them to do that."
Though the school was awarded its choice program just recently, Vaughan said, when they were going through the requirements, they realized that they already had been doing many of the things necessary to become a choice program.
"We just haven't marketed it and formally said, 'This is what it is,'" she said.
Morrison's current project, Snow Biz, centers on the fun people can have when it snows, he explained. The students will be putting on the show in mid-December.
For Morrison, giving the children an appreciation for the fine arts is critical. "My goal as a fine arts teacher is to simply light a fire and hope that they take that and continue to burn that flame as they go through middle school and high school," he said. "If they want to go even beyond that, that's great. If not, at least they'll want to include the arts and music in their life for the rest of their lives. If they do that, then I've done my job."
While at Wellington Elementary, Vaughan has noticed a trend where parents are pushing their children to have a career path earlier on in their schooling, which is what seems to attract them to academies and other special programs. Her school is now able to offer that.
The non-district funded, goal-driven program will reach the school's entire enrollment base, which is currently 732 students.
The School District of Palm Beach County will be holding its 19th annual Showcase of Schools from 4 to 8 p.m. on Tuesday, Oct. 20 at the South Florida Fairgrounds Expo Center. It will feature all of the district's choice programs, and Vaughan hopes the showcase will help attract the 40 additional students that the school can take on. That will eventually allow them to hire an additional teacher for the arts program.
ABOVE: Wellington Elementary School's Cathy West, Dave Morrison, Pam Saieg and Principal Dr. Maria Vaughan are excited about the new fine arts academy.