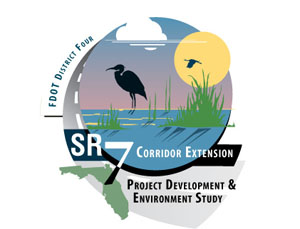 The Florida Department of Transportation conducted a public hearing and webinar on Tuesday, Oct. 6 to get input on its five-year work program, which includes a provision moving up funding for the State Road 7 extension from 60th Street North to Northlake Blvd. from 2020 to 2017.
The hearing, held in Fort Lauderdale, was set up for remote access. People who were not able to attend can still provide comments through Oct. 16 by e-mailing gerry.oreilly@dot.state.fl.us or mailing written comments to Gerry O'Reilly, FDOT District 4, 3400 W. Commercial Blvd., Fort Lauderdale, FL 33309.
FDOT Public Information Director Barbara Kelleher said that the SR 7 project was one that District 4 is taking input on for each of its five counties for fiscal years 2016 through 2021.
"The State Road 7 extension up to Northlake Blvd. is the segment moved back in to fiscal year 2017," Kelleher said.
Royal Palm Beach Councilman Jeff Hmara, an alternate board member of the Palm Beach Metropolitan Planning Organization, said he was glad that the money appears to have been moved back up after it had been pushed to 2020 last year in anticipation of litigation by the City of West Palm Beach, which has adamantly opposed the project.
Hmara said that 2017 was the year that the money would be needed anyway, so earlier would not be particularly useful.
"That's a really, really good thing," Hmara told his fellow council members at their meeting Oct. 1. "West Palm is still there, West Palm is still determined, so it's not done until it's done, but it really looks good now. So, all the effort that everybody has been putting in, it looks like it worked in moving that project forward."
The Metropolitan Planning Organization has a meeting set for Thursday, Oct. 15 at 9 a.m., which has been moved from its usual location at the MPO office to the Vista Center Complex (2300 N. Jog Road, West Palm Beach) in anticipation of a large crowd.
FDOT Director of Transportation Development Gerry O'Reilly will be at that meeting to talk about Palm Beach County projects, including the SR 7 extension, Kelleher said. "We will take comments on any of the schedules or projects that are in there, but that seems to be the one that most people are interested in," she said.
Kelleher said her office has received a great deal of input on the project.
"People are already sending in e-mails and comments to Gerry O'Reilly," she said. "I think he received about 30 comments before the hearing took place."
The MPO was surprised by the announcement last year that the funding had been delayed from 2016 to at least 2020 in anticipation of litigation. At that time, FDOT had moved some of the available funding from the northern completion area to four-lane the completed two-lane road from Okeechobee Blvd. to 60th Street.