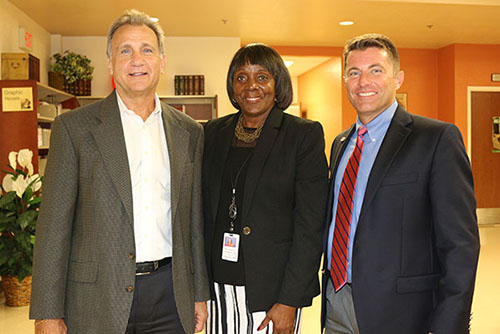 The School District of Palm Beach County's Strategic Plan Input Tour made a stop at Seminole Ridge High School on Monday, Oct. 12 to hear from local parents, teachers, students and community members.
Seminole Ridge Principal James Campbell thanked the school district to for choosing his school to host the event.
"It's a great opportunity for us," he said, adding that in addition to hosting the meeting, it was homecoming week at the school. "I also want to thank the district simply as both an employee and a parent for giving us the opportunity to have a voice in the direction that the district is going in the next several years."
District 6 School Board Member Marcia Andrews was glad to see the community get involved in the direction that the district would be taking.
"Community input, parent input, is very critical as we move forward with the school district," Andrews said. "Our superintendent, Dr. Robert Avossa, as well as the school board, has said we do not work in isolation from our stakeholders, our parents, our teachers, our students, our community. We want your voice. We've been having these meetings across the district. It's a continuous process to hear from you before we write a strategic plan. It's not a plan for the district leaders, or just about the district leaders — it's a plan for the success of our students."
By working together, Andrews explained, all children in Palm Beach County will be successful because everyone will have a voice in making it happen.
"Your voices will be heard. You'll be able to have input in writing, you'll be able to have the vocal input within your meetings, and you'll continue to work with the school board and the superintendent as we develop this strategic plan for the betterment and success of our students," she said.
Andrews then introduced Deputy Superintendent Dr. David Christiansen to lead the process. "We really thank you for being here," he said. "This is really a historic opportunity for us to learn from you to further the future vision for our district."
The district has heard from approximately 13,000 stakeholders within the community, Christiansen said. Of those, 8,000 were heard from through a survey, and 5,000 spoke with Dr. Avossa as he traveled around the county.
Each of the nine meetings being held in October have two parts, Christiansen explained. The first part is the meeting with teachers and staff, and the second meeting is for the community.
The meetings, he explained, are a follow-up to the listening and learning sessions that Dr. Avossa conducted to learn about trends and issues within the countywide school system after he arrived.
The goal now is to review the outlooks and strategic themes to bring more input, so the plan can be refined and brought back in November. "Tell us, is something missing? Is there anything you would add? What would you build off of this?" Christiansen asked.
Next, in phase three, the district will work with the plan early next year to get it off the ground. The five-year plan is to be in effect from 2016 to 2021.
Christiansen said that there are three outcomes and four strategic themes that emerged during the process. The long-term outcomes range from increasing reading proficiency by third grade to increasing the high school graduation rate and fostering post-graduate success.
"By the time we hit third grade, we're not learning to read, we're reading to learn," he said.
There is a high correlation between reading proficiency and kindergarten readiness, Christiansen said, explaining that early literacy milestones play an integral part in student success.
Measurements for success need to be expanded to include industry certification, as well as test scores and merit scholar designations.
While the strategic plan has many areas to work on, Palm Beach County, Christiansen said, has many things to be proud of.
"We have 279 award-winning programs. We have a robust, wonderful school choice system here in Palm Beach County," he said. "We have national, international and state award-winning teachers, principals and community members… [We have] 42,000 community volunteers, 1,200 business partners and 145 languages spoken from 197 countries. What rich diversity. We can really celebrate our diversity in Palm Beach."
Of the state's seven urban school districts — Palm Beach, Broward, Miami-Dade, Duval, Hillsborough, Orange and Pinellas — Palm Beach County is No. 1 for standardized test scores, and in several other areas.
Yet there is still work to do. Christiansen presented data showing that Palm Beach County has the highest reading gap for the differences between different groups — comparing black, Hispanic and white males and females, ESE students, ELL students and FRL students.
Looking at third grade is a critical indicator, Christiansen explained, noting that the expectations for students are increasing.
"Everything keeps getting ratcheted up, as far as the standards. It's harder getting kindergarten-ready than it used to be," he said, noting that students are expected to be able to walk out of kindergarten and count from one to 100, write a paragraph and more.
While poverty is often held as the central issue, white free and reduced-price lunch students outperform black students that are not on free and reduced-price lunch. In 10th grade, the gap between the two groups increased. "Maybe it's not just about poverty," Christiansen said.
One key focus of the strategic plan, he said, is looking at how to support students.
With the Strategic Plan Survey, 8,000 people responded, crossing the demographics. Parents and students responded that strengthening anti-bullying and safety were highly rated. Parents and teachers wanted to decrease class size, and strong leadership at the school was important to students and parents. Students and teachers wanted to decrease testing, and students voted that it was very important that transportation be improved.
"We want to make you aware that we are committed to decreasing testing," Christiansen said. "We think it's too much. We have to have a chance for kids to learn and grow."
Christiansen said that the school district apologizes for the recent problems with getting children to school, thanking the bus drivers for their good attitudes during the recent issues.
"If other systems can do it, we can do it," he said. "Just know that we're committed to doing that."
Strategic themes include: effective and relevant instruction to meet the needs of all students; positive and supportive school climates; talent development; and a high-performance culture.
"Our theory of action is, essentially, by driving improvement through these themes, we believe our school district will achieve dramatic improvement across these three long-term outcomes," Christiansen said.
For more information, visit www.palmbeachschools.org or call (561) 357-7572.
The PowerPoint presentation shown at the meeting is available at www.palmbeachschools.org/communications/pdfs/stratplan.pdf.
ABOVE: School Board members Mike Murgio and Marcia Andrews with Deputy Superintendent Dr. David Christiansen.