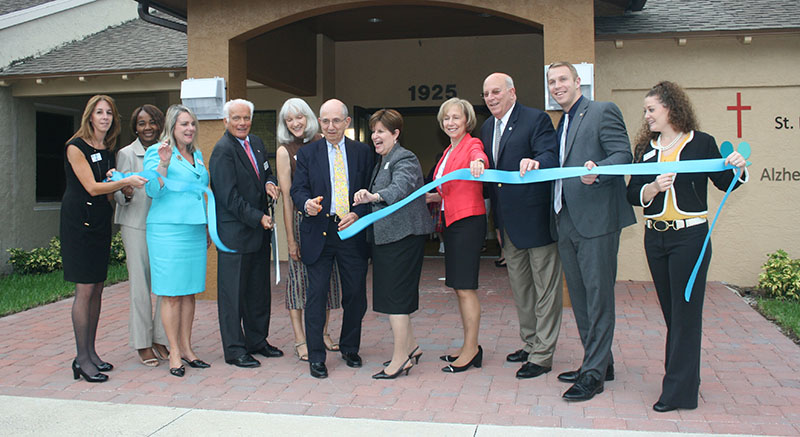 A dedication and ribbon-cutting ceremony for the opening of the new Alzheimer's Care & Service Center in Wellington took place Thursday, Sept. 24 at St. Michael Lutheran Church.
"We, as a board and as an organization, are dedicated to having a service center for our Alzheimer's patients, within 15 minutes' driving distance of their homes," said Judith Rappaport, board chair of Alzheimer's Community Care, the nonprofit behind the new facility. "That makes this community particularly special to us because it is the first one in this neighborhood, and it is our 10th day center."
Pastor Marjorie Weiss of St. Michael, which is hosting the new care center, said that her congregation's focus is more about right practice than right belief.
"That has guided our congregation to be welcoming to six different Alcoholics Anonymous groups and a Narcotics Anonymous group," she said. "And, therefore, it was very natural when Alzheimer's Community Care approached us. It fits our mission statement."
Ben Durgan, representing State Sen. Joseph Abruzzo (D-District 25), explained that even in difficult budget years, there are bright sides. "With the hard work of Sen. Abruzzo and our staff, we were able to come back with $500,000 for Alzheimer's Community Care," he said.
Both Durgan and Abruzzo have a personal connection to Alzheimer's disease, he said.
"Having a family member with Alzheimer's can be quite a scary thing," Durgan said. "Having that quality of care, compassion and empathy from caretakers is essential, and it makes us, as family members, feel at peace."
Kelley Burke, aide to County Commissioner Melissa McKinlay, explained the importance of public-private opportunities, noting that there are 80,000 families in Palm Beach County dealing with Alzheimer's disease.
"Anytime that the caregivers or the patients can go to a facility like this, especially in the western communities, it is great, and we appreciate the hard work of everybody. Congratulations on this wonderful facility," Burke said.
Rappaport built on that, explaining that research has found that each person with Alzheimer's disease affects the lives of between four and 10 other people, meaning 320,000 at the low end of the spectrum or millions at the high end.
Attorney Mark Shalloway has worked with Alzheimer's Community Care since 1996.
"I've had the privilege of serving on the board, and as its chair in the past, and there are certain moments in the life of Alzheimer's Community Care that really bring so much joy," he said. "This is another benchmark, another jewel in the crown, to serve the western communities, and I know it takes a community to put a project like this together."
Wellington Mayor Bob Margolis was very supportive of the new facility. "This is such a blessing for me to be here today," he said, noting his personal connection with Alzheimer's disease.
Margolis' mother-in-law had Alzheimer's disease and dementia. His father-in-law hid it from them for years. He recalled hearing that a startling number of caregivers suffer the most and actually pass away before the Alzheimer's patients, due to the stress of the situation.
"I have to tell you something," Margolis said. "My father-in-law was one of those statistics. He never said anything, and I remember, one day, getting a phone call from fire-rescue."
That phone call forever altered their lives. "Fire-rescue called, and said to my wife, 'Your dad had a stroke, and we don't know if we can save him,'" Margolis recalled.
All his father-in-law really needed, Margolis said, would have been a few hours of the day to himself.
"My father-in-law was a statistic. But, if we had this today, I don't think he would have been, because this would have given him the opportunity just to catch his breath," Margolis said. "Thank goodness and thank God for this today. Wellington should be proud that you're here."
A diagnosis, rather than just writing forgetfulness off as something that comes with age, is imperative, Rappaport said.
"My mother and two of her sisters had Alzheimer's, and there was no help at all," she said. "None of the really close people to any of those three women survived without damage — none of them. If you suspect, if you think, if you wonder, go find out. In the end, it's better to know."
Wellington Councilwoman Anne Gerwig, who serves on Palm Beach County's Citizens Advisory Committee on Health & Human Services, was excited to hear that Alzheimer's Community Care would be opening a service center in Wellington.
"I knew of the need out here," she said. "We're so happy to have you here and happy to be able to serve people closer to home, making it more convenient for families."
Wellington Councilman John McGovern also expressed his admiration. "I am so excited to see it come to fruition," he said, thanking the church for engaging in a partnership with Alzheimer's Community Care, as well as the donors for making it possible.
Wellington Vice Mayor John Greene also thanked Alzheimer's Community Care and its supporters. "This is about the people who are spending their days and hours impacting the families in a positive way," Greene said. "The people who deserve the real thanks are the people who have the resources to make this possible; to the board who gives countless hours of time and dedication to make sure that the mission is followed through; to everybody who works there, and their families."
The missing link for Wellington, he explained, has been taking care of its seniors. Institutions like Alzheimer's Community Care, he said, bridge the gap and make a difference.
Margolis took to the microphone to thank Shalloway, who led a presentation on elder care and Alzheimer's disease that the Margolis family attended when they took over caring for his mother-in-law.
"I will tell you, without this gentleman, things were difficult enough, but he was absolutely a Godsend," Margolis said. "I wanted to personally thank you from the bottom of my heart."
Gene Pranzo, trustee for the Leo & Anne Albert Charitable Trust, whose mother-in-law suffered from Alzheimer's disease, believes if they had known about Alzheimer's Community Care, his mother-in-law would have had a better end to her life. "You've done a remarkable job, and I just hope that all of the people who come here enjoy it," he said.
Mary McCarthy, church council president at St. Michael, moved to Florida from Nebraska. Her pastor in Nebraska passed away from Alzheimer's disease, and she explained that he would have benefited from a program like the one now offered by Alzheimer's Community Care in Wellington.
"To watch this transformation turn into fruition is very heartwarming to me and to the church council at St. Michael," she said.
Caregiver Maria Hijos has been taking care of her mother for the last eight years. "This center has been a lifesaver," she said. "I see life in her eyes again. She plays games, she sings — which she wasn't doing before."
Thorton "Tim" Henry, trustee of the James and Claudine Kirkwood Fund and an Alzheimer's Community Care board member, told the audience that his mother has Alzheimer's disease and no longer remembers him or other family members.
The Kirkwoods, he said, invested in the first two ambulances in the North County area. When they died, without any family, they decided to leave their money to the Community Foundation of Palm Beach and Martin Counties.
"Animals and healthcare, that's what they loved," he added. "They left their entire estate so that we could do things like this. They'd be proud."
St. Michael Lutheran Church is located at 1925 Birkdale Drive in Wellington. The new Alzheimer's Community Care facility is open Monday through Friday from 7:30 a.m. to 5:30 p.m. For more info., call (561) 331-6576 or visit www.alzcare.org.