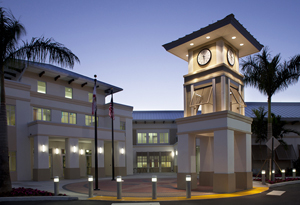 The Wellington Village Council gave final approval to an $85.5 million budget last Thursday, up $8.5 million or 11 percent from last year's $77 million spending plan.
The council also followed its staff's recommendation to keep village reserves at 31 percent in order to stave off anticipated future shortfalls in the Acme Improvement District budget.
An extra $3.2 million in reserves has already been freed up. That money, from the village's rate stabilization program, was deemed no longer necessary in light of an improving economy.
The property tax rate of 2.45 mills is the same as last year and will produce $16.16 million in revenue, which is about $1.5 million more than last year due to rising property values. Total taxable property value in Wellington now stands at almost $7 billion, which is up 11 percent from last year.
The council continued to debate how the $3.2 million gleaned from reserve funds should be used.
A decision was made to approve funding of $1.2 million to pave 120th Avenue South, although that left some council members concerned that paving it will leave residents without a bridle path along the road. A dirt road is technically considered a bridle path in the village charter, although 120th Avenue now has heavy vehicular use.
Isles of Wellington HOA President Michael Mishkin thanked council members for approving the money to pave the road. Several of the neighborhood's residents had shown up at previous hearings complaining that increased traffic had made 120th Avenue a dusty nuisance.
The council also approved several intersection and crosswalk improvements considered necessary for safety.
The total governmental operating budget is $49.5 million, up $4.7 million or just under 11 percent.
The capital projects budget sits at $9.8 million, about $2 million more than 2015. Transfers stand at $11.7 million, up $2.5 million.
The Acme Improvement District budget was approved Aug. 25. The Acme assessment remains unchanged at $230 per unit. The solid waste assessment decreased $20 per customer as a result of contract renegotiations by the council earlier in the year.
Revenue to Wellington is about 17 percent of what residents pay on their total ad valorem tax bill. Residents pay more to the Palm Beach County School District (34 percent) and Palm Beach County itself (22 percent). Next in line is Palm Beach County Fire-Rescue (14 percent) and a number of smaller taxing authorities.
Village staff revised capital planning from the previous meeting to reflect changes directed by the council. The biggest changes are the addition of road and pathway improvements for $2.4 million. Turn lanes and traffic engineering were retained at $300,000 for Big Blue Trace at Barberry Drive and Big Blue Trace at Wiltshire Village Drive, which also include drainage improvements.
To balance the budget, the village is using almost $3.2 million from the unrestricted fund balance, including $658,000 from the building fund, almost $1.3 million from the adopted Acme fund, $791,000 from the road impact fund and $440,492 from the adopted water and wastewater fund. It will also use revenue of $175,344 from the Lake Wellington Professional Centre and almost $3 million from the adopted water and wastewater fund.
Village Manager Paul Schofield said the adopted $3 million water and wastewater rate income reflects a long-range plan for improvements to the system.
"What is happening here is that the money required to do the planned improvements over the next 20 years has been built into the rate structure so that we do not have to borrow money for those improvements," Schofield said, adding that they had recently replaced water mains in the Montauk community. "Those were pay-as-you-go. We do not do like most municipalities and borrow the money to do that."
Councilman Matt Willhite pointed out that the village has only $7 million in total debt.
"Everything that we've done in this village is on a pay-as-you-go basis," he said. "We have to have a little debt because your credit rating is based on having a little bit of credit. We have something that other municipalities don't have, and that's reserve accounts, and we hold them to have the best possible municipal bond rating there is."
Willhite added that if the village decides to purchase the Binks Forest Golf Course, which has been discussed in workshops, he would like to consider a bond issue to make the purchase.
Regarding the paving of 120th Avenue, Willhite noted that there are intricacies that have not been resolved, including approval by only eight of 15 adjacent residents.
"We've also told residents and approved by the council collectively a bridle trail map, which we've put into our comp plan, that shows 120th Avenue with a bridle trail," he said. "If we pave it, it's not a bridle trail."
Willhite said that on his spreadsheet for capital improvements, he had funded 120th Avenue at $1.8 million, which is about the same amount as the comparable Saddle Trail Park paving funded by assessments to residents at their request, which includes a bridle trail.
Willhite also pointed out that he had funded 11 out of about 20 projects on the spreadsheet with the $3.2 million gleaned from reserves.
He also advocated bringing the reserve from 31 percent to 29 percent, which would add about $750,000 in revenue. "We are obligated to balance the budget, but that does not mean putting more and more money in reserves," he said.
Willhite also favored funding a multiuse path in the Aero Club in response to residents who said the street is not safe to walk on, but Councilwoman Anne Gerwig said the sidewalks in the village were paid for by the people who bought homes there.
"The sidewalks that were built in this community were from impact fees," she said. "If people are walking on roadways, children are riding bikes on roadways, it is not safe; but the funding mechanism that has been done for everyone else has been for the impact to be paid by the person who borders it."
Gerwig pointed out that Willhite had put a sidewalk for Paddock Park at 21 on his list. "The Paddock sidewalk would be one that would take the children from across the street and all throughout Paddock and get them off of a roadway," she said.
Councilman John McGovern asked about the consequences of reducing the reserve to 29 percent, and Director of Administrative & Financial Services Tanya Quickel said that it would result in having to balance Acme from the general fund in the 2017 budget cycle or raise the assessment, and by 2019 or 2020, the building department would need support from the general fund due to decreasing impact and permit fees.
Schofield said the recommendation has always been to maintain a 25 to 29 percent reserve in order to maintain the bond rating.
"We have been above that because previous councils decided to set aside a reserve fund," he said. "The biggest ones were the $3 million for the rate stabilization fund and $3 million for the disaster relief fund. The largest percentage of what has been used in transfers this year is the $2.5 million that's left in the rate stabilization fund. We put that in place several years ago… We didn't use it, and it is time to either use it or give it back. My recommendation is to spend the $3.2 million."
Schofield said that there is some leeway because property values had gone up more than anticipated.
Mayor Bob Margolis thanked village staff for making this the easiest budget season that he has been through.
"I've always been a believer that our reserves are really healthy," Margolis said. "I'm thinking that there's going to be additional funds coming back from projects that have been overfunded. For me, this is really simple, almost a gift that was waiting to be given."
He said that he would like to fund the items higher on the spreadsheet, including the Aero Club multiuse path, and to find money for the Paddock Park pathway. He also favored using bond money should the village choose to purchase the golf course.
After more discussion regarding the likelihood of mid-year budget changes, the council approved the budget as presented 3-2, with Gerwig and McGovern opposed.