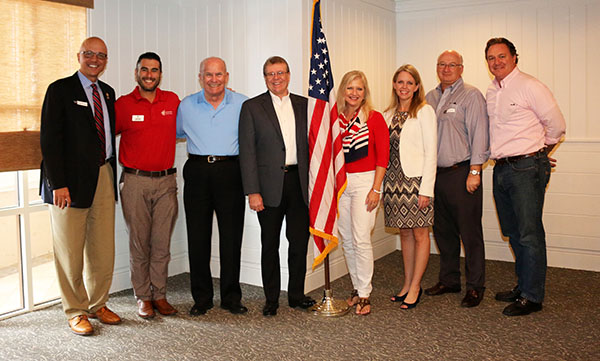 Wellington's seasonal equestrians are headed back to the community, and the Wellington Chamber of Commerce put out the welcome mat at its luncheon Wednesday, Nov. 11.
Chamber members and guests were treated to early-access information on what this year's equestrian season will bring at the Palm Beach International Equestrian Center and Wellington Classic Dressage.
But first, as a special nod to Wednesday being Veterans Day, all veterans were asked to come to the front of the room to lead the Pledge of Allegiance with Chamber President Johnny Meier.
Executive Director Michela Green reminded the room that the chamber's biggest annual event, run in conjunction with the Palm Beach International Equestrian Center, is Winterfest, coming up Nov. 28.
The event is going to be huge, Green said, noting that the accompanying food and wine festival is already sold out. Vanilla Ice will be performing, and there will be an ice rink, visits from Santa, a Grand Prix show jumping event, performances from local talent and plenty more.
Mark Bellissimo of Equestrian Sport Productions noted that the deadline to apply to be included in the 2016 Great Charity Challenge taking place Feb. 6 is Friday, Nov. 13. Lucky charities drawn to participate in the event, founded by Bellissimo and his daughter Paige, will be announced during Winterfest.
"We've raised close to $8 million in the last six years and distributed it to only Palm Beach County charities," Bellissimo said. "We had 400 charities apply last year, and we're hopeful to have the same number this year."
Charities are randomly selected, so everyone has an equal chance at participating, he said.
"We've already raised close to $1.6 million for this year," Bellissimo said, adding that he expects to raise millions more.
Pro-am teams of riders are assigned to each charity, and then the horse and rider teams go through the jumping course. Each charity comes out a winner, with the distribution correlating to how the riders place.
Equestrian Sport Productions President Michael Stone explained the history of equestrian sport and how it has grown. "The first recorded international horse show was in Dublin in 1868," he said.
The next major international show was in 1902. The International Equestrian Federation (known as FEI, after its French acronym) was founded in 1921. "Equestrian sport was run by the military," Stone said. "For 30, 40 years, it was almost only military."
Men and women, he said, compete equally in equestrian sport. "We're the only sport in the Olympic Games that doesn't get gender-tested," he said.
Today, Stone said, the equestrian industry in Wellington has an economic impact of more than $200 million in Palm Beach County. When comparing that number to the Super Bowl, he said, the direct economic impact per capita is double that of the Super Bowl.
"It's like having the Super Bowl here all the time, from an economic benefit to Palm Beach County," he said. "Also, we're here every year. The Super Bowl moves all over the place."
In 2011, the equestrian community generated 90,000 hotel bed nights. A 2014 survey, he said, predicted 137,000 bed nights for 2015. "That translates to an enormous amount of money for the community," Stone said.
Saturday Night Lights, a special show at the Palm Beach International Equestrian Center, begins Jan. 13 and continues through April 3.
At the dressage venue, there is freestyle dressage featured on Friday nights, which is dressage set to music. Admission to both signature events is free. Parking for Saturday Night Lights is $20 per vehicle.
To learn more about the various events taking place at the Palm Beach International Equestrian Center, visit www.pbiec.coth.com.
Noreen O'Sullivan of the Gold Coast Dressage Association (www.gcdafl.org) and Wellington Classic Dressage, a local organization created to foster competition and education in dressage that has been in the community for more than 35 years, came to speak about their upcoming season.
"This past weekend, we did our first show of the 2016 winter season," she said. "We hosted it at the Global Dressage Festival stadium, which is a wonderful venue, and then we continue on in January."
Throughout the year, the GCDA holds eight to 10 events at several area venues.
ABOVE: Congressman Ted Deutch, Johnny Meier, Tom Wenham, Darell Bowen, Councilwoman Anne Gerwig and Commissioner Melissa McKinlay with Michael Stone and Mark Bellissimo of Equestrian Sport Productions.