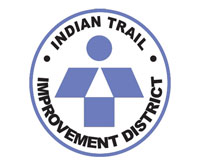 Thanks to the Indian Trail Improvement District and a local animal rescue group, four-legged friends will soon have a new stomping ground where they can frolic, run, explore and play.
Downers Dog Park, located at 16700 E. Downers Drive, will open Saturday, Nov. 21 with a ribbon-cutting ceremony at 10 a.m.
ITID Parks Director Tim Wojnar explained that the district noticed that the park's usage had declined in recent years.
"Listening to the community, there were residents who were asking about the possibility of a dog park," Wojnar said. "After further review of our neighborhood park system, we decided that Downers Park would be the best fit for this."
ITID Supervisor Michelle Damone was excited about the idea of a dog park in the community.
"I have observed that other communities have dog parks — some of them have multiple dog parks," she said. "Even the rest areas on the turnpike have dog parks. Campgrounds have dog parks, hotels and even some malls. So, I thought our community deserved its own dog park."
Damone put the idea out on various social media pages and received a great deal of feedback. Royal Palm Beach recently opened a new dog park, and the dog parks in Wellington and at Okeeheelee Park have long been utilized by Acreage residents, she said, explaining that there was a need in the area for a dog park.
The rest of the ITID board agreed. "I'm appreciative that the rest of the supervisors supported the idea," Damone said. "They've been extremely supportive, and I'm looking forward to the entire community's involvement and engagement with the new dog park."
The conversion wasn't difficult, she explained, since the infrastructure of the park was already there. One of the two baseball/softball fields was divided into two dog parks — one for small and medium dogs, and the other for larger dogs.
The most difficult part, Damone explained, was connecting the park to potable water for the dogs to drink and be washed off with. Landscaping and benches were added to complete the community feel of a dog park.
"It has been a great project," Wojnar said. "We're ready for it. It's the Indian Trail Improvement District's first designated area for dogs."
When the dog park officially opens next weekend, there will be an adoption of the park by Barky Pines Animal Rescue & Sanctuary.
Barky Pines' Elizabeth Accomando is thrilled that they were consulted for what should be included in a dog park and are honored to be involved.
Barky Pines takes in local dogs from shelters, as well as lost or stray pets from within the community, Accomando explained. At the grand opening, they will be doing their pup art, where they use nontoxic paint and canvas to create permanent works of art in exchange for a small donation, which helps them with their work helping animals in the community.
"A place in our back yard where our local residents can go and enjoy time with their dogs in a different environment, and for well-behaved dogs to have some social time, is very important," she said.
Barky Pines will be organizing multiple cleanups throughout the year at the park to help maintain a fun, safe and clean environment for dogs of all sizes to use and enjoy.
Sandra Semande, who is organizing the grand opening with Wojnar, is a dog owner herself. She is excited about the upcoming event.
The Loxahatchee Ice Cream Co. is providing hot dogs, chips and soda for everyone, she said, and there will be dog soap and dog bones for each dog attending.
"It's the first and only dog park that we have in The Acreage," Semande said. "They need to make sure they're prepared for small dogs and big dogs, since it's open to everyone."
Semande pointed out that the park is especially good for dog owners who don't have a fenced-in yard.
"The dogs will have an opportunity to get out and socialize, and that's important," she said. "It's nice to know that they have an area to socialize just in their atmosphere, so they're more prepared when they go to other things in the community. It's another way for the community to connect and bring our four-legged furry friends along."
Damone expects a good turnout. "We'll see how much use the park gets, and maybe we'll consider [adding] one somewhere else in The Acreage," she said.