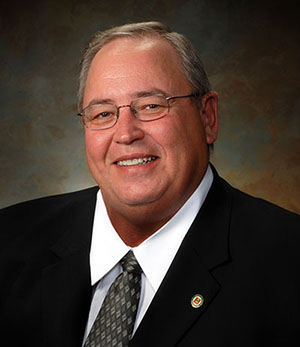 Wellington Village Manager Paul Schofield received a five-year renewal of his contract on Tuesday. The new agreement comes with a small raise, but also includes a salary cap and overall reductions in benefits and perks.
The agreement was reached in negotiations between Schofield and Councilman Matt Willhite, who had once tried to get Schofield replaced.
Schofield's base salary will go from $220,000 to $222,500, and the contract will run through Feb. 12, 2021.
In reviewing the contract, Schofield told council members that he had included changes from the discussion at the agenda review meeting the day before that included a salary cap that went with a raise to partially make up for it, as well as an agreement that if he decides to move from his current home in Royal Palm Beach, it will be to Wellington.
Willhite said that he changed the contract from a 90-day, to a 180-day notice if he should choose to leave, so it would give the council more time to replace him. Schofield's severance pay was reduced from 52 weeks to 20 weeks.
Willhite said the salary as negotiated on Monday will be reduced with overall benefits from about $229,000 to $225,000 annually.
He added that Schofield is the only employee who is provided a new vehicle on a regular basis with a tag and insurance.
"At the useful life of the current use of his current vehicle, which has about two years of life on it, the vehicle will be gone into the fleet," Willhite said. "We will stop paying insurance, tag and replacement cost for the vehicle, and he will get the standard vehicle allowance for senior staff members. That, in my opinion, is a longer-term savings."
Wellington's current senior staff vehicle allowance is about $600 a month.
Willlhite also pointed out that the contract stipulates an annual performance review in August, where a time certain was not previously delineated.
He also confirmed that if Schofield should change his residency for any reason, he will move to Wellington.
"It doesn't delineate to rent or own, but it says he'll live here, so I think that's a benefit back to the village, because he's not just closer to us to work and we can find him, but because he becomes a beneficial paying member of our community," Willhite said.
Willhite estimated that the total savings in the contract over the five-year term is about $79,000.
"I don't really know the savings for the vehicle and different things," he said. "I think those are long-term savings that could show something," he said.
Willhite said he approved the contract proposal.
"In my discussions with Mr. Schofield, we've always had fruitful and very frank discussions," he said. "Sometimes we agree and disagree, but at the end of the day, we both speak our mind. What I've left him with is he is at the helm of this village should the council approve this contract. My feelings previously in moving forward with Mr. Schofield, he knows very well, and I've told him to delineate some leadership in the village. I asked him to lead this village should this pass in the way and the manner that he has the ability."
Vice Mayor John Greene thanked Willhite for his negotiations with Schofield.
"I know that there was some concern about you stepping in and facilitating this negotiation, and not just from this dais. I think others in the community have felt that there was some ploy that you were going to try to negotiate something to drive Mr. Schofield out," Greene said.
Willhite made a motion to approve the contract, which was seconded by Greene and passed unanimously.
ABOVE: Village Manager Paul Schofield.