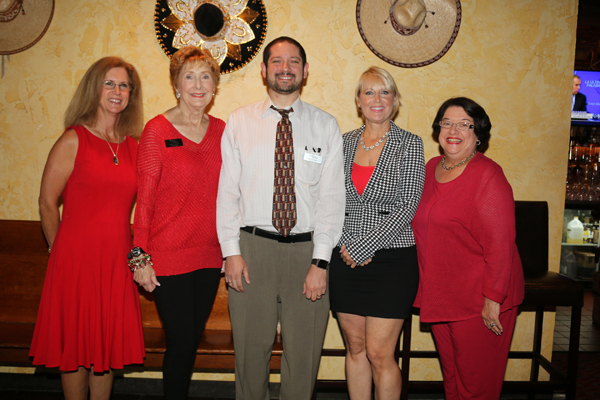 Wellington Cares held its year-in-review annual meeting Thursday, Dec. 3 at Casa Tequila Mexican Cuisine in Wellington. Friends, colleagues, caregivers, volunteers and more sat down for a delicious lunch as they learned about what the organization accomplished in 2015.
"We are so fortunate to have all of our friends, volunteers and participants here to join us today for our annual meeting, as well as for our annual holiday party," Executive Director Kathy Foster said.
In January, Wellington Cares will turn 6 years old, although it took a while for the organization to get up and running.
"We've been providing services now for almost three years, and our membership, both with people who welcome us into their home, as well as our volunteers who go into the homes and help our friends in need, continues to grow on a daily basis. We're delighted that we're able to offer these services free of charge," Foster said.
Wellington Cares offers services designed to help older residents "age in place." Services include pickup and delivery of dry cleaning, prescriptions and groceries; in-home services such as laundry, light meals and cleaning; socialization by home visits or phone calls; assistance scheduling appointments, writing letters and paying bills; helping seniors coordinate with local services; transporting seniors to medical appointments, therapy appointments or places of worship; and small home repairs, patient advocacy and hurricane preparation
None of it would be possible without the hard work of the nonprofit's board. The Wellington Cares' Board of Directors includes Executive Director Kathy Foster, Treasurer and Corresponding Secretary Marion Frank, Volunteer Advisor Joan Manning, Cheryl Anders, Alec Domb and Daniel Turner. "They work on a week-by-week and month-by-month basis to make this happen," she said, before also thanking sponsors Schaefer Drugs, Floridian Community Bank, Effective Solutions and Extraordinary Charities of Palm Beach.
Foster introduced Diane Gutman and Selena Smith. "We wouldn't be here today without Diane," Foster said, praising Gutman's coordination, communication and matching abilities. "Selena is always out there promoting us, helping us raise more money and looking for opportunities for us to make sure that we can stay financially afloat."
Gutman, before reading notes from participants, thanked the volunteers for their hard work and dedication.
"I'd really like to thank the volunteers for everything that you do," she said. "It is really with a big heart that you all extend your time to this organization and to our participants. It doesn't go unnoticed that you all do it because you want to and not because you have to, and that spreads a lot of love in this community."
Volunteers were honored with plaques for their exemplary dedication and service. Those who have accumulated more than 50 volunteer hours since 2012 include Lu Croteau, Melody Domb, Al Klarich, Carol Testa, Evelyn Regan and Sharyn Vowles. Volunteers with more than 100 hours of volunteerism include Janice Downs and Joan Manning, while Ann Brinson exceeded 150 hours.
In January 2015, volunteer Ellie Vogt began the Hospitality Committee, where she mans the phones daily, weekly or every other day. She was also honored.
Raffle prizes were given out during the luncheon, where Foster announced that gift cards will be distributed to participants for the holidays.
"Thank you for all you do for Wellington Cares," Foster said.
For more information about Wellington Cares, visit www.wellingtoncaresorg.com.