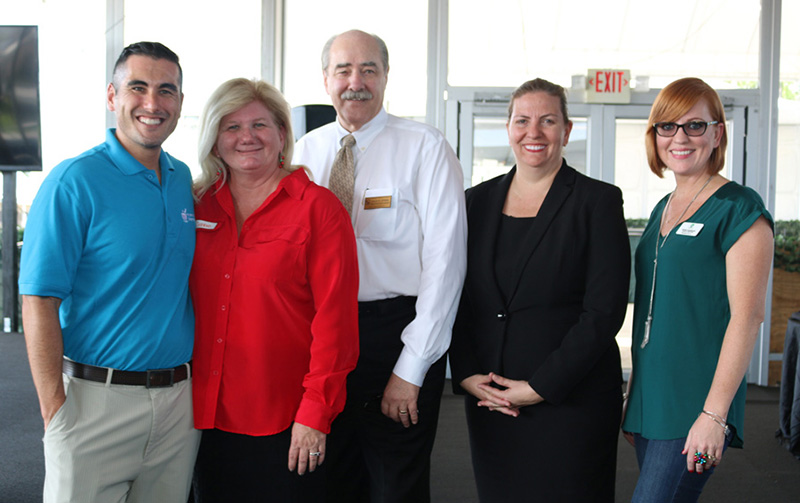 The Wellington Chamber of Commerce held its holiday luncheon at the Palm Beach International Equestrian Center on Wednesday, Dec. 16.
Chamber President Johnny Meier opened the meeting with a discussion of WinterFest 2015, which took place recently at the Palm Beach International Equestrian Center. The event drew more than 8,000 people. Meier thanked all of the sponsors for their parts in the successful event.
"The chamber salutes all of our exhibitors, sponsors and performers for making their contribution to Wellington's unique lifestyle, its economy, and a spectacular event, and to each of you for attending, for being part of this event and part of our community," Meier said. "We look forward to seeing you all next year."
On Feb. 28, he said, the chamber will be hosting the first Wellington ColorFest 5K, kicking off at 7 a.m. at Village Park (11700 Pierson Road).
Vendor and sponsorship spots are available for the run where participants are sure to get messy. For more information, visit www.wellingtonchamber.com.
The proposed slate of officers for 2016-17 includes Meier as the immediate past president, Debra Crompton as president-elect, Tiffany Rodriguez as vice president, Dale Grimm as treasurer, Stuart Hack as secretary, and board members Blanca Greenstein, Michael Ferreira and Dr. Randy Laurich, and a representative from Palms West Hospital. Alec Domb nominated Bedonna Flesher to the board.
Nicky Greed, local reggae rock singer/songwriter, who has performed at WinterFest twice, performed for the members, closing out the last luncheon of 2015.
To learn more about the Wellington Chamber of Commerce, visit www.wellingtonchamber.com.