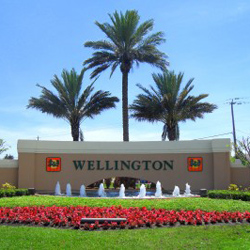 Wellington's Equestrian Preserve Committee recently reviewed the draft of an equestrian trails circulation report that gives an evaluation of trails as they currently exist and of plans to improve connectivity over the next 10 years.
"As you know, we have gone through a couple of iterations of this, and we are finalizing this and bringing it forward for approval," Wellington Projects Manager Mike O'Dell said at the committee's Dec. 9 meeting.
The report also gave a time frame for the trail improvements and included the amount of money that the Wellington Village Council plans to put into the proposal.
The report also included a summary of work that has been completed since 2004, including an update on work done since the council approved a conceptual master plan last year.
Committee Member Houston Meigs asked what plans are to build a bridle path along 120th Avenue South, since it was recently left without a bridle trail after the area was approved for paving.
O'Dell said no specific plans had been made yet, since it was not part of the specific approval process for the paving, but with the council approving paving of the road where the bridle path is, it tacitly became a part of the trails plan, since it is part of the comp plan.
Committee Chair Linda Elie asked whether it was within the committee's purview to put a 120th Avenue trail in the plan before the council in order to regain that segment of the trail, and O'Dell said that they would need some council direction to do that.
Committee Member Michael Whitlow suggested that the committee make a recommendation to the council, and O'Dell said the subject before them that evening was to review the report, make comments and approve it, if possible.
"I would like to get this moving," O'Dell said, adding that its next stop would be the Planning, Zoning & Adjustment Board.
Committee Member Dr. Kristy Lund asked whether trails are included when paving projects are presented to the council.
"We made a huge ordeal with Saddle Trail about maintaining the bridle paths, so when this was brought for paving 120th, was that brought to their attention about losing that part of the bridle trail?" Lund asked.
O'Dell said that there was discussion on the topic.
Moving on through the report, he also noted that Palm Beach Little Ranches has been highlighted for improvements.
"We have discussed their access points, being north and south on Forest Hill Blvd., as being issues we need to deal with," he said. "There are traffic lights at both of those locations that could be utilized."
Getting riders from Little Ranches to the heart of Wellington's equestrian area is a challenge, O'Dell said.
"Even as we cross those particular roadways in an east/west direction, and going west from Palm Beach Little Ranches, we get across Forest Hill Blvd., then you continue against Big Blue Trace, and there's no crossing at that intersection either," he said. "So the challenges are not in just one location, but getting across multiple roadways is a challenge from Palm Beach Little Ranches."
Getting a horse across Forest Hill Blvd. is a challenge no matter how it's done, O'Dell said.
Trip counts were recently conducted on the trails, using 28 strategically located cameras that recorded not only horses, but also vehicles, with as many as 3,900 trips on a more heavily used portion in a 13-day period in March and April of 2014. Some areas had fewer than 100 in the same period.
Meigs said that he is concerned that a heavily used trail connecting Saddle Trail Park to the Palm Beach International Equestrian Center is privately owned.
"We need to figure out what to do because if that property is changed, if the ownership changes, somebody might not want to continue to be so generous," he said. "There certainly is an assumption that that's public."
Recommendations for overall improvements include culvert crossings in some areas, plus shelters and potable water.
Cost estimates, excluding possible equestrian overpasses and not including grant financing, are about $2.92 million. Footing improvements at key locations would cost about $1.2 million; implementing eight canal crossings, $1.2 million; striping and flashers at street crossings, $139,000; and two shelter and water locations, $70,000.
Implementation will begin this year with improvements to the so-called Brown Trail: about 2,000 feet of path, 1,000 feet along the east side of Wellington Trace and 1,000 feet along the north side of the C-15 Canal, plus connecting Saddle Trail Park to Paddock Park, at a cost of $200,000.
Also slated for 2015-16 are Blue Trail improvements to extend an existing culvert within the C-23 canal crossing, to widen the link from Saddle Trail Park to Pierson Road, and to improve the Pierson Road crossing into the showgrounds, at a cost of $180,000.