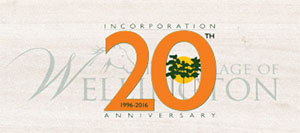 On Dec. 31, 1995 — 20 years ago next week — Wellington formally became an incorporated community. The birth of the Village of Wellington followed years of discussion and a razor-close referendum vote in November 1995.
While it would take months for the inaugural Wellington Village Council to be seated, and years for Wellington to assume all of its statutory responsibilities from Palm Beach County, the final day of 1995 rang in a new municipality run by a caretaker government held over from the old Acme Improvement District, the village's pre-incorporation government.
In celebration of the 20th anniversary milestone, the Village of Wellington and the Wellington Chamber of Commerce are planning a series of special events.
The first event is the free Breakfast on the Green that will take place Thursday, Dec. 31 from 9 to 11 a.m. at the Wellington Amphitheater (12100 W. Forest Hill Blvd.). Residents are invited for a light breakfast and a live acoustic show by popular local artist Bobby Gugliuzza. During the event, there will be special gifts to commemorate the anniversary.
Community Programs Manager Michelle Garvey is looking forward to the breakfast.
"People can come, enjoy each other's company and then go about their day," Garvey said. "It is New Year's Eve; we know that people are busy with their families. We just wanted to mark that day because it's an important day in our incorporation."
Marking the anniversary milestone is important for the community, Garvey said.
"It's a really nice way to bring the hometown together," she explained. "Wellington is a great hometown, and we love to show it off to our residents and others. It's a special way to kick off 2016, and we hope people will come."
The Wellington Chamber of Commerce is gearing up to paint the village (or participating runners, at least) red, blue, green, yellow, orange and all sorts of other colors at the first Wellington ColorFest 5K, sponsored by the Village of Wellington, where participants will experience a bright, active adventure on Feb. 28 at Village Park, starting promptly at 7 a.m. Registration for the race is $35, and can be completed at www.active.com.
Wellington Chamber of Commerce Executive Director Michela Green noted that the chamber will also be turning 20 years old in 2016.
Teaming up with the village for the event, Green said, during the double 20-year anniversary, shows what a successful, vibrant and business-friendly community Wellington has grown to be.
"Teaming up with the village makes it even more exciting as our joint ventures always prove to be a success," Green said.
Reaching the 20-year mark, she said, shows teamwork and local business support, which comes from patronizing local venues and utilizing local retail and service providers.
Tentatively set for March 19, there will be another special anniversary event with bounce houses, bands and more. The first council meeting occurred in March 1996, Garvey said, and the event is meant to honor and celebrate this Wellington milestone.
"It will be a really nice, feel-good environment celebration of the 20 years of incorporation," Garvey said.
Public Information Officer Liz Nunez is looking forward to the events and taking a trip down memory lane.
"We are proud and excited to celebrate this milestone. Many great things have taken place over the last 20 years since incorporation," she said. "We are excited to share the memories, and look toward the future as we come together to celebrate our great hometown."
The village has put out a request for photographs, whether they are of house construction, buildings within the village or anything that is reminiscent of how Wellington has changed over the years, including landscapes, council meetings and special events.
Photographs are requested prior to the Breakfast on the Green, and there will be an ongoing collection. To send in digital copies of photos, e-mail communications@wellingtonfl.gov or lnunez@wellingtonfl.gov.