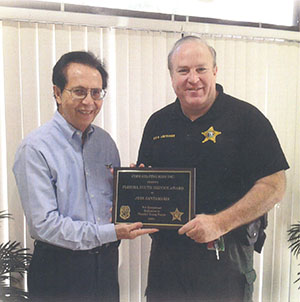 Former Palm Beach County Commissioner Jess Santamaria was recently recognized by Cops Helping Kids Inc. for his dedication, involvement and participation in the program.
For many years, Santamaria has been supporting the program, primarily for disadvantaged youth in the Belle Glade, Pahokee and South Bay communities. The program is driven by law enforcement officers and those in the community who volunteer their time to help others.
According to the organization, the Santamaria family has been an excellent role model for the children involved in the program.
Santamaria has been working with and supporting the organization for more than a decade. In 2015, he was named a Platinum Silver Gloves Sponsor.
The program is excellent at teaching children self-discipline and character formation and through athletics, Santamaria said. The program is advantageous all around, he explained, because it teaches children that the police are there to help them, and also gets the children off of the streets and into something productive.
Everyone benefits from the bonding and growth that occurs through sports and athletics, Santamaria explained.
For more info., visit www.copshelpingkidsflorida.com.
ABOVE: Jess Santamaria accepts the Florida Youth Service Award from Michael LeStrange of Cops Helping Kids.