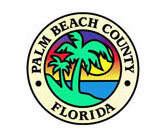 The Roebuck Road extension to the State Road 7 extension, although adamantly opposed by the City of West Palm Beach, is back in Palm Beach County's five-year road plan. Although still years from reality, the controversial roadway is on the plan for design and mitigation purposes as a reliever to Okeechobee Blvd.
The planned route runs between the West Palm Beach Water Catchment Area and three West Palm Beach communities on the north side of Okeechobee Blvd.
Those communities — Riverwalk, Andros Isle and Baywinds — were allowed based on an agreement that Roebuck Road would eventually be extended. However, in more recent years, West Palm Beach has fought against the roadway.
On Tuesday, the Palm Beach County Commission approved advertising for a preliminary hearing on the road plan Tuesday, Dec. 15. The latest plan includes major improvements in the western communities in anticipation of several large new developments.
Acreage resident Alex Larson questioned the county's improvement plans for Seminole Pratt Whitney Road north of Orange Blvd., but no plans for work from Orange Blvd. to Seminole Ridge High School. County Engineer George Webb explained that his staff has been working with developer Minto to widen that two-lane segment.
"Seminole Pratt Whitney Road has been a focus of the county for years now," Webb said. "We have two projects in here for 2017. We have been working with Minto's design engineer since their approval last year for the [Minto West/Westlake] project."
Webb added that Minto is close to receiving a permit to actually build the road.
"I had discussions with their representative just a few weeks ago," Webb said. "They have firm intentions; they are fully committed. They are trying to obtain that permit, which we believe they will obtain after the first of the year. They will be commencing ahead of the project in our program, so there should be activity in the early part of 2016. We will follow them with projects extending to the north."
Commissioner Melissa McKinlay asked who is responsible for maintaining Hall Blvd. in The Acreage, noting that there was a fatal motorcycle crash at Key Lime and Hall boulevards on Thanksgiving. "It seems to be at least a monthly occurrence," McKinlay said.
Webb said that Hall Blvd. is an Indian Trail Improvement District road. There are traffic calming plans for that area that the county has been working with ITID on, he added.
Webb said his staff will be focused on when and how the five-year program would start reflecting what is necessary in The Acreage area due to all the new projects.
"There will be a lot of roadway needs out in the mid-western areas because of that, and that will be the primary focus of future dollars probably for the next five or 10 years," he said.
Webb said that Roebuck Road has been carried forward for the past seven or eight years.
"That was because when we attempted to move forward with building Roebuck Road back in the mid-2000s, the permitting agencies said, 'Please identify and show necessity,'" Webb said. "Roebuck is intended to be an immediate reliever for Okeechobee Blvd. between State Road 7 and Jog [Road]. As they were asking us about that necessity, the recession hit, and correspondingly, traffic counts went down dramatically."
However, those traffic counts are back on the rise. "The continued growth out in the western area convinces us that that traffic will continue to grow over the next five, 10, 15 years," Webb said.
He pointed out that the county commission had recently approved a proportional share agreement for 275 apartment buildings at Skees Road and Okeechobee Blvd. in West Palm Beach. Further, the Minto project will also bring additional traffic to Okeechobee Blvd.
"What we're asking you to do is reevaluate Roebuck and tell us not to show construction, because it's not going to be under construction in five years, but to instead fund design and permitting in that fifth year," Webb said. "There will be enough traffic as it continues to grow over the next five years to potentially justify being able to move forward or have the board determine at that point in time whether it wants to move forward with the construction phase."
Commissioner Paulette Burdick pointed out that the actual approval of the apartment project at Skees Road was made by the City of West Palm Beach.
"Now we have the traffic impacts," Burdick said. "But as we continue to move forward and explore other options in trying to move the public, I know it's expensive, I know we have an issue up in Washington, but we've got to figure out a different way. We can't keep expanding these roads, funneling through our cities."
Webb also pointed out that there are projects in Royal Palm Beach that will add to the overall traffic impact, including a commercial project at SR 7 and Okeechobee Blvd. "They're also looking at approving additional housing," Webb said.
He pointed out that Minto also plans a significant amount of commercial development intended to internally capture much of the traffic. "Minto is going to be building a lot of non-residential," he said. "There will be jobs created at Minto, so hopefully, the traffic patterns will adjust and not everybody heads east."
The five-year road plan calls for spending $57.8 million in 2016, $101.3 million in 2017, $39.3 million in 2018, $30.6 million in 2019 and $74.5 million in 2020.