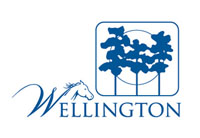 Wellington's Planning, Zoning & Adjustment Board recommended approval Wednesday of the voluntary annexation of approximately 10.5 acres north of Wellington Regional Medical Center on the west side of State Road 7.
The board had postponed the annexation request for the Village Professional Park land on Nov. 4 at the applicant's request due to a question over an old easement through the property that the Lake Worth Drainage District might have a claim to.
Village Planner Damien Newell said that the question had been cleared up and the Lake Worth Drainage District had released any claim to the property.
The currently vacant site is north of Wellington Regional Medical Center about 600 feet west of State Road 7 and about a half-mile north of Forest Hill Blvd.
The property is currently under Palm Beach County jurisdiction.
The site is bordered by vacant low residential property to the north, vacant Village Professional Park property to the south and west, and a storage warehouse to the east.
The current owner bought the property last February from the county with a condition that required the buyer to annex the property into Wellington.
Village Professional Park requested a voluntary annexation of the 10.5-acre vacant parcel and an adjacent 0.4-acre, undeveloped 25-foot road right-of-way currently in unincorporated Palm Beach County.
The petitioner also owns the adjacent 53.88-acre parcel currently inside the Village of Wellington, located to the south and west of the property to be annexed.
The petitioner is proposing an overall 64.38-acre Village Professional Park mixed-use project to include restaurants, retail, a hotel, multifamily housing and an assisted-living facility.
Agent Richard Carlson said that several potential tenants had shown interest, and that the multifamily component is in high demand in that area.
PZA Board Member Paul Adams asked about traffic considerations, especially at the busy Forest Hill Blvd./State Road 7 intersection.
Carlson said that the internal traffic design and mixed uses will be aimed at keeping traffic on site. He added that the development meets traffic standards, and that the final site plan will come back before the board.
The village's Development Review Committee certified the property for the public hearing process on Sept. 23, and village staff recommended approval.
PZA Board Member Elizabeth Mariaca made a motion to recommend approval of the annexation, which carried 7-0.