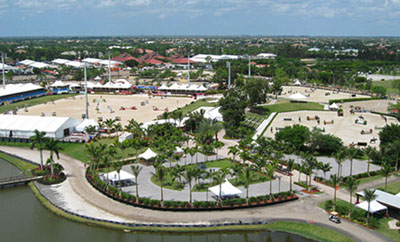 The Wellington Village Council approved a special use permit Tuesday for Grand Prix Farms to allow two temporary access points to Gene Mische Way.
Planning & Zoning Director Bob Basehart said the application was similar to one approved last year to allow two access points to Lots 8, 9 and 10 of Grand Prix Farms, and the applicant had applied for a master plan amendment that the Equestrian Preserve Committee was scheduled to review on Wednesday. It will go before Wellington's Planning, Zoning & Adjustment Board in January and the council after that. "It was too late to accomplish this season," Basehart said, explaining that the permit was approved last year with 14 conditions.
This year's application is the same, except for a section on overflow parking, landscaping and drainage improvements on Gene Mische Way. Those items are not in this year's application, but will be coming through for a staff-level approval.
Village Attorney Laurie Cohen pointed out that the parking on Gene Mische Way is not part of the council's approval.
Vice Mayor John Greene asked why the applicant was seeking another temporary permit, rather than having it taken care of with a master plan amendment, and Basehart said that such an amendment had been submitted in October 2014 for permanent access directly to the Palm Beach International Equestrian Center.
"Those applications were not complete," he said. "There were issues with them. They did sit for a number of months, and village staff was intending to remove them, actually throw them out, but the applicant resubmitted and reactivated them. The permanent application was reactivated on Nov. 2. The file is complete and is able to go through the public hearing process now."
Greene asked whether the Grand Prix Village homeowners' association had weighed-in on the temporary permit, and Basehart said that no objections had been raised, and that they favor a permanent access directly to the show grounds.
"Since these lots are being used primarily to service horses that are active at PBIEC, they would rather that the lots have access directly to Gene Mische Way, rather than all the trucks and cars that service the horses using their road internally," Basehart said.
Engineer Michael Sexton, representing the applicant, said that Equestrian Sport Productions went to the property owners' association two years ago and received approval to utilize the property for stabling, and to use Gene Mische Way for service rather than the main entrance on Grand Prix Way.
"The site plan that we submitted has sufficient parking for the stalls on the property," Sexton said. "They can just park and walk over to PBIEC once they come in."
Greene said that he believes residents are concerned about privacy and security, and asked if there are measures for people parking and stabling there to prevent free access to Grand Prix Village.
Sexton said that the property has a secondary set of fences within Lots 8, 9 and 10, and that access through the fences to the stables and the other driveway is restricted.
"There is complete security to protect both the horses that are there and the neighbors," he said.
Greene was also concerned about the volume of traffic on Gene Mische Way, with the presence of horses on a bridle path along the road.
"There were very strong arguments previously about not having horses cross a road," he said. "In this case, I think there is more traffic here than in other situations. How do I reconcile that?"
Sexton said that the two access points are between two paths, one a golf cart path and the other for horse traffic.
"During the Winter Equestrian Festival and the other larger shows, Equestrian Sport Productions has security people stationed there who are crossing guards for the horses and for the golf carts," he said. "All of that traffic coming from the south is allowed into the show grounds before you get to either one of those driveways."
Councilman Matt Willhite asked why the parking on Gene Mische Way was part of the application last year but not this year.
Sexton said that last year they had made two separate applications for a special use permit.
"One was for access and the other was for temporary parking on Gene Mische Way," he said. "Working with village staff, we decided to put them together into one special use permit. We have been working all year with staff to resolve parking issues."
Sexton said he hopes to have the parking on Gene Mische Way certified by the village and in place in time for the Winter Equestrian Festival.
"We won't need a temporary [permit]," he said. "We'll be able to build permanent [parking] with the assurances of the alternate landscape plan."
Sexton said that the landscape plan had been complicated by the introduction of angle parking, which makes it easier for vehicles to get in and out.
"We have a zigzag landscape area with a slightly smaller number of parking spaces," he said. "We made a few modifications, but we are providing an alternate landscape plan."
Willhite pointed out that he had voted against the temporary permit last year, rather than going through the master plan process.
"Obviously, there was discussion about it last year," he said. "Another year later, we're doing the same thing again. If everyone is in agreement, let's just do the paperwork and do it properly and get it done. My concern is that we're taking one piece of property and accessing another that wasn't initially intended for this purpose. Let's do it and stop piecemealing."
Greene made a motion to approve the application. "My focus continues to be what's best for the sport," Greene said. "It has always been, regardless of who's submitting."
However, he was not happy with the delays on the permanent solution. "It is frustrating sitting here year after year," Greene said. "These things keep coming back to us, and they don't have to if applicants submit in a timely manner."
Greene's motion carried 4-1, with Willhite opposed.
ABOVE: The Palm Beach International Equestrian Center.