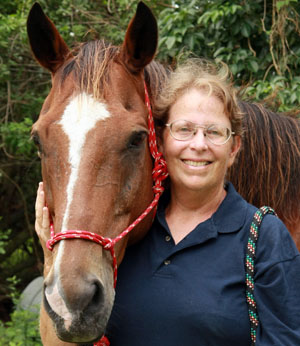 TALES FROM THE TRAILS
The weather cooperated: comfortably warm, a bit of a breeze, light hit-and-miss showers. It was Black Friday, and I had three Wellington tack shops in sight.
On Course Consignment, located at 12773 W. Forest Hill Blvd., Suite 109 (561-753-6256, www.oncourseconsignment.com), opened at 9:30 a.m. I arrived a half-hour early, and there was already interesting stuff on display in the parking lot. A $5 table held breeches, chaps, halters, belts, boots, and bridle and coat totes. There were bins of blankets, girths, bits, martingales, breastplates and bridles. A $1 tote held leg wraps, row bands and more tote bags.
The clothing racks displayed more bargains: a whole $5 rack of coats, shirts and breeches, and racks of brand-new Animo breeches, shirts and shad bellies marked down 30 percent. Although many of the goods were lightly used consignment items, there were also of plenty of brand-new items. Inside were more markdowns on everything except the saddles.
Ashley Perkins, who winters in Wellington, was looking at the Animo breeches. "My friend dragged me here," she laughed. "There's a lot of really nice new stuff, which I wasn't expecting. I'm glad I came. I'm sure I'll find something."
Her friend, Amy Boyer, from Massachusetts, was also browsing. "This is a hell of a sale," she said. "So far I've found some horse boots, a girth, and a pair of breeches, and I haven't even made it inside the store yet."
Inside, Claudia and her daughter Isabella had driven up from Boca Raton for the sale. "We found some open-front boots and some shirts," Claudia said. They've got a great selection of everything, and we always have a good time here. I'm sure the more we look, the more we'll find."
My next stop was the Dover Saddlery at 11120 S. Crown Way (561-422-2025, www.doversaddlery.com), where the store was filled with signs announcing specials. Many items were marked down by 25 to 50 percent, including saddle pads, bridles, shirts and helmets. Customers browsed the aisles, fingering possible purchases and trying on boots.
Jaime Garfield of Wellington was there with daughter Sarah, 12. "Sarah has gift cards to use," Jaime said, as Sarah settled on two saddle pads: one white, one black. "I'm going to tie-die the white one, and get the black one embroidered," said Sarah, who rides at Casperey Stables.
"I really like this store," Jaime said. "There's a good variety of everything, it's close to home, and a lot of the girls at the barn come here. Today it's even better, since so much is on sale."
Kellie, a Wellington resident, agreed. "I'm looking for what I need now and what I might need in the future," she said, fingering a lovely pony bridle for an incredible $29.99. "There are such great deals today, like this bridle. I need this bridle. I need a little bit of everything. That's what I like about this store — you never know what you need until you see it."
My final stop was at the Tackeria, located at 13501 South Shore Blvd. (561-793-2012, www.tackeria.com), the busiest and most crowded of the three. I ran into store manager Lou Cuthbertson, who was busier than a long-tailed cat in a room full of rocking chairs.
"The sale is going very nicely. The traffic has been steady," he said. "We've got a lot of good deals and a bunch of terrific free raffle prizes. We've sold a bunch of helmets."
Then he was off to help a customer.
The sales included up to 70 percent off bridles, saddles, supplies and clothing, including 20 percent off all Ariat footwear and half chaps. There were stacks of Dansho clogs marked down 30 percent, and tall leather boots without zippers for $19.95.
In addition to the hourly drawings of smaller items such as saddle pads, fly masks, halters and bridles, the big prizes, drawn Sunday afternoon, were enough to make anyone dream. There were two $500 Shires Equestrian Products gift certificates, a Romfh bling show coat valued at $229.95, a GPA helmet valued at up to $689.99, a One-K Defender helmet valued at $309.95, and the two biggies: an M. Toulouse Bridget Platinum double leather saddle valued at $1,299, and an HDR Lumina close contact saddle valued at $995.
Alison Evans had a pile of stirrup pads and hoof supplements. Marisa Farber was searching for good deals on show clothes. Jane Wareham stayed on her mission and only got horse treats and Coppertox. Cathe Colucci didn't find anything, but she added her postcard to the box, hoping to win one of the prizes.
Cat MacAlister had driven in from Fort Meyers for the sale. She owns Bogginfin Farm and had lists of things for herself and her clients. Her shopping cart was nicely full.
"I have two kids who just got two new ponies, so they need everything," she said. "I've found terrific deals on girths, martingales, bridles, shipping wraps, blankets and fly masks. I love this sale. I come every year. I always find great stuff, and you can't beat the raffles."
Tackeria owner Tony Coppola cruised by, checking to make sure everything was progressing smoothly.
"I think it's wonderful that we can still offer such good deals after all these years," he said. "We have a lot of support from our vendors, who donate the raffle items, and, of course, our customers. By Sunday night, I'll be one tired puppy."