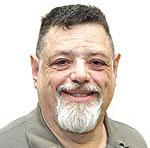 'I' ON CULTURE
Spotlight is quite simply one of the best movies of this year, even the past couple of years. It clearly is in the tradition of another journalistic movie, All The President's Men, and that is very high praise. It is the story of a team of investigative journalists at the Boston Globe newspaper, the Spotlight team, that uncovered one of the biggest scandals in history: the child sexual abuse scandal in the Catholic Church, and, more importantly, the cover-up that went all the way up to the Vatican.
The action starts quickly when a new editor at the Globe, Marty Baron (Liev Schreiber) at his first editorial meeting in 2001, asks whether there was going to be a follow-up on a report by a Globe columnist about sexual abuse by a priest. The other editors protest that the story had been reported before, but Baron asks Walter "Robby" Robinson (Michael Keaton), the Spotlight team's leader, to check it out. The other editors, including Ben Bradlee Jr. (John Slattery), think it will be a waste of time until they learn there are other priests involved. Coincidentally, Bradlee Jr. is the son of Ben Bradlee, the Washington Post editor during the Watergate scandal.
This movie follows the members of the Spotlight team, Robinson, Michael Rezendes (Mark Ruffalo), Sacha Pfeiffer (Rachel McAdams) and Matt Carroll (Brian d'Arcy James) as they knock on doors and pore over old newspaper clippings, court records and reference books, chasing down the story and starting to connect the dots. Along the way, they get cursed out but also begin unearthing facts.
This story becomes very personal to them. All of the reporters were raised Catholic. Carroll discovers that priests guilty of sexual abuse have a house a few blocks from his own. He has a brilliant scene where he runs over to see the house, takes a photo and then pastes it on his refrigerator, warning his children to stay away from the place. Robinson discovers that some of his friends are involved in the cover-up of the sexual abuse scandal and winds up having to confront them about what they'd done, but, during the investigation, he finds that he was the one at the newspaper who had ignored key evidence years earlier, while the "sleazy" lawyer he had been attacking had quietly sent in a list to the newspaper of all the priests he had made deals with. Rezendes is outraged when he learns that publication is being delayed because of problems with corroborating evidence. Then the attacks of Sept. 11, 2001 delay things further.
A central character, lawyer Mitchell Garabedian (Stanley Tucci), who represents a number of sexual abuse victims, is considered an oddball who is hard to work with, but after a lot of effort on the part of Rezendes, he becomes a valuable source of information. There are several powerful scenes with the victims of predatory priests.
There is no doubt, of course, that this is a one-sided argument. After all, it is difficult to argue in favor of child sexual abuse. The individual stories are well-played, as are examples of pressure put on by the friends of the church to block the stories. If there is a weakness, it would seem to be that every time there is any pressure, every one of the journalists is ready to go forward. Somehow, I have the feeling that this might not have been quite as true in real life. But it is a compelling story nonetheless.
The acting was very good. Ruffalo is great playing driven characters. I liked McAdams, whose exceptional looks were basically ignored as she played a reporter dealing with a religious grandmother. But the film probably belongs to Keaton. He beautifully underplays everything, but you can easily see his pain and his drive to ensure that the story not only focuses on immediate issues but on the systemic corruption within the church.
This is the best movie I've seen so far this year. The screenplay, by director Tom McCarthy and Josh Singer, is compelling. It grabs you right from the start and hangs on until the end. There are no car chases, no evil villains waiting in dark corners. Instead, there is a story about a crusade that looks far more at how journalism is done, how sources need to be corroborated, and how important a free press can be. This is a movie that should not be missed.