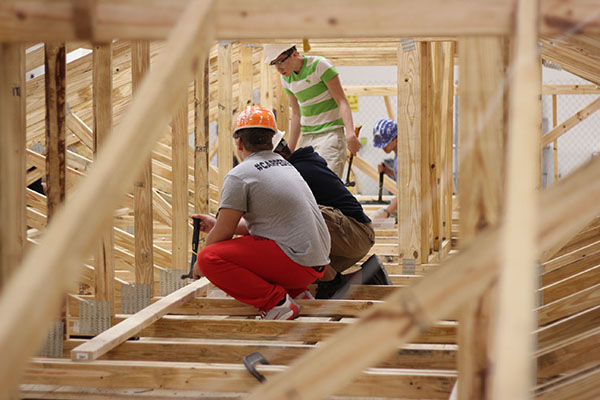 Weitz Academy of Construction students at Seminole Ridge High School will be able to walk away after graduation with the knowledge that they not only excelled academically, but they also truly made a difference in the lives of others.
The approximately 180 SRHS teens who are part of the academy program work throughout the school year on two different houses for Habitat for Humanity. During the fall semester, they finish up one house, and start a new one during the spring semester. They build, with their own hands (and, of course, tools and guidance) a home for someone to live in.
On Nov. 19, the program's fourth 1,206-square-foot, three-bedroom, two-bathroom house began a move to its permanent home site in Lake Worth. Seven tractor-trailers arrived, and they brought the house over on Nov. 20 to be assembled starting at 8:30 a.m. By 12:16 p.m., the four house modules and six roof sections were installed and ready for the finishing touches.
"From beginning to end, it reinforces everything we teach them. Everything from math and English, we use all of that in here," teacher Rick Terkovich explained. "Not only is it reinforcing their academic classes, they are learning a skill, a marketable trade. When these kids graduate, I'm able to get them good paying jobs. The ones who want to go on to college and study architecture or engineering, they're way ahead of the other students who are going for the same classes."
The seniors getting ready to graduate, he explained, will have worked on five Habitat for Humanity houses. "The academy gives the kids skills they can market," Terkovich said. "They get used to working in a shop, and they learn viable employability skills."
Senior Samuel Ramirez has enjoyed the program.
"My dad is a plumber, and he has worked in construction for years. I wanted to follow in his footsteps," Ramirez said. "It's a different experience than I really expected it to be. From what I heard, it was really just building small things, and then I got here, and it was building a house. It was really fun."
Helping families, he explained, is an important part of what they do. "I've always wanted to help people, and it feels great knowing that I can help people who can't really afford that," Ramirez said.
As a choice academy, students have to maintain minimum grade point averages in order to remain in the academy. Terkovich is always at the ready for tutoring or extra help.
The students' first semester focuses on Occupational Safety and Health Administration (OSHA) requirements. Terkovich is an OSHA-certified trainer.
"That way, before they ever get out working on a house, using saws and hammers and everything, they understand more about safety," said project manager David Porter, an architect who works as a volunteer. "As the year progresses, and as he sees some freshmen who really look like they know what they're doing, he will introduce them and integrate them into the actual construction process."
On the third house, Porter said, Terkovich found that the four best electricians were four female freshmen.
Sophomores, juniors and seniors all work on the house. Freshmen are integrated as they progress with their learning.
The students rotate on working on the house throughout the day, which means that they're able to get a house done each year.
Looking at the school days the students work, Porter estimates it's 60 to 90 days that the students work on the house, in terms of work hours.
"It's a teaching process, so we're not rushing the kids," Porter said, explaining that if something isn't done quite up to par, it is redone.
Now that the home has been placed, the academy is gearing up to start its fifth house in January, which is destined to go to a family in Belle Glade.
"I'm really proud of these guys," Terkovich said. "Freshman year, some of these guys didn't know which end of a hammer to use. By the end of their freshman year, they build walls; they built the main structure of the house. By their sophomore year, they've done everything on a house."
When they take the students to the house site to turn the keys over to the family getting the home, Terkovich said, even the toughest of students showed emotion."
"They're able to give somebody a home," he said. "To the kids, it's their house, and they're giving it to the people. The fact that they gave somebody a house, how do you put that into words? They're really proud of themselves. If you told them they'd be building houses for somebody, they never would have thought you were even close to telling the truth."
Except it is the truth, which never would have been without certain key elements falling into place.
Porter became involved 11 years ago when the school first opened. He also chairs the Construction Oversight & Review Committee for the School District of Palm Beach County.
Terkovich and Porter created the Habitat for Humanity program at the school together. It all started, Porter said, when Terkovich learned that Marathon High School in the Florida Keys was building a house for Habitat for Humanity in their shop, and they realized that the same thing could be done at Seminole Ridge.
The two took a trip down to the Keys and learned more about the program. That led to setting up an agreement with Habitat for Humanity of Palm Beach County.
"Without Habitat, we wouldn't have a home-building program," Porter said, explaining that the nonprofit supports the school by paying for materials through donations and fundraising.
Those who have a Habitat-built house have an interest-free 30-year mortgage. They have to qualify, and they must put in 400 hours sweat equity into either their own house or other Habitat houses.
Weitz, Kauff's Transportation Services and Priority Towing, and DC Crane Services donated workers, services and equipment to help move the house.
To learn more about the Habitat for Humanity houses or provide a donation, visit www.seminoleridgehabitathouse.com, or contact Porter at (561) 694-0100 or dporter@porterarchitects.com.
ABOVE: Seminole Ridge students work together to install bracing in the Habitat for Humanity House.