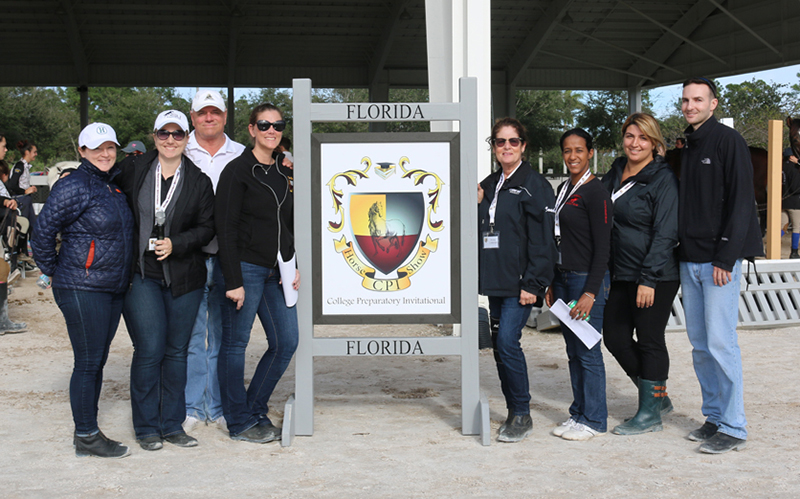 The College Preparatory Invitational, an equestrian event where high school riders compete and meet with more than 40 college representatives and coaches from around the country, came into town for its sixth year from Friday, Jan. 15 through Sunday, Jan. 17.
"It is designed to educate equestrian athletes about their options once they go to college," event organizer Lindsay Martin explained. "There are several different options out there."
Student riders can receive either full or partial scholarships, depending on which organization they choose to work with. Some colleges have equestrian programs, and students will choose those schools, or students will choose a school based upon the equestrian program.
"There are many schools out there that have equestrian programs that a lot of people don't know about," Martin said. "We provide the opportunity for all of these colleges to come here, free of charge. They get a table, and they are allowed to meet with all of these students that we have here."
The college representatives are able to talk with the students and help make the best match for the students' needs and goals.
Equitation — a style of riding based upon the rider and not the horse — is the category that the riders compete in at the CPI.
"In this sport, you draw a horse. You never ride your horse. You draw it, and you're expected to get on it and perform," Martin said.
She leases horses every year — 32 horses this year — and they work at all different levels with riders.
Riders have come from as far away as Hawaii. This year, Martin added a CPI in California, and already has a rider from Alaska.
Applications for the CPI generally open in July, with high school juniors and seniors having application priority. Around September, the competition event opens to freshmen and sophomores.
The Florida-based 2016 CPI attracted 140 high school riders to the Jim Brandon Equestrian Center, many of whom traveled long hours — some even coming from Texas — to compete and meet coaches.
Ashley Gregory from Davie won first place for high point rider, followed by Hayley Antonelli of Maryland and Amalya Silverblatt of New York, in what was originally a three-way tie.
Mollie Green of Ohio won the Essay Award, Caydee Dickennsheets of Texas won the Written Horsemanship Test Award and Ellie Tradup of Texas won the Champion of Service Award.
This year's essay contest focused on courage.
"I haven't really had the easiest life," Green said.
Green's parents divorced when she was in third grade, which was the beginning of her difficult times. Her father moved to Connecticut and remarried within a few months. At first, she flew to Connecticut, but eventually drifted apart from her father.
When she was in sixth grade — she is now 16 years old — they received a phone call about her father. He was missing, and the police were looking for him. He was in trouble and had been labeled a sex offender. It was news that quickly followed Green to school.
"Going to school on the first day of sixth grade was miserable. Everyone knew. I think everyone looked at me differently. It was really hard for me. Everyone was talking about me at school, behind my back," she said. "It wasn't easy for me. I had to show a lot of courage and get through school, through life, and not let those things affect me."
Riding, she said, has helped her.
"When I'm at the barn, it's just me and my horse. When I'm riding at the barn, I can be myself. It has been my home. Everyone there is so supportive. I feel like horses understand you at a different level than people do," Green said.
The United States Hunter Jumper Association awarded five $1,000 grants to students Chloe Bellerive of Maryland, Alexa Donsbach of Indiana, Elizabeth Gilbert of Texas, Tanner Pfeffer of Ohio and Chace Simmons of Virginia to compete in the 2016 East Coast College Preparatory Invitational. Each student had to either have a 3.5 out of 4.0 GPA or be in the top 20 percent of their class to qualify.
Young riders come from near and far to compete, Martin explained. This is her second year running, and owning, the event, which she had volunteered at for years. Seeing the smiles on the riders' faces when they ride, connect with colleges and learn about the industry, Martin said, makes all the effort of putting such a large event together worthwhile.
"That's why I do what I do — to make a difference. This is a very privileged industry. To be able to give back a little bit, it means a lot to me," Martin said.
A second horse show will take place March 11-13 at the Los Angeles Equestrian Center's Equidome in Burbank, Calif. That CPI is still accepting applications, which are available online.
For more information, visit www.collegeprepinvitational.com.