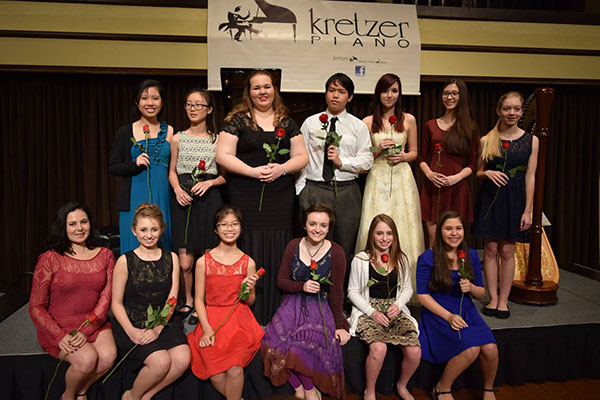 The Kretzer Piano Music Foundation will present the Kretzer Kids in Concert on Tuesday, Jan. 19 at 7 p.m. at the Harriet Himmel Theater at CityPlace (700 S. Rosemary Ave., West Palm Beach).
The performance will be presented as part of the foundation's ongoing Music for the Mind series, the concert will feature 13 talented young singers, pianists and even a trumpeter.
The Kretzer Kids are a group of middle school and high school music students who perform more than 50 concerts a year in nursing homes, assisted living facilities and other venues to the delight of senior citizens.
Proceeds from the concert will go to Kretzer Piano Music Foundation to help fund the Kretzer Kids program.
Tickets are $10 for adults and $5 for students and can be purchased at the door or by calling Kretzer Piano at (561) 748-0036.
For more information, visit www.kretzerpiano.com/kpmf.
ABOVE: (Front row): Ali Zaidspiner, Emily Rynasko, Lylybell Zhou, Mary Rose Gallipeau, Emily Shecter and Alexa Burnston; (back row) Catherine Zeng, Hely Lin, Emily Thompson, Alvin Xue, Nicole Kelly, Tiffany Hart and Karen Copeland.