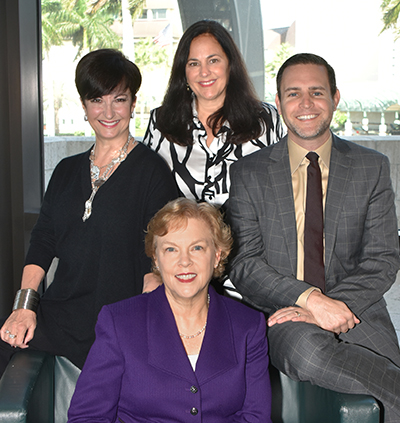 Hosting a gala to benefit homeless services in Palm Beach County has officially become a mayoral tradition. Palm Beach County Mayor Mary Lou Berger recently announced there will be a Mayor's Ball in 2016, and like the preceding balls, it will benefit the Homeless Coalition of Palm Beach County.
"If you don't have a place to live you cannot start to put the rest of your life back together," Berger said, "you need to be in a place where you feel safe, that you can come home to everyday. Then you feel like you have re-joined society and you have a purpose and you're ready to move on."
Berger recalled the shock she felt as a young person the first time she saw someone living on the street. The image of that man stays with her as she and other county leaders look for ways to solve what she said is one of the community's biggest issues.
The Mayor's Ball began in 2014 when Priscilla Taylor decided to hold an event to increase awareness about homelessness and raise money to help solve the issue. Those efforts were continued in 2015 when Shelley Vana served as mayor. Both selected the Homeless Coalition of Palm Beach County as the fundraiser's beneficiary.
Proceeds from the balls have helped to move 583 men, women and children into permanent housing and to employ a specialist to identify affordable housing across the county.
"The Mayor's Ball is not about one organization or one city," said Pamela Goodman, president of the Homeless Coalition and co-chair of the host committee. "This event has helped fund programs at our partner agencies, like Adopt-A-Family, Goodwill, the Lord's Place and the Senator Philip D. Lewis Center. The Mayor's Ball benefits all people who are experiencing homelessness, in all the municipalities of Palm Beach County."
The 2016 Mayor's Ball will take place Saturday, Feb. 27 at the Palm Beach County Convention Center. The black tie gala will include a cocktail reception and silent auction at 6 p.m., followed by dinner and dancing.
The theme of this year's ball — "Be Inspired" — encourages guests to create change in the community.
"I would love to have everybody have a place to live, have a job, be happy, have family," Berger said. "It's such a Norman Rockwell picture, but if we could create it, just think of how great that would be."
Tickets are available for $250 through the Homeless Coalition's web site www.homelesscoalitionpbc.org.
The Homeless Coalition has worked for more than 25 years to end homelessness in Palm Beach County.
ABOVE: Palm Beach County Mayor Mary Lou Berger (front) with Host Committee Co-Chair Pamela Goodman, Homeless Coalition Executive Director Marilyn Munoz and Host Committee Co-Chair Neil Schiller. Photo by Leonard Bryant Photography