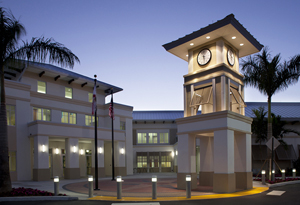 The Village of Wellington is looking for teen volunteers to help with its Martin Luther King Jr. Day community service project.
Recruiting teens to help with special events is part of the village's effort to get younger people involved in the community, and give them an opportunity to earn community service credits for school.
"The village has been doing this for at least the five years that I've been here, if not longer," Community Projects Manager Scott Campbell said. "It's something that we strive every year to use as a starting point for our volunteerism throughout the year. It's a kickoff event at the beginning of the year. It's a great way for us to reach out and engage the kids here locally to really dig in and help out their community, and learn the importance of community involvement and volunteerism."
Wellington's project for the Dr. Martin Luther King Jr. Day of Service will take place Monday, Jan. 18, from 10 a.m. to noon. Volunteers will be able to earn community service hours beautifying the Wellington Dog Park at 2975 Greenbriar Blvd. by painting the restrooms and spreading mulch.
Campbell said the MLK Day project started several years ago as part of the village's Volunteer Wellington.
"It has taken different forms throughout the years as far as what events we do and who we partner with, but it has always been a key component for us," he said. "If we have an in-house event or something going on, we love our local youth to help out."
Wellington's MLK Day of Service is part of a nationwide effort where hundreds of thousands of Americans come together in community service to honor the memory of slain civil rights leaders Dr. Martin Luther King Jr.
Teens interested in participating in the project should call Meridith Tuckwood at (561) 753-2476 or e-mail her at mtuckwood@wellingtonfl.gov.
"Our teens are a huge asset," Tuckwood said. "We have probably 20-something annual events here in Wellington, and a huge part of their success depends on our volunteers. We can't use all of our staff at all of our events, like Fourth of July, the Easter Egg Hunt, the Fall Festival, the Holiday Toy Drive and the Holiday Food Drive, just to name a few that are consistent, that we utilize our teen volunteers for. It serves a dual purpose. They need hours, we have events, and they're benefiting the community where they reside… It's a win-win for everyone."
Tuckwood said that in her experience with community service work, when people feel like they are a part of something, they are more likely to be involved and be included.
"How do we do that? Invite them to be a part of it," she said. "It's also an excellent way to invite the community to join in on what we're trying to accomplish. Volunteering can really benefit the community as a whole. Not only are we doing service in the community, we're also revitalizing the community."
Tuckwood enjoys hearing stories of teens telling others about what they did to help the community. "They feel empowered to go, 'That's something I can look at and feel proud of. This is my community and my town, and I made a difference,' so I think that's the message we're honestly trying to send, is that everybody has a part to play," she said.
Tuckwood said many of the teen volunteers return year after year to provide community support.
"We have a group that has volunteered for the food drive two years in a row now," she said. "They were just phenomenal. I invited them back and said, 'If there's any way you guys can come back for us, that would be huge,' because they did such a great job for us."
The case was similar with the recent toy drive.
"If they were available with the toy sorting, we asked that they be available the next day for the toy distribution event, because who better to know where the toys are than the ones who put them on the table?" she said. "And they know what kids want. How many parents are out there saying, 'I don't know what to get my 12-year-old?' Well, guess what? Here's a 12-year-old who knows what kids want."