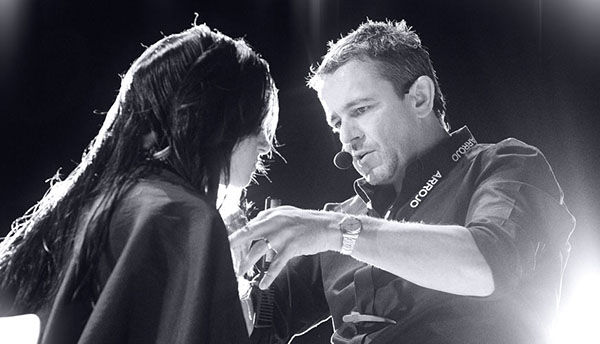 Visions Salon in Wellington will be presenting a Hair Fashion Show on Sunday, Jan. 24 from 5 to 7 p.m. featuring celebrity stylist Nick Arrojo as the guest of honor.
The event will take place at the salon, located in the Wellington Plaza at 12793 W. Forest Hill Blvd.
The show, Visions owner Tom Monticello said, will follow the theme of "50 Years of Hair Fashion from Sassoon to Arrojo," and will feature models styled and dressed to represent each of the past five decades.
Sassoon and Arrojo served as the inspiration for organizing the show. "Vidal Sassoon was like the father of modern precision hair cutting, and Nick Arrojo is leading a movement with razor cutting and modern texturizing hair cutting techniques," Monticello explained.
Starting at 5 p.m. with wine and refreshments, a maximum of 100 people will be able to enjoy the intimate, creative show. Tickets cost a minimum donation of $25, with 100 percent of the proceeds going to the American Cancer Society.
"Every year, we like to do a fashion event. We do a fundraiser; usually it's with the American Cancer Society," Monticello said.
The salon was able to attract the star power of Arrojo, a leader in the industry.
"Because of our affiliation with Nick Arrojo, who was the celebrity stylist on the TV show What Not To Wear for six years, we carry his product line. He comes down here a couple times a year, Monticello said.
In addition to the fashion show, local favorite Michaela Paige, who was on NBC's The Voice. Many of the models who will be dressing up to represent the decades are also local.
In the 1970s, Monticello said, the shag was a popular style. In the 1980s, it was disco style. The 1965-75 range will be the first decade, continuing from there.
Monticello's wife, Linda, is a 10-year cancer survivor. Each year, the salon supports a charity for children or cancer research.
"It should be a fun event," he said. "There will be a meet-and-greet with Nick Arrojo and Visions staff. We'll be having some giveaways, and selling raffle tickets for services and products."
One of the raffles is a once-in-a-lifetime experience. Arrojo is donating a haircut and new style makeover, valued at $500, and Visions is donating $500 worth of hair color and makeup, for a $1,000 raffle item total value.
Proceeds from the raffle will also benefit the American Cancer Society. Each event ticket includes a raffle ticket. Additional raffle tickets are $10 each or three for $25. Raffle tickets can be purchased at the salon anytime, and you do not have to be present, or attend the event, to win.
Visions is an Arrojo Flagship Salon, which means they carry the complete line — primarily his product line — and send stylists twice a year for training in New York. In October, nine people from Visions traveled for a two-day hands-on training seminar.
"We're excited to show how hairstyles have transformed from the 1960s to now and how the hairstyles from today are influenced from each decade. We pride ourselves on doing classic as well as very contemporary looks," Monticello said.
For more information, and to order tickets, call (561) 790-1696 or visit www.vhsalon.com.
ABOVE: Celebrity stylist Nick Arrojo will be the guest of honor at Visions Salon's Hair Fashion Show on Jan. 24.