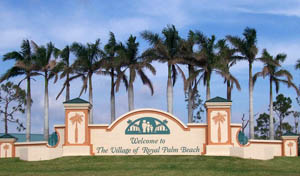 Representatives from the Wantman Group conducted a meeting Monday to provide more information about a proposed RaceTrac gas station at the northwest corner of Royal Palm Beach and Southern boulevards.
About 20 people attended the meeting at the Royal Palm Beach Cultural Center, which was in advance of a public hearing before the Royal Palm Beach Village Council set for Thursday, Jan. 14 at 7 p.m., also at the Cultural Center due to a large anticipated attendance.
A decision on the proposed gas station has been postponed several times, first at a regular council meeting on Oct. 15 where a large number of residents overflowed from the Village Meeting Hall, leading an attorney for residents opposed to the project to call for postponement because all the attendees could not hear the proceedings.
The discussion was postponed to Oct. 29 at the Cultural Center, where council members further delayed a decision in order to get answers to questions raised during the proceedings.
The requested information included a market analysis by the applicant, a traffic letter from Palm Beach County regarding the number of gas pumps and a traffic study of the area. The council also requested an analysis of projected crime anticipated as a result of the RaceTrac project.
Village Manager Ray Liggins, who was among village staff at the meeting, said Brian Terry and three consultants with the Wantman Group, a land planning firm, were prepared to make a presentation, but due to the small number of people there, they simply answered questions from residents and explained drawings of the proposed gas station, which is planned for 20 pumps and to operate 24 hours a day, seven days a week.
As with all other RaceTrac locations, it will feature a convenience store with a selection of prepared foods and beverages and sundries geared for travelers, but with design concessions recommended by village staff in order to avoid variances.
"Because there was only about 20 people, they kind of just dealt with everybody one-on-one for as long as they wanted to and answered everybody's questions," Liggins said.
Liggins explained that the gas station would replace one that had to be torn down when Southern Blvd. was widened 10 years ago, but that it is still a special exception use.
"It does have its appropriate land use, it does have its appropriate zoning, but it does require a special exception," Liggins said, explaining that a special exception use must meet 10 criteria required by village code.
"Clearly, staff made their report and they felt that it met the 10 pieces of special exception criteria," Liggins said. "You've got to remember that RaceTrac has been looking at being in Royal Palm Beach for at least the last two, maybe three years. They've been looking at different sites, and we've been very clear with them that at least from a staff perspective, we weren't looking at any site that needed variances, and most of the places they looked at required some type of variance to meet their criteria."
Liggins said that when RaceTrac first looked at the current site, it wanted a canopy all the way across the front that would require reduced landscaping, and smaller stacking lanes than what is in the current application.
"They wanted at least six variances, and we said: 'No way. We're not signing off.' They have a right to move forward with variances and go through the public process and try to get them, but we weren't going to be recommending approval," Liggins said. "We got it down to no variances. They got it to fit on the site."
Liggins said the site was not an easy fit, which required tearing down the old bank building and changing the Royal Inn master plan.
"There was a lot going on and, you know what? They moved through everything," Liggins said. "They were good to work with, and they modified their corporate standards to meet our zoning special exceptions and architectural esthetic review standards. That's how they ended up getting a recommendation of approval from staff, and that's how they got a recommendation of approval from the zoning board."
Liggins added that at the Planning & Zoning Commission meeting, there was no opposition to the proposal.
"No one showed up there to go against it, even though we had the same type of advertising," Liggins said. "This became an issue sometime between the zoning board and the council meeting."