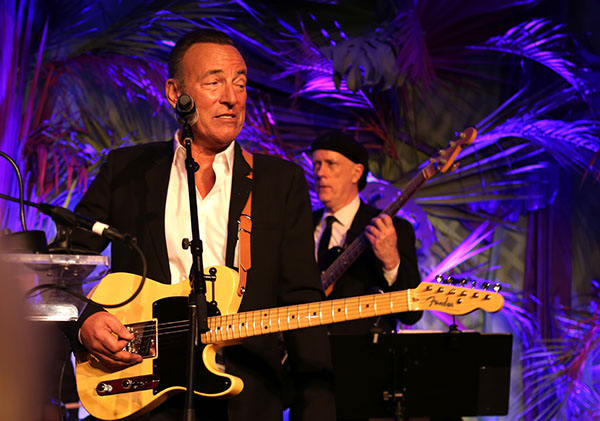 On Friday, Jan. 22, the United States Equestrian Team Foundation hosted its Rockin' Rio benefit at Louisburg Farm in Wellington. With more than 600 guests in attendance, the party featured honorary chairs Patti Scialfa and Bruce Springsteen. The celebratory evening included award presentations, an elegant dinner, a surprise performance by Springsteen and a lively auction, which helped raise more than $1.5 million for the USET Foundation.
The tent was transformed into a festive Brazilian wonderland by designer Reed McIlvaine and included an exquisite dinner by Ken Rose Catering. USET Foundation Executive Director Bonnie Jenkins and committee chairs Kimberly Boyer, Gloria Callen, Margaret H. Duprey, Elizabeth Johnson, Elizabeth B. Juliano, Jacqueline B. Mars, Robin Parsky, Rebecca Reno, Jeannie Tisbo and Akiko Yamazaki all helped organize the highly successful event.
Olympian Rodrigo Pessoa of Brazil kicked off the festivities, welcoming the American delegation to his country this summer for the upcoming 2016 Olympic and Paralympic Games in Rio de Janeiro. USET Foundation Treasurer Philip Richter then welcomed honorary chairs Scialfa and Springsteen, who recognized the guests for their dedication to equestrian sports.
"Patti and I have been involved with the horse world for 20-plus years since Jess started riding when she was 5 years old," Springsteen said, referring to his daughter Jessica. "Needless to say, retirement is nowhere in sight for me. I literally play for horse feed night after night."
Springsteen thanked the horse world for enriching his family's life.
"I've gotten to watch my daughter grow up into a young woman of character and excellence," he said. "I've gotten to watch a lot of you grow up with her. I've gotten to watch the best in the world compete year after year, and I know what that takes. We're here tonight to honor your focus, your hard work and your dedication."
Later in the evening, the awards ceremony began with 16-year-old Lucy Deslauriers being named the recipient of this year's Lionel Guerrand-Hermes Trophy, which is presented to a young rider in one of the Olympic disciplines who exemplifies both sportsmanship and horsemanship.
The next award was presented to U.S. eventing team member Phillip Dutton, recipient of the Whitney Stone Cup. The award is presented annually to an active competitor who displays consistent excellence in international competition and high standards of sportsmanlike conduct while serving as an ambassador for the United States and equestrian sport.
The final award, the Bruce Duchossois Distinguished Trustee Award, was presented to Brownlee O. Currey Jr. The award is presented annually to a USET Foundation trustee who exemplifies exceptional leadership, philanthropy and character.
Following dinner, the auctioneer took control of the microphone and revved up the crowd to begin the live auction, which raised money for the USET. Auction items included a four-piece equine collection by artist Sharon Lynn Campbell, tickets to the International Tennis Hall of Fame Enshrinement Ceremony and Championships with a stay at the Relais & Chateaux Castle Hill, and the painting Precision by Andre Pater, donated by Misdee and James Miller, to name just a few of the amazing items up for bid.
The benefit really started to rock when the final item was introduced as donated by Scialfa and Springsteen. What started as a signed guitar by "The Boss" quickly escalated to 10 VIP tickets with sound check and backstage meet-and-greet passes to one of Springsteen's concerts. To encourage the bidders, Springsteen took to the stage and brought the guests to their feet with one of his iconic performances. The hotly contested item eventually sold to two lucky bidders for $300,000 each.
The money raised will help USET riders as they prepare to compete at the 2016 Olympic and Paralympic Games. For more information about the United States Equestrian Team Foundation, visit www.uset.org.
ABOVE: Rocker Bruce Springsteen takes to the stage.