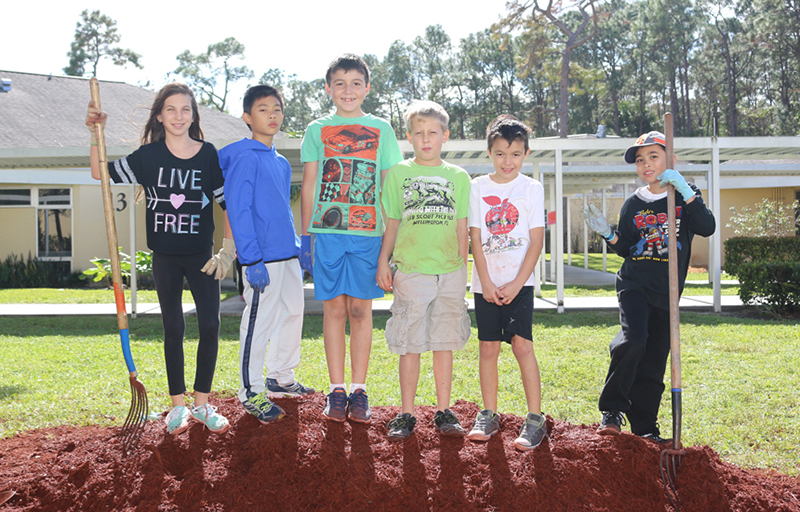 Wellington Elementary School, the oldest public school in Wellington, did an early spring cleaning on Saturday, Jan. 23.
Art teacher Pam Saeig and third-grade teacher Amy Bermudez headed up the organizational group that coordinated more than 120 people last Saturday, as they painted, cleaned up plants, added new foliage, put down mulch and made the school a prettier place to be.
Principal Dr. Maria Vaughan was amazed at the turnout and community support.
"I'm astounded and almost dumbfounded by what I'm seeing here today. We didn't really know what to expect, but this is way over and above our expectations," she said. "It's heartwarming and great to see that community spirit still exists and people are willing to give up their time and energy… Some people have donated resources to help us better our school. It's all for our students, and it's great to see that people are supporting public education."
The school has 776 students with a new fine arts academy about to launch.
"It was so important to me that the older buildings become a part of the newer buildings, to make them feel included," Saeig said.
The school has three new buildings — an administration building, a two-story building and the cafeteria, along with pods 4 through 14, which were the original buildings at the school.
Media Specialist Cathy West is one of the few who have been with the school since it opened.
"This is very exciting. It's good to see everyone come and jump on board," West said. "It just shows more support for our new program that's coming in."
When she started, the school was all portables. The buildings were being constructed, and everyone worked together. Some of the original teachers still get together, to this day, every month.
"It makes me excited to come back to school each day," West said. "It's showing progress, and showing that we're still here."
Years ago, when West was in a pod building, she wanted to be in a rectangular room. Now, the library is rectangular, with multiple rooms, and is being painted in bright, cheery colors.
Yellow, green and blue adorn the media center now, and West was looking forward to the children's responses to the new paint.
All of the pods are being painted to match the three new buildings, with intentional artistic decorating.
"The art club will be doing paintings on the walls, that we do in our club, so there will be a focal point of art in every building in the campus," Saeig said. "It is not just art going on in the art room, or music going on in the music room. It will be going on in all of the pods, and there will be a visual impact."
That, Saeig explained, signals a change. Having that change be obvious for the students changes the atmosphere.
Teachers are integrating aspects of the fine arts academy into the school, she explained.
The big cleanup happened to beautify the campus and make it feel more like a home, Saeig stressed. Because students spend so much time at school, the goal is to make the school feel warm and inviting, creating a community and providing an atmosphere conducive to learning.
Saeig chose the colors and the focal points to make the school look better, making it a better place for the children.
Bermudez, also a parent of three students at the school, is a business partner coordinator and actively involved in the PTO. "I'm so proud, especially since this was our first experience, starting with a campus cleanup," she said.
Having so many people come to help meant a lot to Bermudez, who asked Cub Scout Pack 165 to help the school as a service project.
"I think it's only going to get even better," Bermudez said. "I think that this can become an annual thing where everyone's going to take pride in the school."
She predicts that students who took part in the cleanup will take more pride in the school, and that as the students' pride grows, they will want to take better care of their school environment.
The cleanup garnered local attention as Mayor Bob Margolis and his wife Linda took a tour of the changes taking place, as did Councilwoman Anne Gerwig. Beyond current students, staff and parents, former students, middle and high school children, and Cub Scout Pack 165 came to assist.
Sponsors/donors Arbor Tree & Land Inc., Home Depot and Cub Scout Pack 165 provided essential support, helping to give the school an immediate facelift.
"I don't think we could have asked for it to be any better. We still have some work to do, so we're going to be working at pinpointing other areas we need to focus on. We've had a really great start today," Vaughan said.