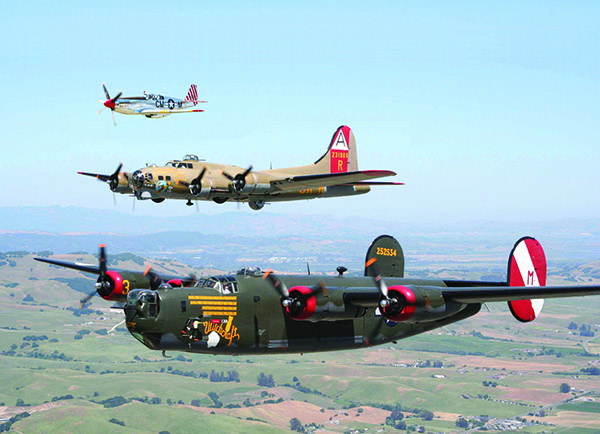 In honor of World War II veterans, the Collings Foundation will bring its Wings of Freedom Tour to Palm Beach International Airport from Jan. 25 to Jan. 28.
The show will feature WWII vintage planes, including extremely rare bomber and fighter aircraft.
Participating in the Wings of Freedom Tour is the Boeing B-17 Flying Fortress "Nine O Nine" WWII heavy bomber, the Consolidated B-24 Liberator "Witchcraft" WWII heavy bomber and P-51 Mustang fighter.
The vintage planes will fly into Palm Beach International Airport offering a rare opportunity to visit, explore and learn more about these unique treasures of aviation history.
The B-17 is one of only eight in flying condition in the United States, while the B-24J and P-51C Mustang are the sole remaining examples of their type flying in the world.
Visitors are invited to explore the aircraft inside and out. A fee of $12 for adults and $6 for children under 12 is requested for access to up-close viewing and tours through the inside of the aircraft. WWII veterans can tour the aircraft at no cost. There are discounted rates for school groups.
Visitors can also experience the once-in-a-lifetime opportunity to actually take a 30-minute flight aboard these rare aircraft. Flights on the B-17 or B-24 are $450 per person. To get some "stick time" in the world's greatest fighter, P-51 flights are $2,200 for a half hour and $3,200 for a full hour.
For reservations and more information on flight experiences, call (800) 568-8924.
The Wings of Freedom Tour will be on display at the NetJets facility, located at 985 Morrison Field Road.
The Wings of Freedom Tour will arrive at noon on Monday, Jan. 25 and will be on display at NetJets until the aircraft depart on Thursday, Jan. 28 at noon. Hours of ground tours and display are: noon to 4:30 p.m. on Monday, 9 a.m. to 4:30 p.m. on Tuesday and Wednesday, and 9 a.m. to noon on Thursday. The flight experiences are normally scheduled before and after the ground tour times.
The Collings Foundation is a nonprofit educational foundation devoted to organizing "living history" events that allows people to learn more about heritage and history through direct participation. The Wings of Freedom Tour is celebrating its 27th year and visits an average of 110 cities annually. Since its start, tens of millions of people have seen the B-17, B-24 and P-51 display.
The aircraft on display were the backbone of the American effort during WWII and were famous for their ability to sustain damage and still accomplish the mission.
After the war, many aircraft were scrapped for their raw aluminum to rebuild a nation in post-war prosperity. The rarity of the planes, and their importance to telling the story of WWII, is why the Collings Foundation continues to fly and display the aircraft nationwide. Find out more by visiting www.collingsfoundation.org.
ABOVE: These unique World War II era planes will be on display at the Palm Beach International Airport.