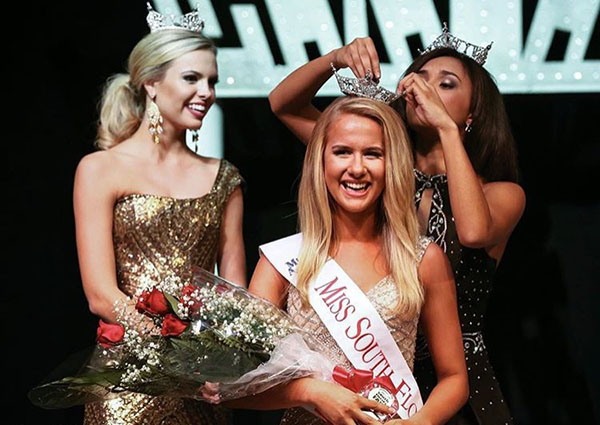 "Pageant Girl" Shelby Bomford isn't just a pretty face. She is a 17-year-old who will graduate from Palm Beach Central High School in May and finish her associate's degree at Palm Beach State College in December. That will make her a college junior by the time she is 18.
And last month, she earned the title Miss South Florida Fair.
On Jan. 16, Bomford was crowned at the Miss South Florida Fair Scholarship Pageant, and the win entered her into July's Miss Florida Pageant 2016.
"I'm so excited," she said. "I've wanted that title for a very long time. It was my first year of eligibility, so that was great."
Bomford, who has been competing in pageants since she was 10 years old, has always attended the South Florida Fair. When she learned that there was a pageant, it made the fair even more special to her.
Seventeen is the age distinction between two different categories at the South Florida Fair within the Miss America organization, Bomford explained. If you are 17 and a junior, you compete in the Outstanding Teen program. If you are 17 and a senior, you can complete in the Miss program and become Miss South Florida Fair.
With multiple different levels to the pageant organization, Bomford likes to use a football analogy to explain things. For example, like football teams must advance through several levels to reach the Super Bowl, first you have to compete at a local event, then the state level and, finally, the national level.
Winning Miss South Florida Fair is her local steppingstone.
"It's not just a fair pageant," she explained. "It's really part of the Miss America organization. It's a preliminary event for Miss Florida, which is a preliminary event for Miss America."
The intricacies of pageantry are not daunting to Bomford.
"I really started to get involved in the Miss America pageant when I was 14. I competed three times in the Outstanding Teen program, and I made it to Miss Florida all three times to the top five," she said.
This year, at 17 and a senior, she was able to compete in a new age division. It was her first time, and she won.
Over the duration of her seven years in pageants, this is her fourth win in the Miss America organization, where contestants can hold one title per year. Overall, she has won more than 20 other pageants with different programs.
"It's not just, 'I do the pageant, I win, I'm the sparkliest girl on stage,'" she said. "It really teaches me something. There's a 10-minute part of the interview that each person has to go through. They can ask you anything from your favorite color to anything on your résumé that you have. Or they can ask how you would solve the Syrian civil war and combat ISIS if you were president."
The questions in the interview segment require the contestants to be knowledgeable about a wide variety of current events, Bomford explained. "You really have to have brains and beauty," she said.
If finishing high school and her associate's degree at the same time doesn't prove that she has brains, her membership in the National Honor Society and receiving the Advanced International Certificate of Excellence Diploma, a Florida Bright Futures Scholarship and a $40,000 scholarship to Nova Southeastern University, along with maintaining top eight status in her high school class and enrolling in all honors and AICE classes in high school, should be enough to squelch the pageant stereotype.
Bomford has held many different leadership roles, including being the chapter secretary and president of the local Future Business Leaders of America chapter, helping to coordinate various FBLA events, lead choreographer for the high school's lip sync team, dance team captain in middle school and captain of the high school's powder puff football team.
Bomford is a local girl — born in Florida, and she has lived in the same house all her life.
She has two main goals on the horizon: winning Miss America, and becoming a lawyer. She is using the money she gains from various pageants and educational scholarships, combining that with money she earns while working, and is looking forward to attending law school.
Bomford has come a long way since she was a Sunshine Princess, mentored by an older girl within the pageant circuit. "Everyone who wins has a Sunshine Princess," she explained, pointing out that the little girl she mentors just won her first pageant. "It just warms my heart. It completes the circle. I was somebody's, and I became successful in the organization. Now I have someone who looks up to me."
Bomford's family — her parents and older brother — are supportive of her pageant dreams.
"They're really proud of me, which is great, and they really support me in every way," she said, noting that her mother, Debbie Bomford, joined in and began entering pageants at 40 years old, after Shelby was already competing. "She was Mrs. U.S. Continental two years ago," she said.
The whole Bomford family has enjoyed the pageant circuit, and winning Miss South Florida Fair was the perfect next step for Bomford.
"Its local — I live 10 minutes away — so it's really easy for me to represent to the best of my ability. I've been in the fair every single day besides two days when it was raining… and it is really an opportunity to represent home," she said. "I had watched before, growing up with the fair, and now I get to represent it."
Bomford has been in countless pictures for the 2016 fair, be it during a cow birthing, with fair administrators or during other fair activities. With her ever-rising profile, she wants to emphasize that those involved with pageants aren't hollow shells of people, bright and shiny but empty inside.
"Most people see a pageant girl as a stereotype, and I find it really hard to break that stereotype," she said. "For every 'pretty face' that you see in pageants, there is something behind that."
The private interview, she explained, demonstrates intellect as well as poise, and participants send in their school transcripts along with their applications.
"It definitely does require more than just outer beauty," Bomford said. "I mentor two little girls in a baton twirling group, and I'm teaching them the same thing and breaking that stereotype."
Bomford's platform — every girl has one — is "Fostering Love." She is working to raise awareness about the importance of foster care advocacy.
To learn more about Bomford, visit www.facebook.com/misssouthfloridafair.
ABOVE: Palm Beach Central High School senior Shelby Bomford is crowned Miss South Florida Fair.