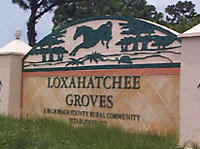 Palm Beach County Animal Care & Control Director Dianne Sauve answered questions about animal safety at the Loxahatchee Groves Town Council meeting Tuesday, responding to recent arrests in the town over illegal slaughterhouses.
Sauve thanked Vice Mayor Ron Jarriel and other council members for inviting her to the meeting. She said the arrests and confiscation of living animals had placed an extreme burden on her department, but that it was eased by help from local residents who offered food and assistance in housing the animals.
"I don't have a formal presentation," she said. "I'm here because I know that over the last few months, especially since October, there have been a lot of questions about horses and safety. People are concerned about horse slaughter."
Sauve, director of Animal Care & Control for the past 14 years, noted that her department is one of the largest animal control agencies in the state.
"We have a jurisdiction area of 2,300 square miles and 38 municipalities. Unlike most county governmental agencies who handle unincorporated county [areas], our division handles both unincorporated and incorporated, so it's a very large area that we deal with. Unlike many animal agencies in the state, we deal with everything, whether it's dogs, cats, horses, goats, pigs, whatever."
Sauve noted that until about a year and a half ago, she lived in Loxahatchee Groves and had for 20 years.
"I miss the peace and quiet," she said. "I'm living in the city now. I've reached the age that I simply can't take care of my 5 acres and try to deal with horses, so when my final horse went to heaven, I decided that it was time to get off the 5 acres. But I do miss it, and I know people in the community are very passionate about everything, and that's a good thing."
One resident asked about an issue with stray cats, questioning if Sauve's department collects cats and has them fixed.
She explained that the county has initiated a community cat program that has been met with some skepticism.
"What we do know is that for the past 40 or 50 years, you catch, trap the ones that are bothering you, euthanize them, and the problem starts again. [That] hasn't worked," Sauve said. "We are currently working closely with the Peggy Adams Animal Rescue League, and we have grant money that covers many areas for free sterilization. I'm not sure your community is in that, but my officers don't come out and do the trapping for you. We can help you locate traps, whether it's renting traps or buying traps, and give you guidance and assistance to get those cats in and get them sterilized. The reality is they're living among us. Better they live among us sterilized, vaccinated, wormed and all of those good things."
Sauve said that her department wants to get as many cats sterilized as it can. "If they aren't healthy, we can't send them back," she said. "They will be humanely euthanized because we don't want to send unhealthy animals back."
She said that the new ordinance requires all cats to be sterilized.
"There's no excuse for not sterilizing a cat when you can get it done for free," she said. "The theory is if you get them sterilized, they're simply not going to reproduce. You might have some cats show up that aren't sterilized, but you catch them and get them sterilized, too."
Another resident asked about a resident's earlier complaint during public comments that his neighbor had built 48 horse stalls.
Suave noted that she had sat on Animal Care & Control's advisory and ordinance review board for nine years before becoming director, and the ordinance reviews often became contentious when discussion came to the number of animals per acre.
"When you start talking about numbers of animals per acre, people just get upset and volatile," she said. "Rural communities especially get upset, and the most upset groups are equestrians. We live in an area where we have polo, we have the Winter Equestrian Festival, we have all of these activities, and the theory is that so long as all those horses are taken care of, they're fed and they're ridden every day and exercised, that it should be OK."
Sauve added that the group that battled the county on the number of horses per acre included professional equestrians, as well as recreational horse owners.
"They said, 'How dare you try to limit us on the number of horses that we can have?' As a result, way back then, the Palm Beach County Commission left it alone, and it hasn't been brought back up since," she said.
Sauve said that county staff is looking at revising the limit on animals per acre. "But I can tell you when we look at it, it's going to cause a huge stink," she said.
In most cases, Sauve's agency has the right to go onto private property where there is suspected animal neglect.
"It's the reason this agency leads the state for taking care of animals that are in neglectful situations," she said. "I believe that we should have the right to go on property and check those animals."
Jarriel asked how big of a part her department played in the recent animal slaughter investigations and whether the cases are still active.
"It's headed to court," she replied. "There are felony charges. What I can tell you is don't always believe everything you read in the newspaper because it's not necessarily true. It was a big deal because the groups that were operating were also groups that did not have to allow us on their property. That's why I believe so strongly that anybody running an animal business, this agency should be able to go on [their property] and see what's happening."
Animal Care & Control took in 766 animals during the arrests, and all of the animals except one pig tested positive for diseases.
"We called him the miracle pig," she said. "No animals were sent to slaughter, but every chicken and pig that was tested had a list of diseases. We did extensive testing on these animals."
Sauve said that the Florida Department of Agriculture & Consumer Services offered to take them for slaughter, but her agency turned them down.
"I said, 'No, thank you, we're not sending any of these animals to slaughter," she said.
Jason, the pig that tested negative for diseases, is currently serving a 90-day quarantine. "If he tests negative at the end of that 90 days, he's going to go live in a place called Rooterville, which is a sanctuary for pigs," Sauve explained.
Taking in all the animals was an enormous economic drain on the department, she said.
"It cost us a fortune to be involved in that," Sauve said. "There was a huge drain on resources, but we are very grateful to [area] residents. So many people came out, brought food and helped rebuild fencing on our property to deal with this."
To learn more about Palm Beach County Animal Care & Control, visit www.pbcgov.com/publicsafety/animalcare.