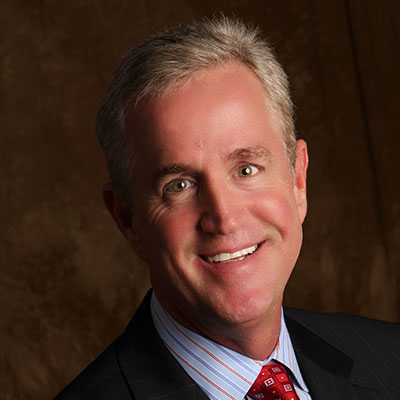 Vice Mayor John Greene stresses his experience as he seeks a second four-year term on the Wellington Village Council. Greene faces attorney Michael Drahos in the race for Seat 1 on the council. The election will take place Tuesday, March 15.
Greene recently sat down with the Town-Crier to discuss his first term and his plans for the next four years.
"Really, until you're in this seat, in office, you really can't prepare for it," Greene said. "You go in there with a mindset of what you think the job is going to require, and what you want to bring to the position, but once you get in there, it's completely different."
However, he first got involved to protect Wellington's Equestrian Preserve Area, and Greene feels that he has kept that promise.
"I've always felt that our equestrian preserve is the asset that we have here in the village. You look at other municipalities, and I'll use Palm Beach as an example, well, they have the Atlantic Ocean, and the property values in Palm Beach are obviously significant. I think the same thing holds true in Wellington," Greene said. "We have a significant, tremendous group of wealthy residents, whether they're full-time or seasonal, but I think what has attracted them to Wellington is the fact that we have this equestrian preserve… It is important that we protect that."
Greene was born in New York to an Irish-Italian family with a strong work and education ethic. The family moved to St. Louis, where Greene was raised with his five brothers. He moved to Wellington in 2001.
"I coached all of my kids in sports. That was the big attraction of Wellington to us. We knew there were great schools here, great programs here, in terms of parks and recreation," he said. "My wife stayed home, I worked, and we raised three kids here in Wellington. We have a very strong attachment to this community, in making sure that what was afforded to us in terms of a quality of life and raising kids would continue for generations to come."
While Greene and his wife are now divorced, they both still live in Wellington and maintain a good relationship as they continue to raise their children here.
Before he was elected, Greene worked at a large private security firm. He stepped away from that job to focus on politics, he said. His family has a background in real estate, and that's where he ended up when looking for a new career.
"As I became more involved with the politics, all of the things that we dealt with in terms of land use and zoning, there was a strong connection between what I did on a daily basis, and what I always wanted to do, which is real estate," said Greene, who acquired his real estate license and now works with Douglas Elliman Real Estate.
He is proud of his council accomplishments in a number of areas. For example, public education in reinstating the village's school grant program and helping make it so that every school in Wellington is A-rated, he said. "We consistently get recognized for our schools in Wellington," Greene said.
He feels that the current council has done a good job managing development and protecting against overdevelopment, balanced between the needs of the community and the charm of Wellington.
"We have a lower millage rate today than when I came in," he said. "We've got higher property values. I went from a $72 million budget when I came into office to an $83 million budget today. We've cut costs by doing that, as well. We have fewer senior managers — we've probably shaved $1 million in salary and benefits just at a high level without really missing a beat in terms of what we're able to provide in terms of service."
He is also proud of his work with the Boys & Girls Club and the Palm Beach County Sheriff's Office. "Because of places like the Boys & Girls Club, and all the programs we've put into place, we're giving these kids a chance. It has made a difference, and we see a difference," Greene said.
He noted that the current council has also worked to help Wellington's senior community. "I think we're responding very well to the needs of the senior community," Greene said, noting that local seniors want to age in place. "There are strong programs in place with our lunches and our transportation program that still give them a strong quality of life and allow them to remain in their homes."
Greene feels that what the council has accomplished over the last four years makes for a strong record as he seeks a second term.
"I think my votes represent a really strong result in this community," he said. "Wellington is a better place today than it was four years ago. I'm grateful for the people who had the vision to do what they did prior to me coming into office, and I hope that the people who serve after me, four years from now, that they'll recognize what has made Wellington a special place, and that they'll continue to carry that on."
The issues Wellington faces today, Greene said, are different than the ones that were challenging when he came into office, emphasizing the need for experience and knowledge. "I don't think we can afford to take a chance," he said.
Over the next four years, Greene wants to continue to manage the fiscal responsibility of keeping taxes low, maintaining a proactive level of infrastructure work and managing debt. "We have about $400 million in assets and $7 million in debt," he said. "We've got to continue what we're doing and make sure that the quality of life remains the same, the values continue to increase and that we protect the preserve."
Development is the top issue in the campaign, Greene said.
"I don't know what the issues are coming from those who are campaigning," he said. "I know what is important to the residents of Wellington. Those are the folks I spend time with; those are the folks I talk to. To them, it is maintaining that quality of life."
Regarding village operations, Greene thinks the processes have been improved, including exiting the lawsuit over the Palm Beach County Office of the Inspector General.
"I think Paul [Schofield] is doing a much better job today than he was when I first came into office. I'm happy with his performance," Greene said, giving Schofield kudos for keeping the village operating during difficult economic times.
Schofield and Greene have had a rocky relationship in the past, but he downplayed that as an issue.
"As much as people try to divide this council, and try to divide staff from the council and the fighting and the bickering, it really doesn't exist. That noise and that rhetoric is coming from a very small group of people who have big mouths," Greene said. "The truth doesn't support the message that's coming out from that group. I think that Paul understands that there is no political agenda. I'm not here fighting for any one family or one organization. That's my record, and the position that I've taken. This 'gang of three' of John [Greene], Bob [Margolis] and Matt [Willhite] doesn't exist."
Greene favored buying the Wanderers Club executive golf course, and regrets that Wellington did not purchase the land when it had the chance. However, he is against the potential acquisition of the Binks Forest Golf Club at the current price of $3.6 million. At $2 million, he said, it would be something to look at and possibly a smart buy.
He is happy that development of the K-Park property on State Road 7 is now on hold, favoring a large portion being maintained as green space.
"As we look at what's happening around Palm Beach County, it is going to have an impact on the village, so we need to be careful about what goes on that site," Greene said.
Greene rated Wellington's relationship with the PBSO as strong, essentially a hometown police department. "It's a great relationship, and I think it's a tremendous value for the resources that we have available," he said.
Regarding the village's often rocky relationship with horse show promoter Mark Bellissimo and Wellington Equestrian Partners, Greene said that he has focused on what is best for the village and for the industry, not just one group.
Greene said that he disagrees with the intensity that Bellissimo and his partners are striving for, and wants things done in a more transparent way that follows the standards applicable to everyone.
"I appreciate the investment that he has made into this village," Greene said. "But the standards apply to everybody, and I think we have to treat everybody fairly."
Though there has been some speculation about Wellington having its own equestrian venue, Greene said that the village should continue to work on its relationships with the private equestrian industry, working to protect it. A municipal riding area, however, would be nice to have, he said.
For anyone suggesting that Greene and Mayor Bob Margolis are running together on a slate in this election, he suggests looking at voting records, where they may be on the same page on some key issues, but not on everything.
Greene characterizes experience as his biggest strength, with his weakness being that he could always do better.
"I've done this job," he said. "I know what's required. I know how to get things done. I know how to navigate a very difficult climate, whether you're dealing with the private sector or you're dealing internally with staff. There is a steep, steep learning curve. I'm very fortunate to have gotten through that, and I hope that the voters recognize that I've done a really good job, I think, in representing the best interests for the Village of Wellington."
Greene stressed that he is running on his own record and not against his opponent, Drahos.
"I am running for four more years to do what I think I've done very well," Greene said. "He's going to have to speak about why he should have this opportunity."
Greene suggests voters look at the candidates and the process, and at whether candidates can separate the friendships and the politics from the position and issues within the community.
"You don't do this because you have friends who want things," Greene said. "You do this because you care about this community."
Voters should vote for him, Greene said, because of his experience.
"I've done the job," he said. "I'll continue to do the job, and I'll continue to do what's right. I care about this community. I've raised my kids in this community. I want Wellington to be the same type of village, with the same values, the same quality of life, for generations to come."