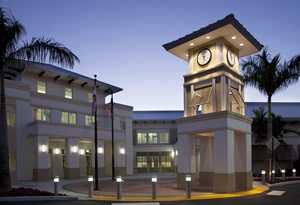 The Wellington Village Council on Tuesday approved the continued use of outside professional services with the law firm of Lehtinen Schultz Riedi Catalano de la Fuente, which has defended the village in numerous environmental cases, for up to $125,000 for the current fiscal year.
Village Attorney Laurie Cohen said that the item was to approve the firm's expenses as part of the council's legal budget for outside counseling.
"When they exceed the $25,000 approval threshold, it has to come back to the council," Cohen said.
Councilman John McGovern asked how much has been paid to the firm during the current fiscal year, and Director of Administrative & Financial Services Tanya Quickel said that the village has paid about $7,700, and about $68,000 is due, for a total of $76,000. Cohen said that puts the firm on track for what had been projected in the budget.
McGovern asked how many outside law firms the village has, and Cohen said that Wellington uses several that specialize in particular fields.
"We have this firm. We have one that does contracting for human resources. We have firms that have expertise in certain areas, such as Ken Edwards' firm for the bond issue that we are doing with Saddle Trail," Cohen said. "When an issue comes up that requires some special expertise, we will contract out for that."
She said her staff has begun to handle some of the code enforcement appeals in house.
"We have a number of matters that are being worked on internally, but if it gets to a point where it really involves a lot of discovery and depositions and hearings, that's something we typically send to outside counsel," Cohen said.
McGovern asked how many matters attorney Claudio Riedi's firm is working on, and Cohen said a total of 12. "Three of those do not involve any entity related to Palm Beach Polo or Polo West," she said. "Nine of them involve issues or cases involving one of the polo entities. Some of those are code enforcement appeals, which are generally shorter in nature and less complex."
A number of them, she said, are related to issues surrounding the Big Blue Preserve, an environmentally sensitive area in the Palm Beach Polo community.
McGovern asked about the expertise of Riedi's firm, and Cohen said it has a good reputation.
"They have handled the issues related to the Big Blue Preserve for us in the past," she said. "In 2004, when we originally obtained the Big Blue judgment, it was an iteration of this firm that handled that litigation. So they have a depth of experience in dealing with the particular issues that are related to Palm Beach Polo and the Big Blue Preserve."
McGovern asked what the total outside legal budget is, and Cohen said it is $295,282.
"Is it fair to say that the bulk of the outside legal expenses is with this one law firm?" McGovern asked.
"Yes, that's fair," Cohen said.
"I'm going to support this tonight in that this firm has done good work for us, but are we working to diversify our outside counsel in some way, particularly with emphasis toward Wellington firms and firms inside Palm Beach County?" he asked.
"I think that as cases arise, and if that's the desire of the council to do that, then we can certainly diversify," Cohen replied. "Right now we have pending cases that are being worked on, and those cases involve the Palm Beach Polo matters, but there will be other cases in the future where it's perfectly appropriate to diversify."
McGovern, who is an attorney himself, also asked whether the village's legal staff is looking to keep some of the litigation cases in-house, and Cohen said that will be easier with the two-lawyer department established recently.
She said that the Comprehensive Everglades Restoration Program petition that arose from the appeal of the 130 violations in the Big Blue Preserve is being handled in-house.
"We handled an appeal in-house. We're going to be handling a code enforcement appeal in-house. So we are moving to handle some of that in-house," she said. "But remember, there was a long period of time where I really didn't have an assistant, so it's difficult to handle that type of litigation in-house when you're just one lawyer and a paralegal."
Of the 12 cases being handled by Riedi's firm, Cohen said most of them are headed toward closure. One, in fact, was dismissed last week.
Cohen pointed out that in almost all the cases, the village is not the plaintiff. "We are defending the lawsuits, and we have an obligation, a duty as a village, to defend," she said.
McGovern pointed out, and Cohen agreed, that as the defendant, the village will be able to recover the legal costs.
Councilwoman Anne Gerwig recalled that the village specifically wanted Riedi on the Big Blue case because of his background.
"He has a particular knowledge in this and has been successful in the past on this issue of environmental preservation," Gerwig said.
Cohen agreed, noting that he also has a background with the South Florida Water Management District and navigating permits.
Vice Mayor John Greene said it seems that the same people seem to be standing before the magistrate.
"It's unfortunate that we seem to be having the same violators," Greene said. "Why do we keep finding ourselves in this litigation with 75 percent of the caseload being outsourced with this expense to taxpayers?"
Cohen said there were a number of actions taken that were not done with proper permits or some sort of approval by the village.
"When that occurs, and particularly if it involves property as sensitive as the Big Blue Preserve or the Big Blue Forest, that's something that we take very seriously," she said. "With respect to the code violations, the code enforcement department cites when they find a violation, and the parties have a right to a hearing before a magistrate. They have availed themselves of that right, and they also have the right to appeal."
She said the result of that is that it does cost the village money even when it prevails and recovers legal fees. "We have prevailed on everything that has been appealed," Cohen said.
Greene said it is hard to defend the council's position on legal fees when residents challenge him on them. "We're defending [the appeals], and we're asking people to be responsible citizens and to follow the rules," he said.
Greene asked for the legal budget going back several years, and Quickel said that for 2012, the budget was $212,000, and the actual cost was $680,000. For 2013, the budget was $400,000 and the actual cost was $769,000. In 2014, the budget was almost $1 million, but the actual cost was $689,000. The budget for 2015 was $903,000, and the actual cost was $645,000. "For this year, we have budgeted $838,000, and it appears we're on track in the $630,000 range at the rate we're going now," Quickel said.
McGovern made a motion to approve the outside legal fees, which carried 4-0 with Councilman Matt Willhite absent.