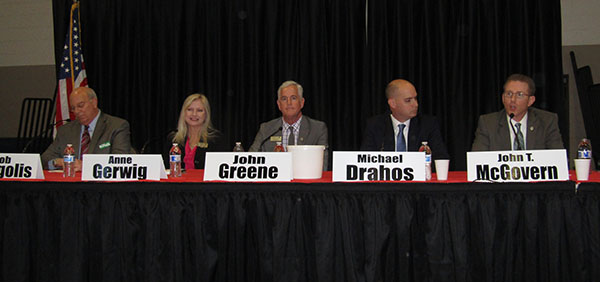 Several hundred residents attended the Wellington Seniors Club luncheon held Wednesday, Feb. 17 at Village Park. The afternoon featured a candidates' forum moderated by retired WPTV News Channel 5 anchor Jim Sackett.
On the podium were mayoral candidates Councilwoman Anne Gerwig and incumbent Mayor Bob Margolis, and Seat 1 candidates attorney Michael Drahos and incumbent Vice Mayor John Greene.
Councilman John McGovern, appointed last year and unopposed in his election to Seat 3, also put in an appearance.
Margolis is a 33-year resident. He has served as mayor for the past four years, and previously served on the council.
"When I came down here, I got involved immediately," he said. "Whether it was the Parks & Recreation Advisory Board; whether it was caring for all the issues of the Village of Wellington. We are one Wellington. We are not equestrian; we are not parks and rec. Ninety percent of us are non-equestrians, and those are the ones who I care for every day."
He added that he has been a member of the Wellington Seniors Club for the past 30 years. He is excited about the new Wellington Community Center that will open sometime in June, noting that it was specifically designed to accommodate senior programs.
"What keeps me awake at night is quality of life issues, making sure that you are safe, that your property values are secure," Margolis said. "I've raised my family here; I want my son to come back and raise his family here."
Gerwig, a six-year council member, has lived in Wellington for 26 years. She built a house here, and all three of her children were born and raised in Wellington.
"It is a wonderful place to live," she said. "It provided safety for our communities and wonderful opportunities for education and all kinds of activities for us. The kind of community we have here, where we're all a part of it, is very important to me, and I do agree with the statement that we are all one Wellington, and we work together to solve our problems."
Gerwig noted that she also serves on the Treasure Coast Regional Planning Council and on the county's Citizens Advisory Council for Health and Human Services. "It's amazing to be able to be involved in that and find out how many services there are in Palm Beach County," she said.
Greene, who was elected to the council in 2012 and has lived in Wellington since 2001, said he understands what's important to the community.
"We talk about community. Coming together today is not about getting a box lunch, it's about neighbors and friends coming together," he said. "This is a community, this is what's important, regardless of your age or what neighborhood you live in or what your hobbies or interests are."
He also looks forward to the opening of the new community center.
"We continue to make the investments, and we continue to make sure that the people in the village and the folks responsible on a day-to-day basis are working for you, so you can do so without fear, without conflict, and understanding how we work together."
Greene said that the village has continued to invest in schools, while also cutting spending and opening up the bidding process.
"The result is that we've saved millions of dollars of your money, and that's our job," he said. "This is your money. Property values are up more than 25 percent since I have been in office."
Drahos moved to Wellington in 1986 as a child. He noted that his parents were at the lunch that day. He said his parents settled in Wellington because it was a new and growing community.
"I couldn't wait to get here as a kid," he said. "I was fortunate, because when I moved here, Wellington was growing up with me."
When he moved here, Drahos said he was essentially attending schools as they were built. "I went to brand new schools my whole life," he said.
He attended Florida State University and on a summer break he met his wife, Nathalie, and they both went back to FSU. Drahos later earned his law degree. Upon graduation, they moved back to Wellington, where they are now raising two daughters.
Drahos spent two years on Wellington's Education Advisory Board, and has served on the Planning, Zoning & Adjustment Board the past six years. He founded the Young Professionals of Wellington in 2013.
Asked what senior services there are currently and if more are planned, Margolis said Senior Service Specialist Meredith Tuckwood is doing a fine job relaying information to the council.
"She is the leader, and she brings us information as to what we need," he said. "That didn't happen in a vacuum. It happened with council support."
As an example of services that the village provides to seniors, Margolis said that after the hurricanes, village officials developed a list of seniors who needed medicines or food because they could not get out of their homes.
"This village is very senior-friendly," he said, adding that the council worked hard to get input on what they wanted at the new community center.
Gerwig agreed that naming Tuckwood as the village's senior specialist was a wise decision. She added that in 2010, the village qualified for block grant funding to provide special services.
"We use that funding to offset the cost of senior transportation and rides when you need them," she said. "I had questions about whether that would meet our needs, but people who have used the service have said it's fantastic. They get to know the drivers. They feel safe, and if you need extra services, you can get them."
Gerwig noted that the grant also provides services for seniors still living in their homes.
"If you need ramps, if you need accessibility, that's all covered with that grant, and it's not even coming out of your tax dollars from us," she said. "But we also participate in those to try and make sure that you can stay in your community for as long as you want to, and get the services that you need."
Greene said that the village puts out surveys on how to meet the needs of the senior community.
"We get a lot of responses, and people are telling us that they want to age in place," he said, adding that the village has provisions that allow residents to modify their homes so that they can maintain a strong quality of life and an independent lifestyle.
"We've got those funds available to you today," Greene said. "From the time I've been in office for the last four years, I've supported the senior lunches. We continue to reinvest in those services that really are here for you."
He said that the village supports many applicants that come to the village saying they need to expand the type of services that serve the aging population. "We've got a new Alzheimer's care facility that has recently come online," Greene said as an example.
He said some seniors complain about not being able to get to their destination because of congestion, and the council is taking that into consideration when pondering new development applications.
"I'm trying hard to make sure your needs are met," Greene said, adding that the village's Senior Advisory Committee meets once a month to listen to residents' concerns.
Drahos said he recalled former Councilman Al Paglia years ago, who initiated the first senior transportation program.
"We have the STAR [Senior Transportation and Rides] program, which I will continue to support, and I actually want to see grow," he said. "There's also Wellington Cares… It is a charity that I have supported. I will continue to support it and continue to expand its reach."
Drahos said that he wants to make sure seniors have a voice in village issues.
"The Wellington Senior Advisory Committee is an interesting point because it is something that I am hoping to grow once I get into office," he said. "I believe that the committees have not been used effectively enough, and I want to work with these boards and committees, particularly the Senior Advisory Committee, because they are the voice that speaks directly to the council."
The Wellington election will be held Tuesday, March 15.
ABOVE: Candidates speak at the Wellington Seniors Club luncheon.