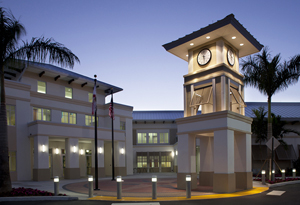 The Wellington Village Council last week approved the preliminary reading of an ordinance for the voluntary annexation of 10.5 acres on the west side of State Road 7 known as Village Professional Park.
The parcel, which currently has a Palm Beach County low-density residential designation, is being proposed for the village's mixed use planned development designation. It is located about 2,500 feet north of Forest Hill Blvd. and about 600 feet west of SR 7 north of the Wellington Regional Medical Center campus.
Planning & Zoning Director Bob Basehart said that the annexation comes with the annexation of a 0.4-acre right of way.
"The 25-foot right of way may or may not be a point of interest on the part of the Lake Worth Drainage District, but to make sure that everything was acceptable, the applicant did provide a letter from the Lake Worth Drainage District saying that they agreed to the annexation, so the matter can be settled between them later on," Basehart said.
The property is on the edge of Wellington's proposed boundary and is in the comprehensive plan for future annexation, he said.
Basehart added that the annexation of the property, located west of a storage facility and with no road frontage, is not connected to the applicant's plans for future development of adjoining property that it also owns.
"They are working on getting applications in order to move forward, and there will be a time and a place to discuss the land use and intensity of development, and what goes on the property, but this is simply an annexation."
Councilwoman Anne Gerwig asked what borders the property, and Basehart said the land to the west and south is in Wellington, and the property to the north and east, which is a multiple-use planned commercial development, is unincorporated.
Basehart said that the annexation is a partial squaring off of village boundaries.
Councilman Matt Willhite said that any squaring off to identify the village is a benefit.
"I think this is a true benefit even if it is only 10-and-a-half acres," Willhite said.
Gerwig asked whether there was any opposition from the county, and Basehart said that there was a provision in the sales agreement with the county and the applicant that the property had to be annexed into the village.
Gerwig said that she had asked the question because the county must also approve the annexation.
"Obviously, they want us to have it," Gerwig said.
Basehart said that when the application was filed, village staff sent the required notification to the county, and it had no objections.
Willhite made a motion to approve the ordinance, which carried 5-0.