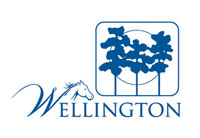 The Wellington Village Council approved the preliminary reading of an ordinance Tuesday that would improve its bicycle and pedestrian path circulation plan.
Wellington Projects Manager Mike O'Dell said that the ordinance would make the circulation plan more bicycle-friendly and pedestrian-friendly while also creating a method of financing projects.
"We have evaluated all the existing inventory," O'Dell said. "We evaluated the existing bicycle and pedestrian system. We did an analysis of the commercial centers and access to the centers, governmental places and places of worship. We also took public input last year and reached out to the local bike shops, bike groups, the Wellington Runners Club and others. We also did some online surveys."
He said they also looked at how residents would benefit from improved connectivity and fit some of the missing links into the system.
"We were looking at repurposing some of our road rights of way, if possible, maybe widening the paths," O'Dell said. "We also looked at Florida Department of Transportation standards for bicycle lanes and striping where appropriate, by marking in symbols, looking at restriping of crosswalks, and looking at mid-block crossings where those are appropriate."
O'Dell also looked at bus stops and how to make them more accessible for bicyclists who use public transit, and sought public opinion on how to make drivers more aware of bicyclists and pedestrians, such as highlighting some of the bicycle lanes and turn lanes, and improving lighting in some areas. The village also plans to provide seminars and safety courses to make people more aware of bicyclists and pedestrians.
O'Dell said that most of the pedestrian and bicycle pathways are in place and in pretty good shape, although there are some locations where pathways could be added so they are on both sides of the street.
"The major improvements would be bicycle circulation where we would actually add bicycle lanes on the roadways," he said. "There are a number of those throughout the community that we could actually add."
The plan also puts together a proposal to finance the paths, which would take 10 to 12 years to complete. "These improvements would be aligned with the maintenance program so that when we do roadway improvements, we could look at adding the bicycle lanes on either side," O'Dell said. "These things would be corresponding with grants that we may be able to go after."
The plan was reviewed by the Equestrian Preserve Committee on Dec. 9, which approved it in a 4-0 vote, and the Planning, Zoning & Adjustment Board on Jan. 6, which approved it 5-0.
Councilman Matt Willhite asked O'Dell whether he had talked to Palm Beach County or the Palm Beach Metropolitan Planning Organization about coordinating the plan with its greenway system, and O'Dell said that his staff had.
Willhite added that he believed the village had missed opportunities in the past when it made road improvements and did not put in bike lanes. "I'm hoping, with this being an aspirational plan, that we can do more," he said.
Looking at the lane map, Willhite also asked what residential neighborhoods, other than the Aero Club, the bike lanes are going through, and O'Dell said that the Aero Club is the only neighborhood identified by the bike riders as something they would like to have. "It does provide a loop," he said. "All other residential communities we haven't addressed — only the major thoroughfares."
Willhite, who is the village's representative on the MPO, also asked about possible bridges across some of the canals, pointing out that bicycle bridges are not usually funded by that organization.
"It seems like that plan has to be looked at and funded, and I don't know that you're going to have that much funding to be able to help with that," he said. "I know one of the pathways that was proposed for the new Binks Forest townhouses talked about having that pathway, and it continued down the FP&L corridor, but it had to stop because of the canal. It had to go up and around it to Bent Creek. If this is aspirational, I think you should at least ask for it."
O'Dell said that could be added to the program.
Councilwoman Anne Gerwig asked about plans for separate pedestrian and bicycle pathways.
"We basically want to get bikes off the pedestrian walkways — is that the idea?" she asked. "We want them on the roadways with their own lane instead?"
O'Dell said that the bike lanes on the roadways are for the more serious riders.
"We have two basic riders," O'Dell said. "We have the casual rider who doesn't feel comfortable on the roadways, and then we have, for lack of a better term, professional riders, who are the guys you see out there in the Spandex, and they don't want to be on the pathways, they want to be on the roadways. I think we have a large portion of the community that essentially wants to have both."
He added that bicycle lanes are an important component of the community because they provide the ability for people to utilize the roadways for exercise and connectivity, as well as casual riding.
Gerwig also asked about the standard width of bike lanes on the roadway, and O'Dell said it should be 4 feet for a designated bike path with approved markers, but that some lanes in the village do not meet that standard, although they will look at widening those lanes.
Vice Mayor John Greene said residents have told him that one thing that is missing in Wellington is walkability.
"I'm glad that you're staying on top of this," Greene said. "I hope that as we look at other developments and other improvements, we do take that into consideration. We're very focused on walkability. We're playing catch-up, but we need to be very mindful when we think about how people are getting from places such as parks, shopping, entertainment, and how to get there safely. Fewer cars is good for us. We see this happening globally. A lot of major cities, especially in Europe, have gotten away from more cars and a lot more to bicycles."
Greene made a motion to approve the ordinance, which carried 5-0.