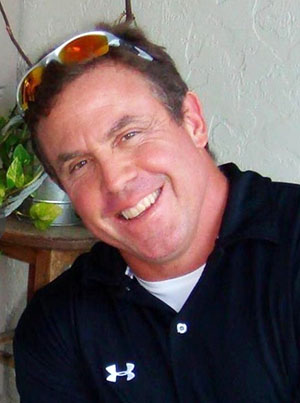 Students, alumni, teachers, administrators and friends flooded Wellington High School's theater Wednesday afternoon for a memorial service in memory of Matt Mounts, who worked in the guidance department and was a coach at the school.
"He was one of a kind," Principal Mario Crocetti said before the memorial. "He just did anything he could for students and staff. It's amazing how many connections he made here on campus. Every student knows him for a different reason, whether he helped them academically, emotionally, or just as a friend when they needed a friend. It's truly amazing how many people knew him."
Mounts, 50, died Friday, Feb. 5 following a brief illness. He had coached football at Palm Beach Central High School prior to moving to Wellington High School.
"Since he has been here, he has been a football coach, the bowling team coach, varsity cheerleading — not too many men can put that on their resume; not too many women can put that on their resume," Crocetti said. "Talk about a wide variety. He was a great motivator of students and staff."
As Crocetti came to the podium to begin the memorial service, the crowded theater went silent.
"Many of you know that this past weekend, our varsity cheer squad was up in Orlando competing at nationals," he said. "They received word of coach Mounts' passing just hours before they competed. Yet they were able to go out on the stage and perform their first routine well enough to make it to finals the next day and ended up finishing second at nationals this past weekend."
Mounts' cheerleaders played a video of the last weekend's performance that they dedicated to him, relaying funny stories and fond memories.
Lifelong friend Chris Anders — he and Mounts attended John I. Leonard High School together — was touched by the outpouring of support as he looked into the audience.
"It's amazing to see everybody out here today. I'm sure more people wanted to come," Anders said. "Matt was an amazing person; my deepest sympathy goes out to all the kids and friends who gathered today to honor Matt. He was deeply loved by all of us. I will miss him every second of every day."
Friend Glenn Cline and Anders were by Mounts' side when he passed away.
"I want you all to take comfort in the fact that although Matt's life was cut short, he lived a full life, and he leaves behind a legacy, which is each of you. You've been enriched just by knowing him," Anders said. "He was a brother to me. He was the best man at my wedding. He was the godfather to my kids."
Mounts had four rules that he shared with the students: 1. Never get beat deep; 2. Always tie your shoes; 3. Keep your knees behind your toes; and 4. Love each other.
Cline told the crowd there was one thing of Mounts that he wanted to do, and to have them respond.
"What's my job?" he asked.
"To love us," they said.
"What's your job?" he asked.
"To love each other," they said.
"How much do I love you?" he asked.
"To infinity," they said.
"And he did," Cline said. "Remember that, OK?"
Jake Anders also took to the podium to remember Mounts.
"As all of you know, he was a man with a tremendously large heart. He was my godfather and uncle, but most importantly, he was one of my best friends, and a best friend to anyone who walked into his class," Jake said. "He was always giving and never took life for granted."
Seeing Mounts at school on his first day as a freshman was an enormous pillar of support.
"He loved every student at this school, and we will all work to make him proud and for his legacy to live on," Jake said. "He had endless love to give, and we can all strive to one day have a heart half as big as his."
Cline offered to be an ear for students who need it, pointing out that he knows he isn't Mounts, but he will do his best.
Mounts was preceded in death by his father, Judge Marvin Mounts. He is survived by his mother, Polly Mounts, and brother, Gregory Mounts, as well as aunts, uncles, cousins and friends.
A memorial will take place Friday, Feb. 12 from 11 a.m. to 1 p.m. and 4 to 7 p.m. at Quattlebaum Funeral, Cremation and Event Center (5411 Okeechobee Blvd., West Palm Beach). For anyone who wishes, memorial contributions may be made to the Mounts Botanical Garden, 531 N. Military Trail, West Palm Beach, FL 33415.
ABOVE: Matt Mounts.