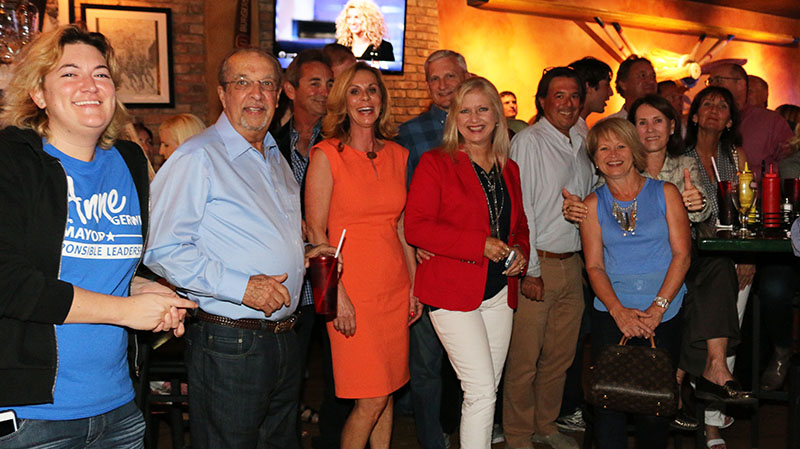 Wellington voters brought change to the Wellington Village Council on Tuesday, March 15. According to unofficial results from the Palm Beach County Supervisor of Elections Office, Councilwoman Anne Gerwig easily unseated incumbent Mayor Bob Margolis. Gerwig took 9,227 votes (61 percent) to 5,980 votes (39 percent) for Margolis. In the race for Council Seat 1, Michael Drahos unseated Vice Mayor John Greene. Drahos took 8,010 votes (56 percent) to 6,420 votes (44 percent) for Greene.
Wellington voters approved all three ballot questions. Question 1, which adds protections for the Equestrian Preserve Area, passed 65 percent to 35 percent. Question 2, which changes the makeup of the Election Canvassing Board, passed 69 percent to 31 percent. Question 3, which forbids hotel and apartment projects in the Equestrian Preserve Area, passed 59 percent to 41 percent.
Over in Royal Palm Beach, voters elected Councilman Fred Pinto their new mayor. Pinto took 4,167 votes (60 percent) to defeat former Councilwoman Martha Webster, who took 2,793 votes (40 percent). In the race for Seat 1, Councilman Jeff Hmara easily won re-election, taking 4,210 votes (64 percent) to challenger Lenore White's 2,394 votes (36 percent). In the race for Seat 3, incumbent Vice Mayor Richard Valuntas was narrowly unseated by businesswoman Selena Smith. Smith took 3,372 votes (51 percent) to 3,215 votes (49 percent) garnered by Valuntas.
In Loxahatchee Groves, Mayor Dave Browning was easily re-elected to Seat 4 on the Loxahatchee Groves Town Council. He took 578 votes (65 percent) to the 310 votes (35 percent) garnered by challenger Thais Gonzalez. In the race for Seat 2, challenger Todd McLendon unseated incumbent Councilman Jim Rockett. McLendon took 489 votes (55 percent) to the 395 votes (45 percent) for Rockett.
ABOVE: Wellington Mayor-Elect Anne Gerwig with supporters.