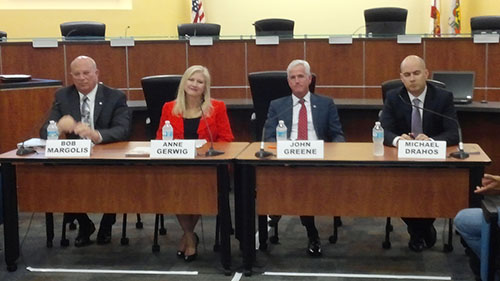 There was a standing-room-only crowd Monday evening in the Wellington Village Council chambers when the Council of Community Associations hosted a candidates forum in advance of the Tuesday, March 15 election.
All four candidates participated in the event. Councilwoman Anne Gerwig is challenging incumbent Mayor Bob Margolis for control of the gavel, while attorney Michael Drahos is challenging incumbent Vice Mayor John Greene for Seat 1.
The forum questions were staggered so that each candidate had a different one than the previous candidate, but all questions were asked of each candidate.
Asked about his position on development of the K-Park property, Margolis said he always wanted to keep most of the 67 acres as a park in anticipation of future growth.
"Is it a park today? No," he said. "Did we purchase it a long time ago for park space? Yes. Could it be a park in the future? Absolutely. I would like to see K-Park, at least two-thirds of it, remain as a park, but I understand what people were telling us loud and clear that there needs to be some type of entertainment center."
Gerwig fielded the next question, whether the village's charter should be amended to protect the Equestrian Preserve Area, saying she voted to put all three amendment questions on the ballot.
"I think voters are perfectly able to make those decisions themselves," she said. "I am personally voting 'no' on all three because the first one is misleading. It talks about coming into the Equestrian Preserve Area with a vote of three council members and going out with a vote of four. The zoning criteria is still standing, so it's a little misleading to say that you could do it."
Greene said communication and transparency between the council and residents could be enhanced by encouraging more community input.
"One of the very first things I did when I came on the council was to make sure that we removed ourselves from the lawsuit in stopping the inspector general from having oversight here in the village," he said. "What that did was it created greater transparency that allowed the inspector general to come in and truly analyze how we spend your money, and we changed a lot of policies. We've done a lot to make sure we are more transparent."
Greene said that he has also encouraged greater community input. "K-Park is a great example," he said. "Many of you were here the night K-Park was discussed. I think it was pretty clear in a loud voice that made sure that you guys were being heard. I saw a development that was not really what this community wanted, so that led to more outreach to residents, making sure that we can reestablish that trust in government that seems to be lacking."
Drahos was asked what could be done to deter developers in Wellington from ignoring building codes and paying fines as a cost of doing business.
"I think the bigger problem right now is that our permitting process is not uniform," he said. "The problem in Wellington right now is that you need to hire a lawyer to get a permit, it seems, and that is just flat-out wrong. What I'm proposing is formulating a task force where people of the community can come in and review our permitting process and determine where there are flaws and where we can enhance it."
Drahos said that the village needs to stop legislating to one or two individuals. "When you legislate to one or two people, you are going to have problems," he said. "With that system, there are unintended consequences."
Asked whether hotels, motels, apartments and condo hotels should be prohibited in the Equestrian Preserve Area, Margolis said they should be in order to preserve its nature.
"When I moved here 30 years ago, it was probably 20 years before I even knew what the equestrian preserve was because I was raising a family, coaching basketball," he said, adding that he didn't want to encourage any development there. "It took me a number of years to learn how important our preserve is and what it does to not only our status in the equestrian community, but to our property values."
Gerwig said voters should elect her rather than her opponent because she always thinks of residents first when making a decision.
"It's not based on what I want, or what people who have contributed to my campaign want, it's based on what's best for this community," she said. "I have made very sound decisions, some of which I have lost votes on."
As an example, she said she voted against a council decision to give nine months of negotiations to one group to build a horse park at K-Park, which is not in the equestrian area.
"They were offering $10 million, and they got nine months of exclusive negotiation from this council," Gerwig said. "I voted against that… You should always go out to bid on something, never just give it to one group."
Later, Gerwig noted that the council held visioning sessions after the failed attempt at a horse park.
"The first thing I said at the visioning session was that you don't go to a developer and ask them what they want, and this council proceeded with an RFP that asked just that," she said. "We lose credibility when we go out to bid on a project and we don't even know what we want on a project."
Greene said his position on development at K-Park is that some part of it will be developed. "We need to make sure that whatever that development is, it's not a shortsighted decision that benefits special interests," he said, adding that he would prefer to develop a portion of it, but reserve most of it for open park space and seek out more entertainment options.
Drahos said there is no need for a charter amendment to protect the Equestrian Preserve Area because it is already protected.
"We already have a policy for opting in and opting out," he said. "If we're going to put it in the charter, I have absolutely no problem with that… but let's also be real about something. You hear all the time… about preserving the preserve. Let's preserve it for all of Wellington, not just for the select few who have a limited interest. We have to be balanced in the way we look at things."
Margolis said one way communications have been improved between the council and residents has been through the Council of Community Associations.
"I believe that when things go south, it's a lack of communication," he said. "I believe that if we had this master association that could come to us with one voice, then we could come to them and understand their issues… We started working on this three years ago, and you see the product tonight."
Gerwig said she opposes efforts to increase fines aimed at deterring repeat code violators.
"That is a difficult situation. Because we are a bigger city now, we could increase those fines from $250 a day to $1,000 a day. We have the ability to do that by law now, but doing that, we hit everybody in this room," she said. "My problem with increasing fines is that it would affect the average homeowner disparately."
Greene said hotels, motels and condo hotels should be prohibited in the equestrian preserve. He also advocated the charter amendment to protect the preserve. "The equestrian preserve is this 9,000-acre asset," he said. "This is the economic engine that drives our local economy."
Drahos said voters should elect him because he has a better vision for Wellington than his opponent.
"We have a credibility problem in Wellington," he said. "It's as simple as that, and what I'm offering to do is come in here as a 30-year resident of this town and stabilize this council, and reassure the people that you can elect somebody to work on this council for you, not for the limited number of people who have special interests."
Drahos said that transparency could be improved on the council by getting out and speaking to people.
"When you get elected to the council, it's not your job just to sit up there and vote every two weeks," he said. "You've got to be engaged with the community."
He added that one of the things he is most proud of is that in 2013, he founded the Young Professionals of Wellington. "That group was founded with one ideal, to get my demographic more involved," he said.
As a candidate, Drahos said that he has tried to return all phone calls and has visited thousands of households.
Margolis said he favors increasing fines for repeat code violators.
"I was sitting in a special magistrate meeting a number of months ago, and one of our repeat violators was coming up… and the magistrate asked that gentleman if it was just the cost of doing business," he said. "Our code enforcement, just so everyone understands, is education, not enforcement."
Drahos said that he has no interest in having hotels, motels and condo hotels in the equestrian preserve but he opposes the proposed Question 3 because it did not come from the Charter Review Committee. "I have been telling people that Amendment 3 is dangerous [because] Amendment 3 came from one council member after the [committee's] discussion was over," he said.
Greene said voters should elect him because he has a good voting record and is active in the community. "You can say what you want about who I talk with," he said. "I have been out knocking on doors for the past seven weeks, and talking to residents for the last four years, and 11 years before that being a member of the community… This is not about special interests. My interests are in this community."
Drahos said that he was at every meeting on K-Park, and if there was anything conclusive, it was that the public did not want massive development there.
"I will never support a massive residential development on K-Park," he said. "You don't make a decision on publicly owned land without input from the public."
Margolis said he favors a charter amendment to protect the equestrian preserve. "There are certain things in the Village of Wellington that make it Wellington," he said. "I also understand that for a majority of the council, whether it's a simple majority or a majority of four, things can get changed."
Gerwig said communication and transparency between the public and the council can be enhanced by treating people who come before it with respect.
"One thing I wouldn't do is when people do come and weigh-in on something, I wouldn't belittle them and ask them why they weren't here two weeks ago when we had a meeting," she said.
Greene said he wants to deter repeat code violators but does not want to discourage development. "I want to make sure that there is a level playing field and that there is a standard that everybody is going to be held to," he said.
He said what the council seeks with code enforcement is compliance. "We've created a standard in this community that we all should be held to," he said.
Gerwig said that there is no need for Question 3 because hotels, motels, apartments and condo motels are already prohibited in the equestrian preserve.
"The confusion begins when you don't understand what commercial development is," she said. "There are properties that are entitled to commercial development in the preserve area. They came in entitled before they were even in Wellington, but we do not allow hotels and motels in the preserve now."
Margolis said he should be re-elected because of what Wellington has accomplished during his time on the council and as mayor. "If you take a look at my vision and my results, and the things we have done for the Village of Wellington, and if you look at my philosophy of looking at the bigger issues… the quality of life issues that I've talked about before, my vision has been the same," he said. "I talk to residents, and this village is part of me and my family."
For more information about the Council of Community Associations, visit www.pbcca.org.
ABOVE: Bob Margolis, Anne Gerwig, John Greene and Michael Drahos.