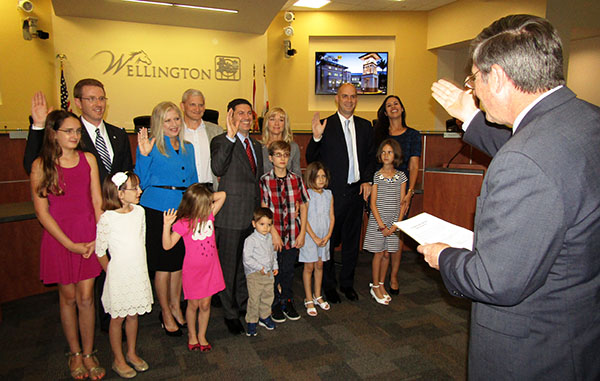 The newly configured Wellington Village Council was installed before a full house Tuesday at the Wellington Municipal Complex.
Anne Gerwig was sworn in as mayor, replacing Bob Margolis, while Michael Drahos was installed as a councilman, replacing John Greene, who Drahos unseated in last week's election.
Also taking their seats were councilmen John McGovern and Michael Napoleone, who were unopposed in their election bids.
"It's really nice to have this room full when it's not something controversial," Gerwig said, surveying the crowd.
McGovern, who was appointed to fill a vacancy last year, thanked Wellington residents for allowing him to continue his service.
"This is one of the great communities in all of Florida, certainly all of Palm Beach County. I think this is an exciting council, and it's an exciting time in the village," McGovern said. "The chance to serve here at this time as we celebrate our 20th anniversary, and to build the future for all of us and for all of our children, it's a great day."
Drahos said it was exciting for him to serve the community as someone who grew up in Wellington.
"I've spent the majority of my life here," he said. "It's a dream come true, sitting up here and being a part of its future direction. There are so many people I want to thank for making this day possible. I couldn't possibly do it all in one speech, but most definitely I want to recognize my beautiful wife and two daughters, who provided endless support and will be providing endless support, I'm sure, for the next four years. It's my job to make sure that this level of excitement that we feel today carries on for the next four years, and that I live up to the support that you all have provided to me."
Napoleone also appreciated the opportunity to serve. "It's a great privilege for my wife and I, who have called Wellington home for a long time," he said. "This is a great time for Wellington. I love where we're headed, and I really look forward to the next four years."
Gerwig thanked previous council members who brought the village to where it is now.
"I want to thank those council members who came before us for the good work that has been done for this village so far," she said. "And I'd like to thank the mayor for serving faithfully for four years."
ABOVE: Members of the new Wellington Village Council take the oath of office surrounded by family members.