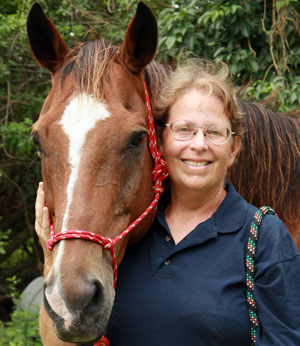 TALES FROM THE TRAILS
Horses are a big part of Carrie Buxton's life and always have been. A true South Floridian, Carrie started out riding Quarter Horses, hunters and reining. Her dad, Bill, owned and ran Buxton Equine Insurance.
"He had clients going to Europe and buying Warmbloods," Carrie recalled. "I went along on one trip and ended up buying my own. Just like that, I switched from Quarter Horses to Warmbloods, but showing hunters was still my passion, so I showed them in the adult and amateur owner hunter classes."
Carrie still has that first Warmblood. Pentagon, 20, is retired, along with Toowoomba, 19. Somewhere along the line, she decided to start breeding her own. Her father bought a broodmare already in foal on his next trip to Europe. And that, in Carrie's words, started it all.
The mare, Tivoli, now 15, is a KWPM Dutch Warmblood. Carrie has bred her five times to Roc USA. She currently owns three of the foals, all full sisters. Katalyst is 1, Transcendent is 2, and Timeless is 3. She and her seven horses live on a quiet, 10-acre farm on E Road in Loxahatchee Groves that she named Hunterland.
Timeless, the 3-year-old, has done spectacularly well in the show ring. Carrie has not backed her yet — plenty of time for that when she's older — but the filly won the Two-Year-Old Hunter Breeding class at Devon and was Reserve Best Young Horse. She ended up 2015 as USEF Grand Champion Hunter Breeding Horse. "I have a lot of future plans for Timeless," Carrie said. "The day she was born, I won the lotto. And by the way, she's not for sale. I'll keep her forever."
Last year, her father retired from the insurance business, and Carrie stepped up and took over. "I'm a busy person," she said.
I asked her how others can be successful in their breeding endeavors.
"When you're thinking about breeding, the first thing you should do is evaluate the mare," she explained. "Where does she need improvement? Tivoli has a weak hind end, so I picked a stallion with a great hind end and hoped it would get passed on. I studied all of Roc's foals, and they all had his hind end. That was perfect for me."
She also considers the horse's temperament.
"I like horses that are amateur-friendly, with a good mind, easy to be around and work with. It doesn't hurt if they're also beautiful," Carrie said. "I like a broodmare with correct legs, a wonderful shoulder, a strong neck and a pretty head. Mares give more of themselves to the foals than the stallions, so they should also be beautiful movers. Now, a mare can be injured and lame but still be a great broodmare."
In addition to breeding and riding, Carrie is also a USEF "R" judge. And, as you might guess, she loves judging hunters.
"There's nothing better than watching a beautiful hunter go around the ring. It's breathtaking," she sighed. "It's a true privilege to be a judge, to sit and watch and be part of that world. Whether I'm watching a child show her beloved pet or a professional show in an A-rated class, it's a pure pleasure and a way of giving back."
There's a lot of paperwork involved in judging. She has to keep each horse's trip in her mind and be able to refer to shorthand notes. There may be 30 horses in a class and multiple trips. Some classes start at 8 a.m. and aren't pinned until 4 p.m.
"You have to keep track of a lot of details," she said. "Being a judge made me a better rider and exhibitor. I see the show ring from both sides. Many people think judges are looking for mistakes, but that's not so. We're always rooting for you and wanting you to do well."
She has judged at many of the local shows here and in Broward, as well as Fox Lea Farm across the state in Venice.
"At higher-level shows, I look for a beautiful jump and a bright expression on the horse's face," she explained. "In children's or adult amateur classes, I look for a safe round and one which is enjoyable to watch. A round doesn't have to be perfect. If the rider has a smile on her face when she leaves the ring, that's good."
Carrie does have a few dislikes as well.
"My biggest pet peeves are little girls on ponies with enormous bows so big that you can't see their back numbers," she said. "I also dislike it when a rider loses her temper in the ring and takes it out on the horse. That's never the right way to deal with frustration."
She loves working with horses every day.
"Horses are extremely humbling creatures," Carrie explained. "They know exactly how to reduce us in our own eyes and everyone else's. Working with horses takes patience and commitment. Every day I learn something new at the barn."