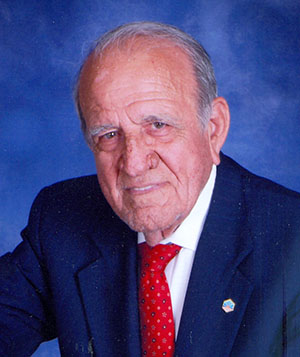 The Royal Palm Beach Village Council approved a resolution last week commending Mayor Matty Mattioli for his years of service to the community, proclaiming Friday, March 18 as Matty Mattioli Day.
Mattioli, who has been on the council for 22 years, the last six years as mayor, announced last year that he would not seek re-election.
"The council wants to thank you for your many years of service," said Village Attorney Jennifer Ashton, who read the surprise resolution, which was not on the March 3 meeting agenda. "I do want to say, on behalf of the council, staff and residents of the village, that we want to thank you for all that you have done. You have worked tirelessly for the village, and we hold you in the highest regard, and are grateful for your dedication and commitment to the village."
The resolution thanked Mattioli for faithfully and conscientiously serving the village as an elected official since 1994 and as mayor since 2010, stating that he has earned the respect of council members and the community through his fair-minded approach toward problem-solving.
Mattioli said that he could not believe that it has been 22 years since he joined the council.
"I have a lot of people to recognize and thank," he said. "It has been the highest honor that I have ever received, and I have thoroughly enjoyed every moment working with dedicated colleagues and administrative staff."
He also thanked his late wife, Marion, for standing by him throughout his career, as well as others who have supported him with unconditional love.
"To my fellow council members, in which most of what I can remember were good times, always seemed to put aside their own agenda and do what was best for the village," he said. "Thank you for your ongoing service to our community."
He recognized past council members who supported him, especially Carmela Starace and the late Vivian Ferrin, who were both close friends, and Village Manager Ray Liggins, who stepped up when Mattioli's mentor, former Village Manager David Farber, passed away. "Thank you, Ray, for your hard work and dedication to the village," he said.
He also thanked former Village Attorney Trela White of Corbett, White, Davis & Ashton PA for her years of support.
"I also want to recognize you, Jennifer Ashton, for your dedication to the village," he said. "You keep us on solid ground. Thank you from the bottom of my heart."
He also thanked department heads, including Parks & Recreation Director Lou Recchio, Finance Director Stan Hochman, Planning & Zoning Director Bradford O'Brien, Utilities Director Paul Webster, Village Engineer Chris Marsh and Village Clerk Diane DiSanto for their service.
"I do appreciate all that they have done to make this village great," he said. "More importantly, I appreciate your friendship. I would also like to thank my secretary, Kathy Drahos, for putting up with me all these years."
He also thanked Clerk's Office secretaries Robin Cronk and Jacqueline Shimhue-Davy for their service. "They have assisted me throughout the years and welcomed me to sit and chat with them in the middle of their busy days," he said.
He also thanked Capt. Paul Miles and Major Antonio Araujo of the Palm Beach County Sheriff's Office for keeping the village safe and being great partners.
"Thank you all village employees for doing your job with a smile and giving residents your very best," he said. "We have improved our infrastructure and parks, specifically the village's most beautiful jewel, Commons Park. I leave this village with no debt, money in the bank for future plans, and I lowered taxes for over 20 years."
He also offered some words of wisdom moving forward.
"To the new council, I hope you move forward with respect to each and every resident," he said. "I am leaving the finest and best-managed community in Palm Beach County. I look forward to my retirement."