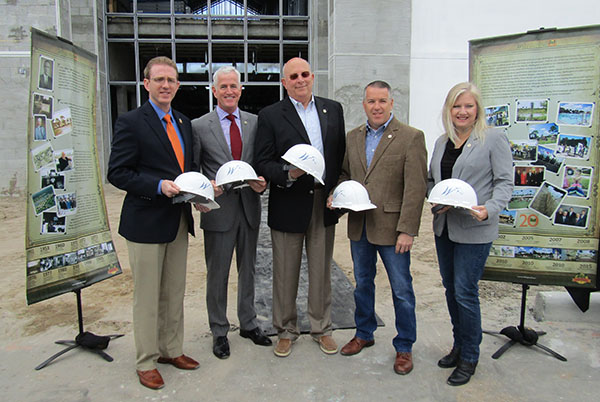 Wellington officials conducted a topping-out ceremony on Monday for the new Wellington Community Center, scheduled for completion in June.
Mayor Bob Margolis credited Councilman Matt Willhite for his persistence in following through on the execution and completion of the new building, which replaces the old facility, a retrofitted country club building that dated back to the 1970s.
Willhite credited numerous council members and community leaders who have supported construction of the new community center.
"Mayor Margolis, thank you for those comments, but it's not just me; it's people like you, former Councilman Al Paglia, former Councilwoman Laurie Cohen, who made an investment in this community, who have been here a long time and have seen the future of what we need," Willhite said. "But the future doesn't mean we forget our past."
Willhite recalled the old community center's uses as a country club, a restaurant and many years as the village's meeting hall. "It was a little somber when we tore the old community center down, but look at what we are building for the future generations of this village," he said.
The new building is the kind of facility that Wellington needs in order to stay in step with the times, Willhite said, adding that families need gathering locations and the village needed a more modern and efficient facility, rather than a building that had been remodeled many times in order to accommodate the needs of the village.
"The things that may happen in this building, the bar mitzvahs, the weddings, the receptions, are the legacy that they are going to leave for us and the memories they will have at this facility," said Willhite, who will be leaving the council in a few weeks due to term limits.
With the completion of the new community center, all the village's facilities will be state-of-the-art, he said.
"That investment will pay off for the future of this village," he said. "I am so honored to be here today to mark the finish of what is going to be the focal point and center of this village," Willhite concluded.
Vice Mayor John Greene thanked everyone involved for seeing the project through.
"This has been talked about for so long, and I think it's really important," he said. "You guys have done a great job. We've done things the right way, and we continue to do things the right way. We're calling it a topping-off ceremony, and I think it's appropriate as I approach the end of my first term in office. I'm so proud of what we've been able to achieve over the last four years."
Greene said some people have considered the village's projects to be wasteful spending.
"I'm sorry, I just don't see it that way," he said. "I look at the tennis center, I look at this community center, I look at the programming that takes place over at the amphitheater — the money that is spent on these facilities are tax dollars, and I'm so proud to be a part of taking that money and investing it back into the community. There's no greater example than this community center."
He said the new building will enable the village to continue to expand its programming.
Councilwoman Anne Gerwig was nostalgic talking about the old community center.
"The first time I was at the old community center, my next-door neighbor invited us to breakfast there," she said. "We held some really wonderful events there. That was a really good point that Councilman Willhite made about the efficiency of this new building. The first floor of the old building was originally a parking garage, and then it was enclosed. It was great for classes and things like that, but it had water issues and all kinds of inefficiencies. I'm looking forward to wonderful memories here."
Councilman John McGovern said that as the youngest council member, he can reflect on the old Wellington Club and Wellington Community Center as it was when he was growing up.
"It is just so exciting to be here today to see this new building come to fruition," he said. "Just Friday, we were at the amphitheater with our children and a bunch of their friends, and they were all so excited to see this building coming up and being completed and doing things at this entire municipal complex area."
He complimented those attending for having the courage to get the community center done and bringing the village forward for the next 20 years, and thanked Pirtle Construction and Song & Associates for the design and construction of the building.
"We are very excited for an on-time completion, and thank you particularly to village staff," McGovern said. "Nothing in this village happens by accident, and it is to the credit of very hard-working and dedicated people."
ABOVE: Councilman John McGovern, Vice Mayor John Greene, Mayor Bob Margolis, Councilman Matt Willhite and Councilwoman Anne Gerwig at the entrance to the soon-to-be-completed Wellington Community Center.