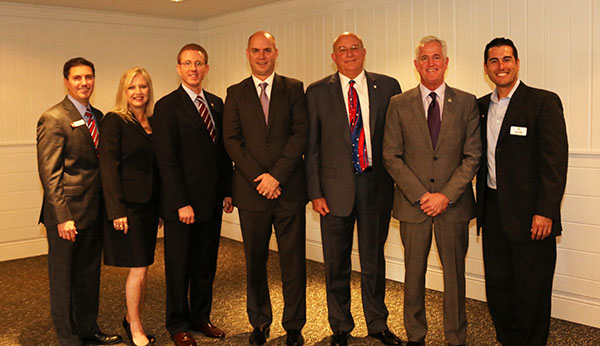 The Wellington Chamber of Commerce staged a forum Wednesday, Feb. 24 to familiarize members with the candidates seeking seats on the Wellington Village Council in the election to be held Tuesday, March 15.
The forum was moderated by Wellington Chamber President Johnny Meier and included incumbent Mayor Bob Margolis and his challenger, Councilwoman Anne Gerwig, as well as Vice Mayor John Greene and challenger Michael Drahos, who are vying for Seat 1.
Councilman John McGovern and Councilman-Elect Michael Napoleone, who were unopposed and will not be on the ballot, also attended the forum.
Margolis, a 33-year resident of Wellington, has a long history on the council.
"I served on it before, and came back in 2012 to serve as your mayor," he said. "I came back for a number of reasons, because Wellington, to me, is the best place to live, not only in Florida, but I believe in the whole world. I've raised a family here. I've been honored to sit on the council and make very difficult decisions. Some of them, you may agree with me, some of them, you may not agree with me; but that's what the people have elected me to do."
Margolis highlighted his leadership, particularly in financial issues, such as when the council hired a new auditor.
Gerwig is a 26-year resident of Wellington with three children who were raised in the community. Her husband, Alan, is an engineer, and they started their own engineering firm in 1998. "It was a wonderful opportunity for me to live, work and play right here in my great hometown," she said.
Elected to the council in 2010, her first six years in office were not boring.
"I've served on the council through some good times and through some tough times. The first couple of years, we got a lot accomplished — I'm very proud of the record that this council had," Gerwig said. "We brought a lot of things on line. The pool was done; the amphitheater was done. We made some really good choices and were very fiscally sound."
However, the last four years under Margolis have been difficult, she said.
"I understand a lot of it is not our fault, and not because of anything that has been done by this council. It is how it has been handled that is inappropriate," she said. "I don't think our residents have been treated with respect. When there's disagreement, our residents have been told, 'We've never seen you at a council meeting before.' Things like that should not be said to our residents. They're coming to us, and they're unhappy about something that's before us."
The current council, she said, has been argumentative with staff, resulting in the loss of key professionals. That is something she will stop as mayor, Gerwig said.
Greene thanked the chamber for inviting him and noted that he has seen a shift in the right direction with the organization, going from a political chamber to a business chamber.
Greene coached his three children in sports, enjoying everything Wellington has to offer with its schools and recreational activities. He said he is proud of his record on the council.
"I'm running on my record," he said. "I'm so proud of what we've accomplished in spite of a lot of difficult votes and a lot of controversy. We've managed to do good things."
Greene works in real estate and has seen property values increase for the last four years. He also touched on controversies regarding the equestrian industry.
"We've managed growth responsibly. This seems to be the one debate that we have every election cycle," he said. "In spite of that, we understand what's important. There's traffic concerns. I'll continue to do the things that I think represent the growth of the sport and what's in the best interest of the sport, but not at the expense of selling out the values and the quality of life for the rest of this community."
Drahos — founder of the Young Professionals of Wellington and a member of Wellington's Planning, Zoning & Adjustment Board — moved to Wellington as a child, going through the public school system before attending Florida State University.
"I came back on a college break, took a job at Wellington Elementary School and met my wife on the playground there," he said.
They attended FSU together, and he later earned a law degree. When they married, Wellington was the obvious choice for them to make a home together, Drahos said. "There's something about this community that I cannot let go of, and it's the reason I'm in this election," he said. "I love Wellington. It has become a part of my family. When things are going wrong with Wellington, or if people say things about Wellington, it's as if they are saying something about my family."
The equestrian industry, Drahos continued, drives commerce in Wellington, but the council has not been working well with the industry.
"I think we can do so much better than we have in the last four years," he said. "I believe the direction this council has taken us in, in the last four years, has been irresponsible. I believe any responsible leader needs to work with equestrian leadership, not against it. What we have done in the last four years is put up every barrier we possibly could to progress."
During the forum, the candidates discussed a number of issues, such as the importance of the equestrian community and its impact on local businesses, the housing market, and the importance of better integrating Wellington's equestrians and the non-equestrians.
The candidates grappled with the future of the controversial K-Park property on State Road 7.
Margolis said it was purchased for a park — either passive or active — and believes it should remain a park, possibly with some entertainment aspect, but with the majority remaining as a park.
Gerwig pointed out that the 67-acre property is currently being used for water retention and farming, and is not a park. Before the village should do anything, she said, there should be a vision for the property.
Greene said he fought to stop the sale of the land from going through and a proposed project from going forward when K-Park was up for sale, he said.
Drahos said he sees K-Park as a future destination environment to take his family.
Asked about their goals over the next four years, Drahos said he is looking to restore credibility and stability to the council, while Greene is hoping to maintain an environment that allows the Equestrian Preserve Area to be protected and not exploited. Gerwig hopes to give the council a better, more responsive face, which will give Wellington a better reputation. Margolis suggested that voters look at results, rather than rhetoric. "I want to make this the best village in the world," Margolis said. "We are more than just the equestrian capital."
ABOVE: Councilman-Elect Michael Napoleone, Councilwoman Anne Gerwig, Councilman John McGovern, candidate Michael Drahos, Mayor Bob Margolis and Vice Mayor John Greene with Wellington Chamber President Johnny Meier.