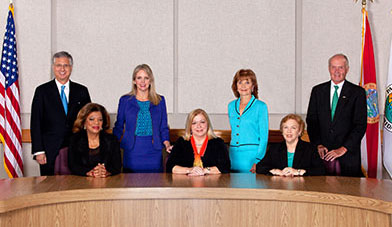 The Palm Beach County Commission heard a report on climate change and efforts to be proactive in addressing its effects at a workshop Tuesday.
Deputy County Administrator Jon Van Arnam explained that in 2009, the county commission had started debating the local fallout from global climate change. "We began to think seriously about the impacts of sea level rise, change in weather patterns, and the increasing severity and frequency of extreme weather events here in Palm Beach County," Van Arnam said.
The county has joined Broward, Miami-Dade and Monroe counties in creating the Southeast Florida Regional Climate Change Compact, which Van Arnam said has exceeded their expectations of success.
Last year, the county hired a full-time climate change and sustainability coordinator, Natalie Schneider, to coordinate the program locally.
Schneider said that the mission of the compact is to take a regional approach to climate change. She has been working with local municipalities to buy into the plan.
"Partnerships are essential, and all of you have acknowledged that," she said. "The one partnership that we do focus on that provides the framework for what I do is the Southeast Florida Regional Climate Change Compact, of which we are a member."
They have also been working with the Nature Conservancy, the Regional Planning Council, the South Florida Water Management District and the Florida Climate Institute, a consortium of nine Florida universities that is aligning its research more strongly with the needs of individual municipalities and counties.
The program is also doing public outreach in a number of different ways, most notably with the annual Climate Leadership Summit, which will be hosted locally this year on Oct. 5-6 at the Palm Beach County Convention Center.
"We are now coming up on the five-year mark on the Regional Climate Action Plan, which was the driver for the activities regionally," Schneider said. "We're going to be kicking off a revamp and looking at the Regional Climate Action Plan in the fall. What we're trying to do at this particular point in time is become much more engaging with the summit and elicit a lot of feedback from the people in how we can make this a better summit, a better Regional Climate Action Plan."
Another focus in the coming year is to get into specific metrics of climate change.
"The past five years or so has been very high-level at this point," she said. "We've been talking a lot about tools, we've been talking a lot about sea level rise, the adoption of the unified sea level rise projection, but also, we're going to start focusing on mitigation regionally, which will actually help inform some of the activities we'd like to undertake."
Schneider said previous work had focused on county actions but that more attention will now be given to municipalities.
"We're taking meetings with the municipalities," she said. "Afterward, we are having workshops to help them understand how they can engage and at what level. A lot of times when it comes to regional initiatives, the local municipalities may be left going: 'What am I supposed to do? You're telling me I'm supposed to work regionally. But this is my day-to-day.' So we're trying to help that out."
She said that the Regional Climate Action Plan touches everything that the county does, and she has been in contact with each of the different departments trying to show them where they fit into a graphic she described as looking like a "bowl of spaghetti and meatballs."
The principles include such policies as low-emission and hybrid transportation, encouraging greater use of mass transportation, signal timing for better traffic flow and diversification of water resources.
"It's not just what's best for their department, it has to be what's best for the county and how we can incorporate resiliency and mitigation principles into the county," Schneider said. "This is really important, because we don't need to just adapt to things that are going on, we need to be part of a global effort to help mitigate it."
A 3-inch to 6-inch increase in sea level is predicted by 2030, she said. "By 2060, we're looking at a 1-foot to 2-foot range, and that's not the highest predictions," Schneider said, explaining that the current data becomes convoluted that far out, but will be better as time moves on. "We need to take all of that into account, and that's why we build these partnerships, because one person or one county or one municipality is not going to be able to take care of this alone."
Stormwater management, once overlooked for a lack of data, is also starting to be taken into account. Schneider said that the data, including that from increased storms, will help all communities become more sustainable and resilient.
"You might ask, 'Well, what does climate change mean for the canal behind my house?' Or, 'How is climate change causing these things?'" she said. "Climate change makes the extremes more extreme. It makes droughts worse, it makes hurricanes worse. It makes all these extremes worse, and we have to become hardened to that and become able to recover quicker from those worsening conditions."