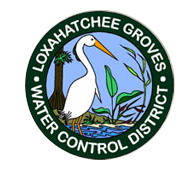 Longtime Loxahatchee Groves Water Control District Supervisor John Ryan did not file for a new three-year term in the upcoming election for two available LGWCD supervisor seats on Monday, June 27.
Filing closed Tuesday, March 29, and three candidates filed: LGWCD Chairman David DeMarois filed for re-election, while Anita Kane and Simon Fernandez are also seeking the positions.
The election will take place from 7 a.m. to 7 p.m. on Monday, June 27, with ballots to be counted immediately afterward and results announced at the district's annual landowners meeting at 7:30 p.m. The top two vote-getters will take the open seats.
Ryan told the Town-Crier on Wednesday that he had discussed filing with LGWCD Administrator Steve Yohe and DeMarois, and planned to make public statements at the April 11 board meeting regarding its relationship with the Town of Loxahatchee Groves.
"I've got several concerns about the town, and every time I raise a concern, it's attributed to a conflict with the district, which is not the case," he said, explaining that he has filed complaints with the Office of the Inspector General and plans to raise questions with other governmental bodies.
"I just didn't feel that I was going to be able to do justice to what I wanted to accomplish if everything is attributed to a conflict between the town and the district, so I've decided that I'm going to be an involved citizen to try and get some better oversight and some corrections to what I think are real serious problems with the town," Ryan said.
Ryan said he is proud of his work on the LGWCD board. "I feel that my biggest contribution was participating in the selection of Steve Yohe and working with him to where he is fully up to date on everything he needs to be with regard to the history and background and transactions in the district," Ryan said. "I'll continue to be able to answer some questions that he has, but the main thing is that with Steve, I feel that the district is in very capable, competent hands."
Ryan said he thought that he would be better able to address town concerns and get corrective action without having them attributed to his work with the LGWCD.
"There's some issues with Underwood Management and some actions of the town council that I just feel that I'm going to be involved in a way that would be unnecessarily controversial," he said. "I just don't want it publicly interpreted or used in a way to create any unnecessary conflict with the district, so I feel that the best thing for me to do is to try and get some corrections done as a concerned citizen and taxpayer."
The two seats up for election are based on one acre, one vote, with proxy voting allowed, the way many water control districts were set up historically because of their agricultural nature and sparse population. Only one of the five seats, currently held by Supervisor Laura Danowski, is filled by popular vote.
LGWCD property owners can obtain a voting proxy form at the district web site, www.lgwcd.org.