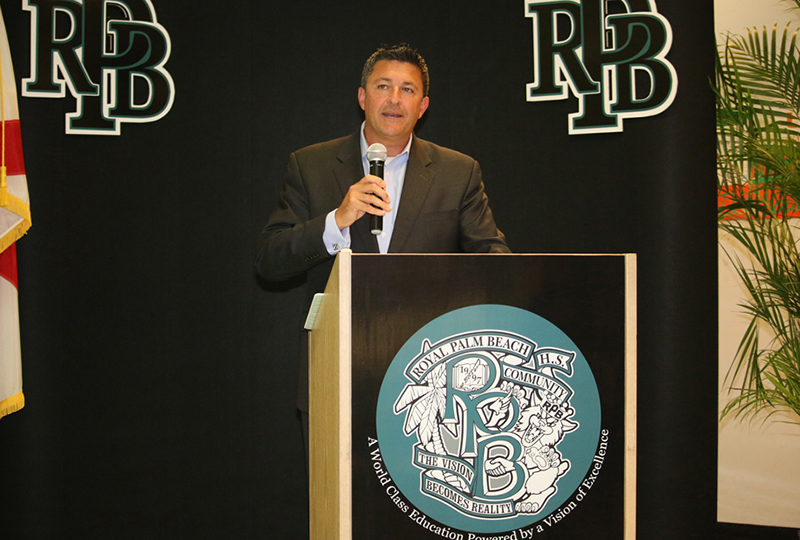 Palm Beach County School Superintendent Dr. Robert Avossa presided at a community meeting at Royal Palm Beach High School on Monday, March 28. The meeting was designed to introduce the Palm Beach County School District's new Strategic Plan.
Parents, students, teachers, elected officials and school district officials filled the school's media room to standing-room-only capacity.
Avossa took to the floor after being introduced by District 6 School Board Member Marcia Andrews.
"Thank you all for being here," Avossa said. "We spent a lot of time in the community. We talked with 17,520 people during this process. Face to face, large groups, small groups, medium groups. Just when we thought we had heard enough, we went back and did another round, to make sure that when we talk about success in Palm Beach County, that we're measuring it the way that people think is important. Whether it's arts, it's athletics and most importantly, academics."
Long-term goals include increasing the number of students who read on grade level by third grade, ensuring that students are ready for high school, increasing the number of students who graduate from high school and helping to foster post-graduate success.
Some of the strategic themes the district is focusing on include a high-performance culture, talent development, effective and relevant teaching for all students and their needs, and a supportive and positive climate.
Avossa showed a picture of a classroom at Military Trail Elementary School in 1965 and explained how the classroom had no diversity, the class size was large, the desks were in tidy rows and there was minimal testing.
"The reality is, in some ways, things have changed dramatically, and in some ways, they really haven't," he said.
It used to be that with a high school diploma, graduates could raise and support a middle class family. However, that is not the case today. Changing to accommodate the needs of today's children is necessary, Avossa said.
Attaching a high school diploma to certificates and industry certifications, he said, perhaps a college degree, will help students after high school.
"In order to achieve success, you have to understand where you are today, where you want to be five years from now, and where you want to be 10 years from now," Avossa said.
Of the third-graders in the district right now, 50 percent are reading on grade level, he said.
Breaking the data down into male and female, and then Caucasian, African-American and Latino, he said, female students outperform males across the board. Avossa's chart showed 77.2 percent of white females were on reading level compared with 68.7 percent of white males, while 48.3 percent of Hispanic females and 39.7 percent of Hispanic males in third grade read at grade level, and 40.9 percent of African-American females were on third-grade reading level compared with 27.2 percent of African-American males.
Among students reaching a level five, the highest reading level, 98 percent of those children graduate on time. At level four, 95 percent graduate on time. At level three, 85 percent graduate on time. Level two drops to 73 percent, and level one is at 64 percent.
Investing in students in the front end, with pre-K, is more advantageous than remedial work later, Avossa said, explaining that helping students beforehand will be more effective.
Kindergarten students, he said, are all over the map. His happiest and saddest day, Avossa told the audience, is the first day of kindergarten, where he sees children who can read and know their colors, shapes and numbers, and those who do not yet know their colors, shapes and numbers.
"How can we be in this country and then ask teachers to take these kids that are all over the map, and expect a miracle to get them all ready for first grade?" he asked.
Teaching through play, Avossa said, is a way to get through to children, and all children, regardless of their demographics, should be learning.
"Since when has being poor made your destiny? It doesn't, and it shouldn't," he said. "We need to stop making excuses and saying that poverty somehow is going to be your destination. It is not."
Eighth-grade middle school students with less than 10 absences graduate high school at an 85.8 percent rate. Among those missing 11 to 20 days, the rate of students graduating from high school drops to 72.1 percent. Twenty-one or more absences drops the number to 53.3 percent. Of the students in the group studied, 1,900 students missed 15 days of school.
A cycle is being perpetuated where if students don't come to school, they can't be taught, Avossa said.
One suspension in eighth grade meant only 59 percent of those kids graduated. For students with two suspensions, their graduation rate dropped to 48 percent. With three or more suspensions, the graduation rate drops even lower to 33 percent.
"We cannot be a world-class school system if we do not address behavioral issues, and those 19 initiatives, each of them are tailor-made based on the data we have found," Avossa said.
Right now, 85.3 percent of students are graduating on time, when not including charter schools. When including charter schools, the number drops to 75 percent. Local public schools are out-performing charter schools in that regard, he said.
Of seniors leaving high school, 68.7 percent of students go directly to college. That number worries Avossa, because the data doesn't show yet how many of those students complete college and how they do after college. "Are we setting up a false dichotomy, where students are told that the only way to be successful is to go straight to college?" he asked.
Only approximately 55 percent of the students who showed through testing that they should take advanced classes did so out of 12,753 students.
Teaching students through their passions is a way to reach the students, he said, explaining that kids want to know how lessons are relevant to their lives.
Anti-bullying programs are imperative, Avossa explained, because children should feel safe at school, and bullying is prevalent everywhere.
Offering better compensation to teachers and providing a career path is a method of keeping the best teachers in the classroom, he explained, pointing out that teachers are getting a 3 percent raise.
Avossa's next stop on his community tour is Park Vista High School on Tuesday, April 5 at 6 p.m. For info., visit www.palmbeachschools.org/strategicplan or text "PBCStrong" to 82257.