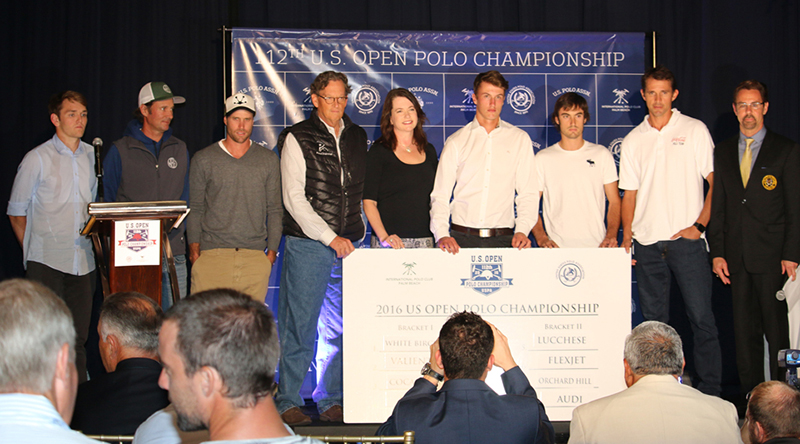 Polo enthusiasts from more than 30 countries and all 50 states are attracted to the International Polo Club Palm Beach for its high-goal winter polo season. The culmination of the season gets underway this weekend with the start of the month-long U.S. Open Polo Championship, the nation's most prestigious polo tournament.
The 26-goal tournament opens April 2 and concludes Sunday, April 24, the final day of IPC's winter season.
The eight teams participating in the 2016 U.S. Open Polo Championship are Audi, Coca-Cola, Lucchese, Orchard Hill, Valiente, Dubai, White Birch and FlexJet.
The event kicks off this weekend on Saturday, April 2 with Lucchese vs. FlexJet and Coca-Cola vs. Dubai. On Sunday, April 3, Orchard Hill will play Audi, and White Birch will play Valiente.
On Saturday, April 9, White Birch will play Coca-Cola and Valiente will play Dubai. On Sunday, April 10, FlexJet will play Audi and Lucchese will play Orchard Hill. On Wednesday, April 13, White Birch will play Dubai and Valiente will play Coca-Cola. On Thursday, April 14, Lucchese will play Audi and FlexJet will play Orchard Hill.
From there, the victorious teams will advance. Quarterfinal games will be played on April 17, with semifinals on Wednesday, April 20. Finals take place on Sunday, April 24 to close the season.
The brackets were put together at a Thursday, March 24 draw party at IPC, where United States Polo Association Chairman Joe Meyer, CEO Duncan Huyler and Executive Director Bob Puetz took to the stage in addition to IPC President John Wash and local television news anchor and equestrian Roxanne Stein.
"As the governing body of this thrilling sport, it's always our mission to create great experiences for our clubs, teams, horses, our members and fans of the game both near and far," Huyler said.
Meyer pointed out that the 2016 championship is the first for team Dubai.
"This is a true, global partnership, and it really helps us with our mission to continue to grow the sport of polo," Meyer said. "With a history dating back to the early 1900s, this prestigious trophy and tournament have been contested by some of the greatest teams and the most passionate players who have ever played our sport, and this year's lineups are no different."
This is the 13th consecutive year that IPC has hosted the U.S. Open Polo Championship. Wash, excited to once again be hosting the tournament, offered information on the polo season.
"IPC epitomizes the very best that the sport has to offer," he said. "We showcase the best players and the best horses to ever play the sport."
Stein prefaced the draw with a conversation with legendary U.S. Open champions Mike Azzaro, Tony Coppola and Memo Gracida.
Gracida called the U.S. Open a magical experience, citing his first tournament, in 1977, as his most memorable. "It reminds me the most, and it kept me going," Gracida said.
Azzaro played with Gracida, and they had a close relationship.
Azzaro recalled a time when Gracida gave him the advice to come off of the field looking good and with the horse looking good, since that is what people remember at the end of the game.
For more information or tickets, visit www.internationalpoloclub.com.