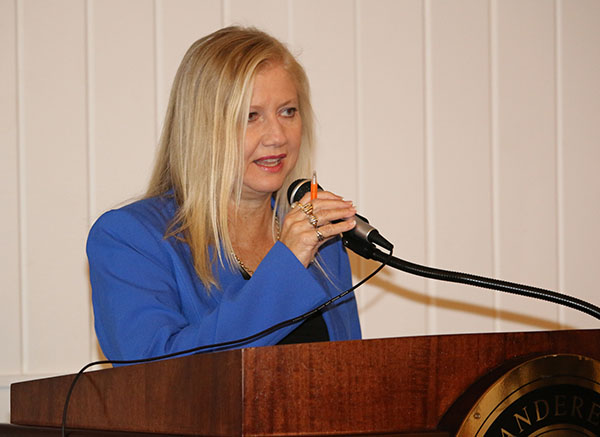 The Wellington Chamber of Commerce hosted newly elected Wellington Mayor Anne Gerwig as guest speaker at its luncheon Wednesday, April 20 at the Wanderers Club.
"It really is such a privilege to be here and speak to you as your mayor," Gerwig said. "I've sat through a few of these addresses, and they've always been very good. What I didn't know is that the staff really does help us prepare for this."
Wellington recently celebrated its 20th anniversary of incorporation, reaching the status of fifth-largest municipality in Palm Beach County, with a population of more than 60,000 full-time residents, Gerwig noted.
Wellington's mission statement includes providing high-quality services that create economic, environmental and social sustainability for residents to have a great hometown with great neighborhoods, schools and parks.
The government, Gerwig explained, is a council/manager form of government where the village manager acts as a CEO, with the mayor and council acting as the board of directors, establishing procedures that the staff carries out. The village manager and village attorney are the only two employees hired directly by the council.
The newly seated council, Gerwig said, is young. In fact, she is the oldest at 52. Being on the council, she explained, is a major commitment.
"Nobody does this for the money. We really don't. It's really done by people who care about their community," Gerwig said. "I certainly didn't do it for the $42 bonus."
Council members are paid $800 a month, and the mayor receives an additional $42.
The economy has been improving, she said, reporting that the village is on firm financial ground, with a balanced 2016 budget of $85.45 million, an increase of $8.5 million from last year, and an unchanged tax rate of $2.45 per $1,000 in assessed value.
The village is using tax money to invest in its neighborhoods, through projects such as the 120th Avenue South paving and improvements, a school crossing at Lake Worth Road and 120th Avenue, the Aero Club pathway, sidewalks on Huntington Drive, a village-wide traffic-calming pilot program and the realignment of Pierson Road.
Wellington also recently opened the new Wellington Tennis Center, and the new Wellington Community Center is projected to open in July. The village's water treatment facility, which manages 1.6 billion gallons of wastewater per year, is also set for expansion.
In the next five years, Gerwig said that there will be a focus on water supply, flood control and water quality.
"Looking ahead, our guiding principle will be to maintain stable tax and assessment rates that do not track upward simply because property values climb," she said.
Maintaining strong neighborhoods in Wellington increases the quality of life. Neighborhood walk and talks, along with neighborhood cleanups, she said, are part of the targeted efforts to help keep neighborhoods strong, along with giveaways and special events that help engage the community.
While a number of new communities will be springing up north and west of Wellington, Gerwig does not see them as competition.
"I think the Wellington brand is so unique that I don't think there is anything that people want, the way that they want to be a part of Wellington," she said.
While Wellington doesn't control its public schools directly, it does help them along, Gerwig said, noting that Wellington is the only municipality to give a $25,000 grant to its schools specifically to help low-performing students. Many of the grants have been used for tutors and programs for these students.
"What it does is make our community that much more attractive to young families," she said.
A review of census data projects that seniors are growing substantially. Senior programming, Gerwig said, is focusing on healthcare, financial help, housing and transportation for seniors. Several programs and grants are available to seniors, including grants to increase accessibility.
Wellington is near buildout, Gerwig said, with shifting demographics and demand patterns. Developing broader outreach programs, she said, will help with shifting needs.
Online budget challenges, surveys, e-mails and meetings are all ways that the community can interact with the council. "We really want you to come out to every meeting," Gerwig said.
In the next five years, Gerwig said, the village will be focusing on the Equestrian Preserve Area, neighborhood sustainability, the State Road 7 corridor, the medical arts district, golf courses, the business environment, business recruitment and more.
She noted that board and committee appointments are coming up at the next council meeting. Anyone interested can apply online at www.wellingtonfl.gov.
Wellington is working to meet the needs of residents today while making responsible choices to ensure the future tomorrow, Gerwig said.
"Everyone who works in or around our village, on behalf of myself and the rest of the village council, I want to thank you for your dedicated service, and I'm certain that working together in 2016 will continue to make Wellington one of the best places to live, work and play in Florida," Gerwig concluded.