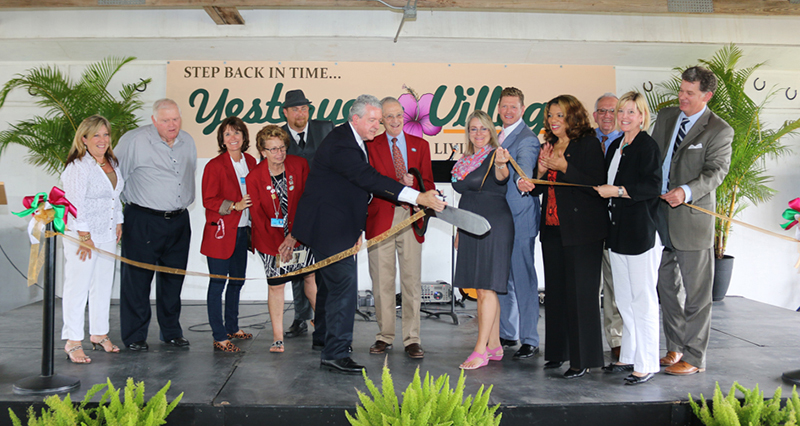 History is alive and thriving at Yesteryear Village, a living history park located at the South Florida Fairgrounds. On Friday, April 15, officials held a ribbon-cutting ceremony to commemorate the extended hours for the 10-acre facility that is now open year-round on Thursdays, Fridays and Saturdays from 10 a.m. to 4 p.m.
"We're here today, very excited at Yesteryear Village, not just to activate it but to populate it," South Florida Fair Chair Jack Frost said. "To populate it with some outstanding and incredible volunteers who will give people the opportunity to immerse themselves in the village and what life was like at that time."
Frost recognized fair supporters and community leaders, including County Commissioner Priscilla Taylor, former Pahokee Mayor Colin Walkes, Palm Beach County School Board Member Chuck Shaw and Kelley Burke, representing County Commissioner Melissa McKinlay.
Burke read a note from McKinlay, who could not attend the ceremony.
"I commend you, the board of trustees and all the volunteers, who have scouted Florida for authentic buildings, transported them and restored the structures from days gone by," McKinlay wrote. "This living history community is a unique opportunity to experience life in old Florida. Students, seniors and everyone in between can walk through history and interact with ambassadors who tell stories of old days."
Twenty years ago, Burke was working at the fairgrounds doing public relations. She was glad to be back and see how things have grown.
"It's amazing how it's taken off," Burke said, especially thanking the volunteers. "It's amazing how it's really family, and that's the best thing about the fair, it's family."
Glenn Jergensen, executive director of the Palm Beach County Tourist Development Council, said he is proud of the history at Yesteryear Village. Every year, 6.9 million visitors come to Palm Beach County, with a $7.5 billion economic impact.
"We know that tourism is very important, but agriculture, and our history, is also very important. To bring those two organizations together, and those two industries together, Palm Beach County really will continue to thrive," he said. "Thank you for opening up Yesteryear Village year-round for everyone to see."
Rena Blades, president and CEO of the Cultural Council of Palm Beach County, asked attendees to close their eyes and imagine a relaxing beach scene, where it's possible to see a Broadway show one night, look at amazing paintings, view an exhibition about early Florida, look over the Intracoastal and experience Shakespeare.
"You don't have to get on a boat or a plane. It's all right here. And today, we're welcoming the newest daily expansion into those kinds of experiences," she said. "The Cultural Council is proud to support Yesteryear Village in a lot of ways, such as promoting it, but we also gave a grant to this very smart staff and board a couple of years ago to do some planning."
That planning, she said, brought experts who suggested being open more regularly, which is what was being celebrated last Friday.
"We know that our past makes us respect our present and make better plans for our future," Blades said. "We gain insight into the ways that we got here, we learn empathy, and we're less likely to make mistakes in the future when we understand our history."
Jeremy Johnson, president and CEO of the Historical Society of Palm Beach County, was excited that Yesteryear Village will be open year-round.
"It is a tremendous gem in the fabric of our community, and to strengthen our historic and our heritage resources in our county really does improve not only the quality of life for our young people, but for our residents and our visitors alike," he said.
He noted that the Historical Society does many programs at Yesteryear Village. "I'm so excited that we're going to have an opportunity to bring young people and our residents out to see this amazing place," Johnson said.
Johnson added that many of the docents from the Richard and Pat Johnson Palm Beach County History Museum are now volunteers at Yesteryear Village. "Congratulations. It's a pleasure to be here, and I look forward to a fabulous relationship," he said.
Author, historian and lawyer Harvey E. Oyer III is a fifth-generation Palm Beach County resident. He is proud of the crucial mission of Yesteryear Village.
"If it was not for institutions like this one, and the one that Jeremy operates, and the many institutions that Rena is responsible for, we would not be educating the 1.4 million people, most of whom are from somewhere else, about who we are, what our culture is and what our history is," Oyer said. "We are so fortunate to have this. We are one of really only two of these in Florida… Last year, we had 20,000 schoolchildren through this facility. That number is going to be substantially higher going forward thanks to this opportunity."
Teaching children to care about Florida, he said, is imperative, and Yesteryear Village is one of the ways to teach children about the culture and history of Florida.
Rick Vymlatil, president and CEO of the South Florida Fair, thanked everyone for attending, giving kudos to the numerous volunteers in the audience.
"Those are the folks, many of them, who have kept the village alive since it first opened in 1990," he said. "Thank you again for being here. Please tell everybody you see about the village being open; it's a fine little treasure."
Vymlatil suggested that visitors talk to the docents and volunteers, and explore the new Yesteryear Village boardwalk that starts by the bait and tackle shop.
"Imagine what it was like in Florida without any air conditioning," he said. "When you walk that boardwalk and you see the wonderful vegetation, you kind of get an idea of what Florida looked like before we all got here."
Yesteryear Village "Mayor" Chris Monteleone thanked everyone for coming out.
"I hope you enjoy your experience here at Yesteryear Village," he said.
For more information, visit www.southfloridafair.com.