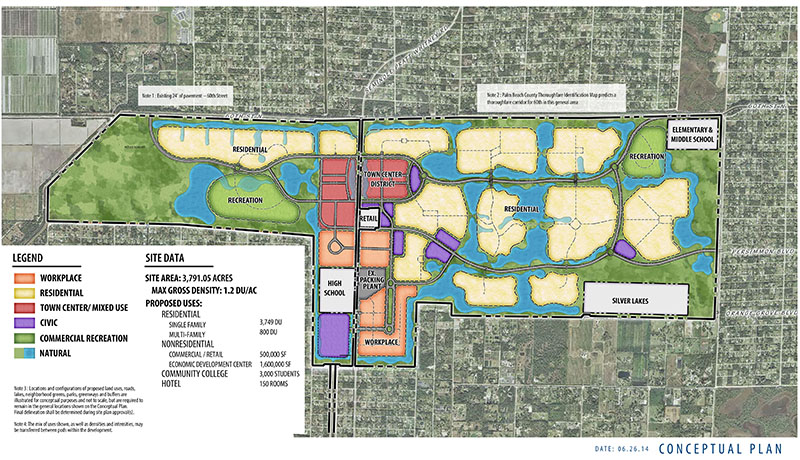 Westlake, Minto Communities' planned 3,800-acre development along Seminole Pratt Whitney Road, could become the 39th municipality in Palm Beach County.
Westlake is the current name given to the controversial Minto West project approved by the county in 2014 to develop the land formerly known as Callery-Judge Grove. The master-planned community was approved for up to 4,500 homes and 2.2 million square feet of commercial space.
On Tuesday, Minto issued a news release announcing that the five qualified electors of the Seminole Improvement District, dominated by the planned community of Westlake, have petitioned the state to convert the special district into a municipality.
A state statute enacted in 2015 enables the electors of a special district to initiate conversion to a municipality. Among the requirements are that 40 percent of the qualified electors of the district sign the petition for incorporation.
"While it's common for a project of this size and scope to incorporate after development is completed, we feel that by residents exercising this option from the very beginning, it gives residents greater control of their future vision for the community," explained Mike Belmont, president of Minto Communities.
Incorporation would be beneficial for the future residents of Westlake, Minto officials added.
"Palm Beach County has benefited from the conversion of other special districts," Minto officials wrote in the news release. "Wellington emerged from the Acme Improvement District in the 1970s to become a planned unit development, and ultimately a city in 1995. The Town of Loxahatchee Groves, comprised of the land south of the Westlake community, completed its conversion to a municipality in 2006."
Loxahatchee Groves' incorporation, however, did not happen without some hurdles, including objections from the Village of Royal Palm Beach. That incorporation also happened without the support of its special district, the Loxahatchee Groves Water Control District.
Royal Palm Beach Village Manager Ray Liggins recalled looking at Loxahatchee Groves' proposed charter and raising questions. However, he noted that the new rules make for a very different process.
"I don't know about this process," Liggins said. "Obviously, I would have our attorney take a look at that, and if we do have the option of reviewing their charter and making comment on it, I'm sure we will exercise that option."
Liggins explained that the new state law makes the incorporation process much easier.
"[It would] allow the Seminole Improvement District to convert to a city pretty easily without them having the population requirements," he said. "I don't know what our status is at this time, though."
Liggins said that among Royal Palm Beach's comments on Loxahatchee Groves' incorporation was that since it stated that it wanted to remain a rural community, that it require a super-majority of the council to make a land use change, and that it accept Palm Beach County as its water utility.
"I understand why [Minto] wants to do it," Liggins said. "They have just under 4,000 acres and 4,500 units and some significant non-residential. That's a long-term project, so I can see them wanting to be self-governed."
He pointed out that through incorporation, Westlake would be able to avoid needing county approval for development applications.
"We will look into it and how it affects us, and, where possible, make suggestions that are consistent with their mission and protect us," Liggins said.
John Carter, vice president of Minto Communities, promised that an incorporated Westlake will maintain a strong relationship with Palm Beach County and, working together with nearby communities, find solutions to long-term regional growth issues, such as drainage and transportation, and to improve quality of life for everyone in central Palm Beach County.
"As the largest landowner in the district, we look forward to collaborating with the residents throughout this conversion process," Carter wrote in the news release.
Minto announced March 31 that it will begin work on Westlake after a unanimous ruling by the First District Court of Appeals in Tallahassee rejected all arguments against the project.
An association of area residents filed objections to an administrative law judge after the Palm Beach County Commission approved amendments to its comprehensive plan. Minto joined the county as a defendant in the challenge.
The judge found that the land-use amendment rectified existing problems with land development in The Acreage.
Residents filed exceptions to the administrative law judge's decision with the Florida Department of Economic Opportunity. In July 2015, the agency denied the exceptions and issued a final order that the plaintiffs had failed to make their arguments.
Two residents of The Acreage appealed the final order, and the First District Court of Appeals in Tallahassee affirmed the Department of Economic Opportunity's final order on March 15 in favor of Palm Beach County and Minto.
"The regulatory and court challenges to the comprehensive plan amendment are over," Carter stated in a news release on the topic. "The appeals court decision makes it clear that the land use approval by the Board of County Commissioners met the stringent criteria to amend the county's comprehensive plan, and we look forward to breaking ground on this visionary project."
During Wednesday's Indian Trail Improvement District Board of Supervisors meeting, the incorporation plan came up after a resident said she was upset at the effort.
"I'm mad as hell, too, at Minto, and you will be hearing from me over the next couple of weeks," Supervisor Michelle Damone said. "I think what they did was sneaky. I think it was conniving. My understanding is they were frustrated with the county. Now, if they go through with this process, they have to come up with a comp plan. Good luck. Minto is going to be tied up with that."
She said she would personally have no problem berming off Persimmon Blvd., 60th Street or any other road that leads to Minto.
"They have no business accessing our roads, and I'll be one of many on the board of supervisors who will do whatever she can to make Minto's life hell," Damone said.
Supervisor Gary Dunkley said that ITID's biggest asset is its roads, and it should not give in to have other entities take advantage of them.
"Minto can do whatever it wants in terms of incorporation, which, strategically, if I was a businessman, I would do the same thing Minto is doing," Dunkley said. "But they are also a tyrant. They cannot treat their neighbors this way and think they're going to get favoritism. We need to fight, and we can't be puppy dogs."
Damone added that she has been in contact with Palm Beach County Supervisor of Elections Susan Bucher, and that the five people who petitioned for annexation are workers who live in trailers on the property. She also asked the county to confirm that the trailers were legitimately on the property.
"I guess the biggest insult to me is that I'm on my second generation here, and I don't like it that five people who work there decide the future and shape of it," she said.
ABOVE: The Minto West/Westlake conceptual plan.